Sub Menu Toggle
Environmental science student receives Marshall Scholarship to study in the UK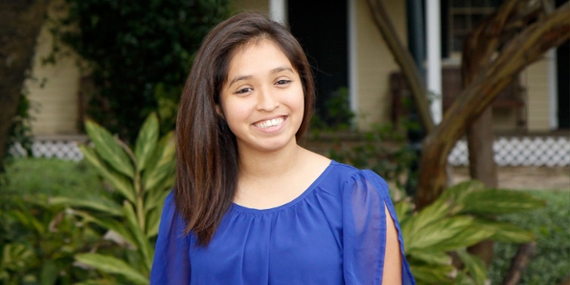 BROWNSVILLE, TEXAS – FEBRUARY 3, 2015– Jacqueline Zavala is passionate about the environment; she is studying environmental science with the career goal of working in the field of environmental governance.
A senior environmental science major at The University of Texas at Brownsville/Texas Southmost College, Zavala is one of 31 students in the United States to be awarded a Marshall Scholarship. The first from UTB/TSC to be selected for the prestigious scholarship, Zavala will pursue a master's degree in environmental science in the United Kingdom starting this fall.
"This is an amazing opportunity; I don't think it's quite settled in yet that I will be going off to England to study for two years," said Zavala, who has traveled only in the United States and Mexico. "Right now, though, I don't want to get ahead of myself; I have to stay focused on my student teaching and senior research project."
The Marshall Scholarship application required three short essays, four letters of reference and a letter of endorsement from Dr. Henry Moore, Associate Professor of Chemistry and Environmental Sciences. Zavala credits Dr. Paul Kavanaugh in the Office of the Vice President for Research for helping her with the application process.
"I was looking for a way to fund graduate school, so I researched fellowships, and came across the Marshall Scholarship," she said. "Honestly, I didn't think I would get it, but I told myself I wouldn't be risking anything by trying."
Now that she has been accepted into the Marshall Scholarship program, Zavala must submit a graduate project proposal for the school she hopes to attend – the University of East Anglia in Norwich, England.
"UEA is my first choice because I think its program is most aligned with my focus," she said. "My second choice is Imperial College London; it has a well-known environmental policy program. Whichever school accepts me, I will be enormously grateful for this incredible opportunity."
Zavala is spending the semester as a student teacher at San Benito High School, her alma mater, where she graduated in 2011.
"I like teaching and tutoring and helping people understand things," she said. "My students are great. I love them. We do a lot of projects; it's very student-centered. My mentor teacher, Mr. William Cortez, and I use problem-based instruction (PBI); actually, the students teach themselves, and we act mostly as guides."
Zavala learned about PBI teaching strategies in one of her UTeach courses. The UTeach program allows a student in science, technology, engineering or math (STEM) to receive their bachelor's degree in their chosen field while still obtaining a teaching certification upon graduation.
"UTeach is a great program," she said. "It allowed me to gain a strong background in my environmental science courses while also learning how to teach. The UTeach master teachers were wonderful – they introduced us to theory, pedagogy, strategies and methodologies – and UTeach provides classroom experience from the very beginning of entering the program." 
To fulfill the internship requirement for graduation from UTB/TSC with a Bachelor of Science in Environmental Science, Zavala applied last spring for a Hispanic Association of Colleges and Universities (HACU) summer internship with the National Science Foundation Summer Scholars Internship Program.
"My acceptance email arrived on April tenth, my birthday – the best present I could receive," she said.
Zavala and other NSF interns were provided an apartment in Fairfax, Va.; every day they rode the Metro to the NSF headquarters in Arlington, Va., about a thirty minute commute. 
"It was an amazing experience," she said. "I had two great mentors at NSF, and I learned so much from them. They let me sit in on meetings and panels, and I got to attend a retreat. I worked mostly on a large project attempting to determine a breakdown of fellowship applicants – looking at minorities, specifying race, gender and ethnicity. I really got an idea of what professors go through when they apply for research funding."
As a University Scholar at UT Brownsville/Texas Southmost College, Zavala's tuition and books were provided, along with a shared apartment at the Casa Bella student residence. The internship led her to think about ways to gain more experience while also finding a means to continue on to graduate school without going into debt.
Media Contact:
Letty Fernandez, UTRGV Director of Media Relations
956-882-6535 Letty.Fernandez@utrgv.edu