Sub Menu Toggle
Three UTRGV RISE students place at national conference for minorities
By Vicky Brito
RIO GRANDE VALLEY, TEXAS – DEC. 28, 2015 -- Three students at The University of Texas Rio Grande Valley attended the annual Biomedical Research Conference for Minority Students in Seattle, Washington, Nov. 11-14, where they earned awards in a variety of scientific research areas.
The conference is one of the largest professional gatherings for minority students, military veterans and persons with disabilities who want to pursue advanced training in science, technology, engineering and mathematics (STEM) fields.
There were poster and oral presentations in 12 categories, including biochemistry, physiology, cell biology and chemistry. Awards were given in subcategories for seniors, juniors, sophomores and oral presentation. Each student had to submit an abstract and meet all required abstract components and guidelines to be accepted to make a presentation.
A total of 15 UTRGV students attended; 12 presented, and three won in their categories.
The participating students are part of the UTRGV Research Initiative for Scientific Enhancement program (RISE), which is part of the College of Health Affairs.
The RISE program seeks to enhance the research environment at minority institutions. The overall goal is to increase the interest, skills and competitiveness of students and science faculty in pursuit of biomedical and behavioral research careers at UTRGV. The program is on its fourth year of a five-year grant cycle that is federally funded through the National Institutes of Health.
EDNIA GUTIERREZ
Winner – Social and Behavioral Science and Public Health category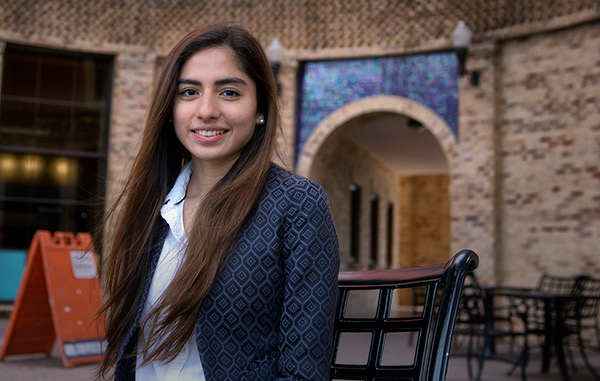 Winner – Social and Behavioral Science and Public Health category (UTRGV Photo by David Pike)
Junior biology major Ednia Gutierrez's winning poster presentation, "Priming with Codeswitching: Examining the Effects of Codeswitching on Free Recall and the Frequency of Codeswitching," focuses on the bilingual or multilingual population.
Language codeswitching requires the use of two or more languages simultaneously, commonly found in bilingual and multilingual speaking communities.
"My lab mainly focused on language codeswitching, which is defined as the use of two or more languages within a single utterance or sentence," Gutierrez said.
Brownsville is the perfect environment to study codeswitching, she said, given how many people speak the English and Spanish mix commonly called "Spanglish."
"The research I presented at ABRCMS investigated this communicative bilingual ability that people use to compensate for lack of knowledge, and determined if it has any effects on certain cognitive processes of bilingual individuals," she said.
Gutierrez's research found that, although an increase in language codeswitching does cause an increase in the frequency of codeswitching, it does not cause any significant differences in recall ability.
RAMONA LUNA
Winner – Engineering, Physics and Mathematics category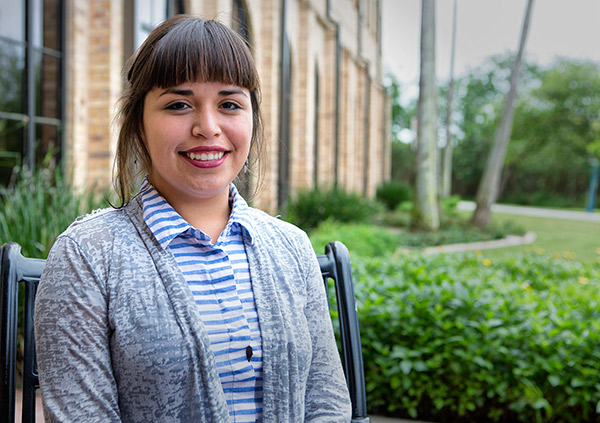 Winner – Engineering, Physics and Mathematics category (UTRGV Photo by David Pike)
Junior physics major Ramona Luna's winning poster presentation was on "Synthetization and Characterization of Chitosan Films and Gels."
Chitosan is a renewable biopolymer that is degradable and non-toxic.
Luna developed a matrix that can mimic a tissue-like environment for cell cultures and molecular studies, to help reduce the loss of some cell functions that occur when studies are performed in vitro.
Her research focuses on synthesizing chitosan microscope films under various conditions and for multiple applications.
"Several techniques are used to characterize the properties of the films, such as the Optical Tensiometer and Atomic Force Microscopy," Luna said.
Her research determined that, by investigating the properties of the surfaces of the films, the needed biomaterial platform for a specific biological system can be designed and manipulated to increase its performance and lifetime.
Luna has been a part of RISE for more than a year.
"RISE has been a great opportunity to develop skills in the area of my interest. I am very thankful for being part of this awesome program," she said.
RAMIRO PATINO
Winner –Microbiology category
The senior biology major's winning poster presentation, "Polymorphonuclear Cells Secrete a Pro-inflammatory Cytokine Profile in Response to Trichomonas vaginalis," was based on his research into how neutrophils (some white blood cells) contribute to inflammation during infections with the parasite Trichomonas vaginalis.
Winner –Microbiology category
"This parasite causes the most common, non-viral, sexually transmitted infection in the United States," said Patino, who has been involved with RISE for two years.
His research found that neutrophils release small proteins called cytokines.
"This is relevant because chronic infections with Trichomonas vaginalis have been associated with inflammatory diseases, such as aggressive prostate cancer," he said.
Patino said this recognition is a great accomplishment in his undergraduate career.
"It feels amazing to have been recognized after working really hard on the project. It motivates me to keep working hard in the lab," he said. "Additionally, I competed with students from big research universities.
"It felt great to have been able to represent UTRGV and show that Vaqueros have the same potential as students from those bigger universities."
MEDIA CONTACTS

Marci.Caltabiano@UTRGV.edu UTRGV Director of News and Internal Communications
956-665-2742
Jennifer.McGehee@UTRGV.edu UTRGV Director of Public Relations
956-882-5105