Sub Menu Toggle
Music Academy continues mission while anticipating move to downtown Brownsville
Sean Wang, a high school junior at the Science Academy in Mercedes, has worked on his piano skills with Dr. Kenneth Saxon, of the UTRGV Music Academy, for four years. (UTRGV Photo by David Pike)
By Cheryl Taylor
BROWNSVILLE, TEXAS – DEC. 24, 2015 – The Music Academy of the School of Music at The University of Texas Rio Grande Valley is partnering with the Brownsville Performing Arts Academy located in the historic Stegman Building, currently under renovation in downtown Brownsville.
Renovation of the 103-year-old Stegman Building is a collaborative effort that includes the City of Brownsville, the U.S. Department of Housing and Urban Development, the non-profit Brownsville Society for the Performing Arts and the UTRGV School of Music.
"Partnering with the Brownsville Performing Arts Academy is another avenue for UTRGV to be interwoven in the community, a way to improve and create opportunities for everyone who lives here, whether or not they attend the university," said Dr. Michael Quantz, interim associate dean for the College of Fine Arts.
Three Music Academy students who currently take lessons in the Eidman Building on the UTRGV Brownsville Campus, and who will benefit from the new venue, are Rex Nájera and his sisters, Bethany and Katie.
Bethany and Katie have taken lessons in violin and piano, respectively, at the Music Academy for several years, and little brother Rex started guitar lessons over the summer.
A first-grade student at Brownsville's Breeden Elementary School, Rex chose the guitar after hearing AC/DC's "Back in Black" on the radio while riding in the car with his father one day.
"I want to learn how to make that music," he said, to his father's surprise.
Sean Wang, a 17-year-old junior at Science Academy of South Texas in Mercedes, is another student at the Music Academy, where he is in his fourth year of study with Dr. Kenneth Saxon.
Sean said he was an energetic child who showed an early interest in music, and when he was about 5 years old, his parents channeled that energy into an instrument.
"When I was younger, I took lessons from Anne Stone in Harlingen," Sean said. "I received a great piano foundation from Mrs. Stone. Now, over the past four years, Dr. Saxon has been working with me on my technique, progressing to more elaborate pieces. And we are working on my sight reading."
Music Academy instructors include not only university professors, but also UTRGV music education majors.
"This provides them with an invaluable opportunity to gain experience in imparting knowledge to students," Quantz said. "Aside from being accomplished musicians, our education majors must develop their teaching skills. To learn effective communication is a good thing to practice, to provide that complex mix of elements to ensure learning."
Rex's guitar instructor is David Solis, a senior music education student from Brownsville.
"I know I am learning as much or more than Rex, because I'm learning about patience and how to handle working one-on-one with a young student," Solis said. "I'll be able to take my Music Academy experiences with me as I continue into the classroom after graduation."
Quantz points out the Stegman Building's ideal location at the corner of 11th and East Washington streets, placing it adjacent to one of Brownsville's older, economically disadvantaged neighborhoods, including Brownsville Housing Authority's Buena Vida Neighborhood.
"We want to bring the opportunities that Rex, Bethany, Katie and Sean have to more school-age children in Brownsville," he said. "Having the building within walking distance of where many children live helps them take advantage of this wonderful opportunity."
Considered an integral part of downtown revitalization, the Stegman Building is scheduled for completion in early 2017.
"It's not that far off, really," Quantz said. "In the meantime, the Music Academy will continue as usual with classes held here on campus."
Music Academy Coordinator Nicolas Hurtado said enrollment this semester was especially good for piano classes, with 50 students taking group or private lessons. Other students are engaged in voice, guitar, strings and percussion lessons.
Hurtado said the academy offers "Toddler Tunes," a class for newborns-to-toddlers, which the Nájera children attended with their mother, a good way to introduce children to music while stimulating their senses of hearing, seeing and touching.
The initial launch of the Brownsville Performing Arts Academy is funded primarily through federal grants.
"Housing and Urban Development funds will provide administrative support for the UTRGV music students who teach music to Buena Vida neighborhood children," Quantz said. "There will still be a need for contributions and patronage from individuals, organizations and foundations. I am certain this will be a place of joy, where children will grow and flourish with creative energy and a love of the arts."
For more information about the UTRGV Music Academy, contact Nicolas Hurtado at (956) 882-7703 or nicolas.hurtado@utrgv.edu.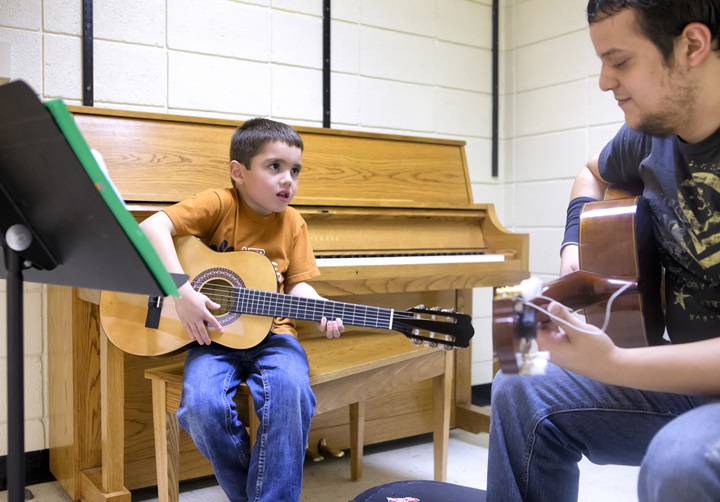 Rex Nájera, 6, plays a song during his lesson with David Solis at the UTRGV Music Academy, currently housed at the Eidman Building. (UTRGV Photo by David Pike)
MEDIA CONTACTS

Marci.Caltabiano@UTRGV.edu UTRGV Director of News and Internal Communications
956-665-2742
Jennifer.McGehee@UTRGV.edu UTRGV Director of Public Relations
956-882-5105