Sub Menu Toggle
UTRGV vocalists land a first place, valuable experience, at regional music competition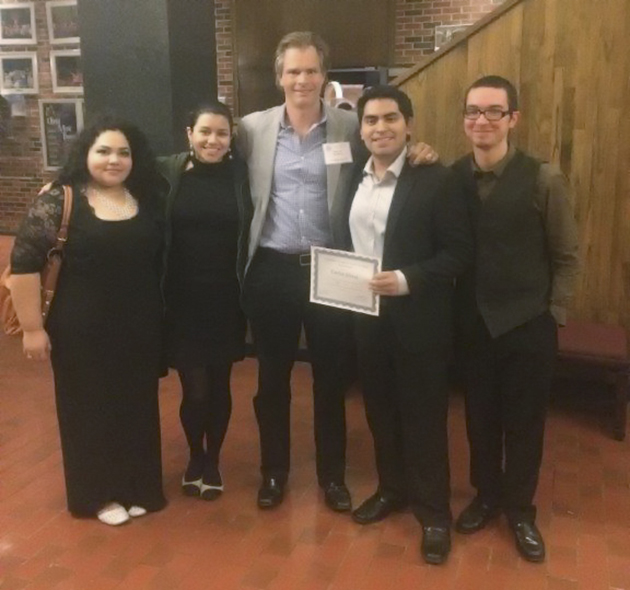 UTRGV musicians had a successful appearance at the recent Texoma Regional Conference of the National Association of Teachers of Singing (NATS), where they competed against students from schools or departments of music in Texas, Oklahoma and eastern New Mexico. Pictured left to right are students Cecilia Molina and Briana Olivares; Dr. David Sadlier, UTRGV assistant professor of music; and students Carlos Flores, who won first place in the NATS Sophomore Men's vocalist category, and Matthew Mancillas. Molina and Adriana Arango (not pictured) were named semi-finalists in the NATS Junior Women category. (Courtesy photo)

By Gail Fagan
RIO GRANDE VALLEY, TEXAS – DEC. 23, 2015 – Student vocalists from The University of Texas Rio Grande Valley made their voices successfully heard at the National Association of Teachers of Singing (NATS) Texoma Regional Conference, held recently at the Oklahoma City University Bass School of Music. 
UTRGV sophomore tenor Carlos Flores took first place in the Sophomore Men category, defending his first-place title in the freshman category last year. He competed against more than 100 male singers through three rounds of competition in classical vocal repertory.
"It is extremely rare for a student to repeat as winner, and underscores Carlos' outstanding talent and work ethic," said Dr. David Sadlier, UTRGV assistant professor of music.
Flores sang three pieces: "E la solita storia del pastore" from the opera "L'Arlesiana" by Francesco Cilea; "Mattinata," by Ruggero Leoncavallo; and "Black is the Color of my True Love's Hair," by John Jacob Niles.
"Carlos shows such poise as a performer and such maturity as a singer. He is a fantastic student and applies all of the instruction he receives in a concentrated and positive manner," Sadlier said.
Additionally, music education major Adriana Arango and music performance major Cecilia Molina were semi-finalists in the Junior Women category, the largest and most competitive of the various sections of the NATS competition. Arango and Molina also placed as semi-finalists last year, when they were sophomores. 
Texoma is the largest region in the NATS organization, comprising every vocal program from schools or departments of music in Texas, Oklahoma and eastern New Mexico.
Sadlier said it is essential that UTRGV musicians be exposed to the level of accomplishment and ability in their peer group beyond the borders of the Rio Grande Valley. 
"Music is such a competitive field, and there is no way for our students to truly be able to gauge their own performance and accomplishments without measuring themselves against others. By competing, they learn what their strengths are and what areas need improvement," he said.
The six students who attended the conference also had access to numerous educational opportunities, aside from the competition. They saw a fully-staged production of the opera "Don Pasquale," heard a recital by an internationally renowned baritone, and participated in a master class given by a well-known tenor and pedagogue. Students also attended a number of lectures and presentations by Texoma-region teachers.
Sadlier said the UTRGV students' performance there, among high-level, national-profile schools, makes a strong statement about UTRGV instruction.
"When sitting there listening to the announcement of semi-finalists, finalists and winners, and hearing, "… from The University of Texas Rio Grande Valley," next to schools like Texas State, Baylor, UT Austin, Rice, University of Houston, Oklahoma City University, The University of Oklahoma, SMU, TCU and others – it puts into perspective that our students can complete with any of the best students from our area," Sadlier said.
NATS is the largest professional association of teachers of singing in the world, with more than 7,000 members in the United States, Canada and nearly 30 other countries. Its mission is to encourage the highest standards of vocal art and of ethical principles in the teaching of singing, and to promote vocal education and research at all levels, its website states.
This spring, the public can enjoy performances by UTRGV music students in an opera production of Mozart's "The Magic Flute."
MEDIA CONTACTS

Marci.Caltabiano@UTRGV.edu UTRGV Director of News and Internal Communications
956-665-2742
Jennifer.McGehee@UTRGV.edu UTRGV Director of Public Relations
956-882-5105