Sub Menu Toggle
UTRGV celebrates first commencement, more than 2,000 earn degrees
More than 600 UTRGV graduates gathered before family and friends on the Brownsville Campus for commencements ceremonies, part of the first cohort of the new university. (UTRGV Photo by David Pike)
Brownsville Commencement photo gallery
Edinburg afternoon Commencement photo gallery
Edinburg evening Commencement photo gallery
By Cheryl Taylor and Jennifer L. Berghom
RIO GRANDE VALLEY, TEXAS – DEC. 19, 2015 – The University of Texas Rio Grande Valley ushered in new traditions and fanfare at its first commencement ceremonies Saturday, Dec. 19, on the Brownsville Campus, followed by two afternoon ceremonies at State Farm Arena in Hidalgo.
The morning ceremony at the Brownsville Campus saw 633 graduates walking under a clear blue sky on the lawn of the Student Union.
The Edinburg Campus hosted one afternoon and one evening ceremony for a total of 1,456 graduates.
Family and friends crowded the venues by the thousands to watch their loved ones mark commencement and honor all the hard work that led to this day.
Distinguished faculty members carried the newly crafted UTRGV mace in the procession of graduates, leading faculty onto the stage. The mace, the symbol of the university's governing authority, signifies the proceedings have official sanction.
Founding UTRGV President Guy Bailey wore the newly crafted UTRGV presidential chain of office and medallion, which signify the weight of responsibility for the wearer. The medallion and collar, and the mace, were designed by UTRGV art students.
Dr. Havidán Rodríguez, UTRGV provost and executive vice president for Academic Affairs, was excited to welcome graduates and visitors.
"To our students, let me be the first to congratulate you on your success," Rodríguez said. "It is the season to be thankful and to celebrate. You are the first graduation class of The University of Texas Rio Grande Valley. Congratulations!Felicidades!"
Bailey presented UTRGV medallions to legislators and others who have played a major role in establishing UTRGV and its long-awaited medical school.
Among the medallion recipients were Texas Rep. Rene Oliveira, Texas Sen. Eddie Lucio Jr., Texas Sen. Juan "Chuy" Hinojosa, and former UT Chancellor Dr. Francisco Cigarroa.
"Without their tireless efforts, we could not have opened our doors to UTRGV, nor would we be able to open the doors to a medical school next summer," Bailey said.
Graduates said they were thrilled to be a part of UTRGV history and are excited about the future – for themselves and the university. Here are some of their comments: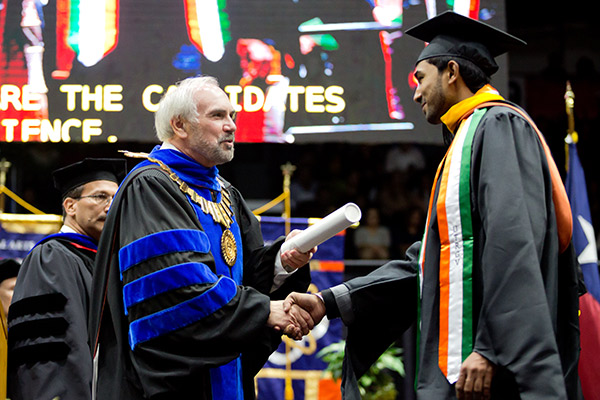 UTRGV Founding President Guy Bailey, sporting the new presidential chain of office and medallion, hands out a diploma to a graduate during the first UTRGV commencement on Saturday, Dec. 19, 2015, at the State Farm Arena in Hidalgo. (UTRGV Photo by Paul Chouy)
CHANGING LIVES FOR THE BETTER
Abby Alvarado has had two significant life changes back-to-back. The Weslaco native crossed the graduation stage to receive her Bachelor of Arts in early childhood – sixth-grade bilingual education. And just two weeks ago, she got married.
Alvarado already has signed a contract with the Littleton Independent School District in Arizona. She will walk into her first classroom next month, on Jan. 4.
"I met the principal of Estrella Vista Elementary School at UTRGV's Career Services Teacher Job Fair just a month ago," she said. "He interviewed me and I was hired on the spot. I am so excited."
OFFERING WORLD-CLASS EDUCATION
Nicole Englitsch's mother came from Austria to watch her daughter receive her second Master of Business Administration. Englitsch, who first came to UT Brownsville/Texas Southmost College as a master's studies exchange student for one semester in fall 2013, then went home and received her MBA in human resources.
"I liked it here so much, I came back for another MBA," she said. "I love Texas and would love to stay here. I am hoping I can teach undergraduate business courses in the UTRGV College of Business and Entrepreneurship."
PROVIDING BETTER OPPORTUNITIES
Ingrid Cepeda, a McAllen resident who received her Bachelor of Science in mechanical engineering, said she applied only to UTRGV legacy school UT Pan American because she met some of the faculty before graduating high school and was impressed with their credentials and work.
"I think the professors here are better than any other college I've visited," she said. "Our classes were maybe 50 students, at most. They knew all of us by name and they knew us even through the five years that I was there. They'd stop me in the halls and ask me how my classes were going. I don't think I would have gotten that at other schools."
Cepeda worked as an undergraduate research assistant for two years under Dr. Karen Lozano, a Julia Beecherl Endowed professor of mechanical engineering, and said she chose UTRGV because of the opportunities it provides for its undergraduate students.
"Most of my other friends who graduated from other UT schools don't actually get to work in research until their master's," she said.
FOSTERING A SUPPORTIVE ENVIRONMENT
Adriana Treviño, who received her Master of Arts in communication on Saturday and earned her Bachelor of Arts in communication in 2011, said she returned to her alma mater because of the strong support she received from faculty.
"UTRGV fosters a culture of warmth and passion for their students," she said.
Treviño, who worked as a reporter and anchor for FOX 2 News in McAllen and as a marketing director for the McAllen Economic Development Corp., said she went back to school to advance in her career.
"The industry taught me a lot, but I wanted to learn from people outside of my work bubble," she said. "I knew the only way to work and go to school simultaneously in the Rio Grande Valley would be to go to school at UTRGV and continue learning from the people who supported and challenged me in the classroom since the beginning."
Treviño now runs her own small public relations firm in San Antonio and works for St. Mary's University School of Law. She plans to go to law school.
BRINGING THE COMMUNITY TOGETHER
McAllen resident Rene Zuniga, who received his Ph.D. in education, curriculum and instruction with an emphasis in educational technology from UTRGV, said he is excited to be part of the first graduating class and for the institution's future.
Zuniga has ties to both of UTRGV's legacy institutions. He earned his bachelor's degree in business from then-Pan American University in 1983, his master's degree in educational supervision from UT Pan American in 1997, and began his doctoral program at The University of Texas at Brownsville/Texas Southmost College three years ago.
The associate professor of education and chair of the education department at South Texas College said he traveled almost 200 miles round-trip, twice a week, for the past three years while working on his degree.
His advice for students is to not to give up.
"It's like I tell my students, 'Once you get a degree you become part of an elite group,'" said Zuniga, who has worked as an educator at the secondary and higher education levels for more than 30 years. "It becomes a responsibility because you're a role model for future generations."
President Bailey, in concluding the ceremonies, told graduates, "UTRGV is your university. I encourage you to stay connected. … Graduates, you are our newest ambassadors. I know you will represent us well."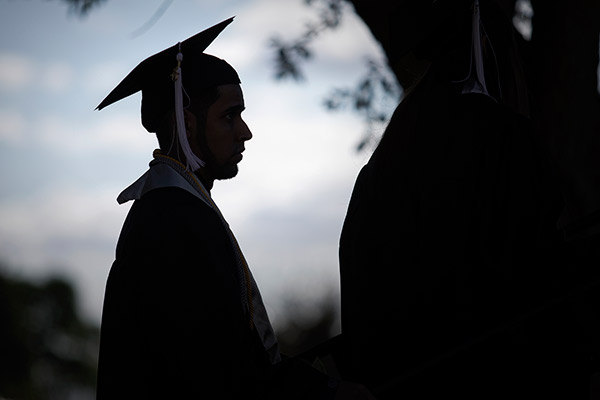 A UTRGV student, silhouetted in the early morning light, awaits commencement Dec. 19 on the Brownsville Campus. (UTRGV Photo by David Pike)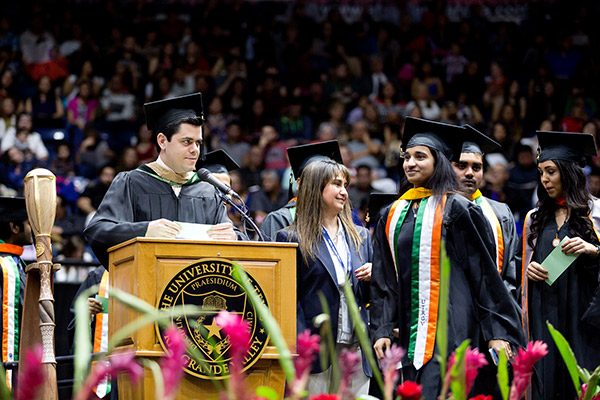 Guest announcer Oscar Margain reads the names of UTRGV students receiving degrees, during UTRGV commencement on Saturday, Dec. 19, 2015, at the State Farm Arena in Hidalgo. (UTRGV Photo by Paul Chouy)
MEDIA CONTACTS

Marci.Caltabiano@UTRGV.edu UTRGV Director of News and Internal Communications
956-665-2742
Jennifer.McGehee@UTRGV.edu UTRGV Director of Public Relations
956-882-5105