Sub Menu Toggle
UTRGV's first Printmaking Show wows in Brownsville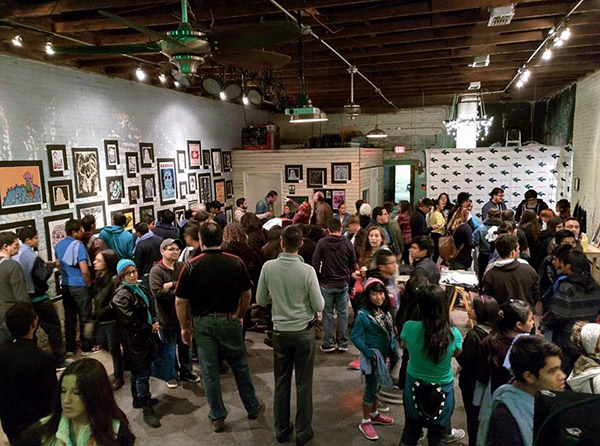 UTRGV students, faculty, staff and the community gathered Nov. 28 at the BAM! Gallery in Brownsville to explore printmaking techniques and create T-shirts with custom designs. (UTRGV Photo)
By Vicky Brito
BROWNSVILLE, TEXAS – NOV. 30, 2015 – Creativity took the spotlight in Brownsville this Thanksgiving weekend at The University of Texas Rio Grande Valley's first annual Printmaking Show, held at the Brownsville Artists and Musicians gallery, known as BAM!
About 150 people showed up to experience printmaking and to participate in free workshops with UTRGV students, faculty, staff and the community.
The interactive workshops focused on monoprints, linocuts and screenprinting. Guests could see live demonstrations of how printmaking techniques work, and were able to have a student create a design that then was printed on the spot on a T-shirt the guest provided.
"The UTRGV Printmaking Show was a huge success," said UTRGV Director of Public Relations Jennifer McGehee-Valdez. "It was such a joy to see the excitement on the faces of those who were eagerly waiting for their 'student-designed,' printed shirt to dry. The vibe was positive and fun. There was also an overwhelming sense of UTRGV unity and community."
Photos have been posted on Facebook, Twitter and Instagram under the hashtag #Subculture.
"The social media buzz was a key element to the success of the event," McGehee-Valdez said.
The goal is to bring a similar event to the UTRGV Edinburg Campus in March.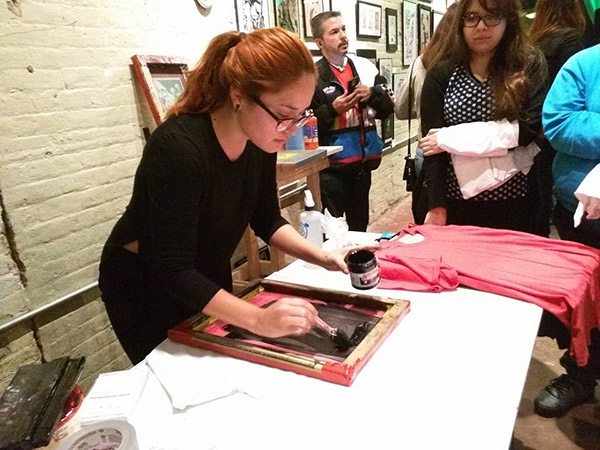 UTRGV art students showed off their printmaking techniques Nov. 28 at the BAM! Gallery in Brownsville, during the first Printmaking Show. The event was such a success, the event might extend to the Edinburg Campus in March. (UTRGV Photo)
MEDIA CONTACTS
Marci.Caltabiano@UTRGV.edu UTRGV Director of News and Internal Communications
956-665-2742
Jennifer.McGehee@UTRGV.edu UTRGV Director of Public Relations
956-882-5105