Sub Menu Toggle
Musicians tune into holiday spirit during 2015 Tuba Christmas at UTRGV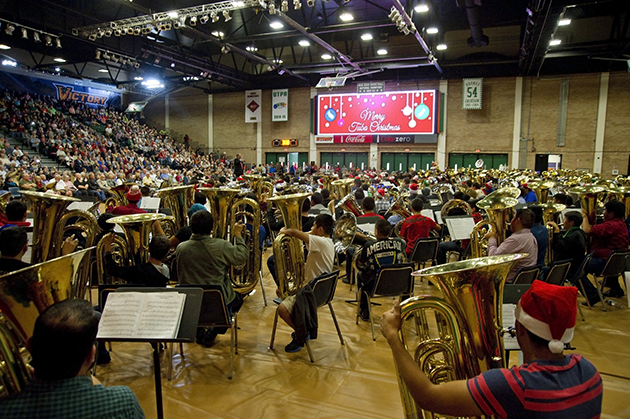 About 350 tuba and euphonium students and professionals from the Rio Grande Valley performed during the popular annual Tuba Christmas concert, Sunday, Dec. 13, 2015, at the UTRGV Fieldhouse on the Edinburg Campus. (UTRGV Photo by Kristela Garza)
Tuba Christmas 2015 photo gallery
By Jennifer L. Berghom
EDINBURG, TEXAS – DEC. 13, 2015 – The deep, august sounds of more than 300 tubas and euphoniums – many of them festively decorated with holiday sparkles and themes – filled The University of Texas Rio Grande Valley's Fieldhouse, during the 27th annual Tuba Christmas ensemble concert.
More than 350 musicians – ranging in age from 11 to 69 and representing UTRGV, as well as South Texas College, Texas A&M University-Kingsville and more than a dozen school districts – performed holiday songs to an audience of more than 1,000 on Sunday afternoon.
Tuba Christmas is an international event that started as a tribute to a teacher who was born on Christmas Day in 1902. The first Tuba Christmas was held in New York City at the Rockefeller Plaza Ice Rink on Sunday, Dec. 22, 1974. Since then, it has grown to include performances in 295 cities with hundreds of thousands of participants and concertgoers.
"People love this event. It's become a real community event," said Dr. Scott Roeder, professor of music at UTRGV and one of the event's organizers.
The annual event draws a variety of concertgoers, including families of the musicians, former participants, Winter Texans and area residents who just want to enjoy the holiday spirit.
This is the fourth year the university has hosted the event, but it is the first year under the direction of UTRGV; legacy institution UT Pan American hosted the event the previous three years, but overall, Tuba Christmas has been celebrated in the Valley for almost 30 years. The hour-long concert used to be held at McAllen High School, but moved to the Fieldhouse because there was not enough room to hold the growing event.
Roeder said Tuba Christmas delivers an enjoyable holiday event for the community, and provides an opportunity for tuba and euphonium students to showcase their talent.
"We usually spend most of our time in the back of the band, playing whole notes and oompahs, and this gives us the chance to be the stars," he said.
The concert is also a great recruitment tool for UTRGV because it exposes students in the audience to the university and what it has to offer them beyond music.
"It gives them a chance to develop relationships with everyone at the university," he said. "It gets a lot of students used to the university culture and what we have going on. So then, they're more than likely to come here when they pick a university."  
STUDENT VOICES
Mark Tovar, 17 and a junior at Mercedes High School, said he has been playing the euphonium since sixth grade and has participated in Tuba Christmas for almost as long.
"What I like most is how everybody can come together and do something that they enjoy. They can play in front of hundreds of people, and watch them enjoy it, as well," Tovar said.
Tuba Christmas newcomer Faith Copeland said she just started playing the tuba in May, because she has always liked the sound of the instrument.
"A lot of my family played tuba. My father played tuba," said Copeland, a 15-year-old sophomore at McAllen Memorial High School. "I love big instruments and the way they sound."
Though it was her first year performing with the ensemble, Copeland followed tradition by decorating her tuba. She chose "How the Grinch Stole Christmas" by Dr. Seuss, a childhood favorite.
A HOLIDAY GUEST
This year, the RGV Tuba Christmas group welcomed guest artist Lance LaDuke, an internationally known educator, writer, speaker and performer. LaDuke teaches as an artist lecturer at Carnegie Mellon University in Pittsburgh, Pennsylvania.
LaDuke, who had a solo performance that included euphonium and ukulele, said the RGV concert is unique because it is one of the largest groups to participate in the international event, as well as one of the longest-running, and has some of the youngest participants.
"To be invited to participate is a real honor. I feel very fortunate to meet some new friends and to see some old friends," LaDuke said.
He said he is impressed by the strong partnership between UTRGV and local school districts.
"It's a really great event for the university," he said. "To bring this many young people to these facilities and see what campus is like, and see what it's like to be around here – it's really a cool, special thing that doesn't happen at the other events around the country."
APPLAUSE
Those who attended clapped along to "Jingle Bell Rock" and, with LaDuke, sang a song about undesirable Christmas presents while he played the ukulele.
And concertgoers responded to the ensemble's finale – "We Wish You a Tuba Christmas" – with a rousing standing ovation.
Winter Texan Maria Buttera said she didn't know what to expect, since she was coming to the concert for the first time.
"I was just floored," said Buttera, who lives in Ohio the other part of the year. "That many tubas playing all at the same time … It's amazing that you can get that many people together to play the tuba – all the variety of ages, from all over the Valley. It's truly amazing."
It wasn't Marion Cowan's first time, though. The Winter Texan from Pennsylvania said she attended Tuba Christmas many times and has always enjoyed the experience.
"I like to keep coming back," Cowan said. "It's marvelous every time."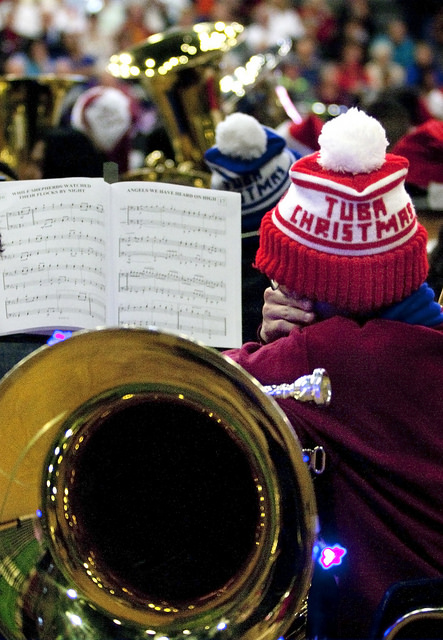 UTRGV's Tuba Christmas 2015 brought together about 350 tuba and euphonium musicians on Sunday, Dec. 13, at the Fieldhouse on the Edinburg Campus. (UTRGV Photo by Kristela Garza)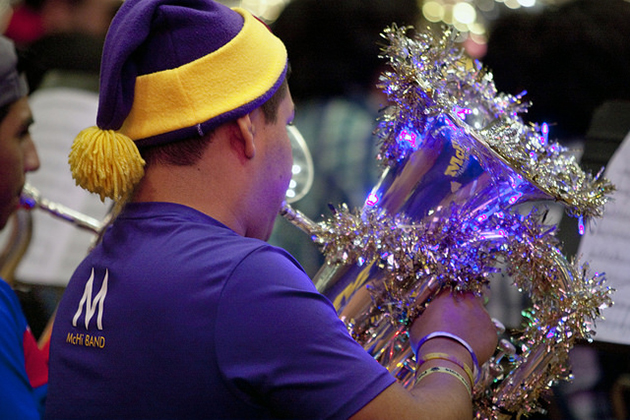 A student from McAllen High School plays "Adeste Fideles" during the UTRGV Tuba Christmas concert, held Sunday Dec. 13, 2015, at the Fieldhouse on the Edinburg Campus. (UTRGV Photo by Kristela Garza)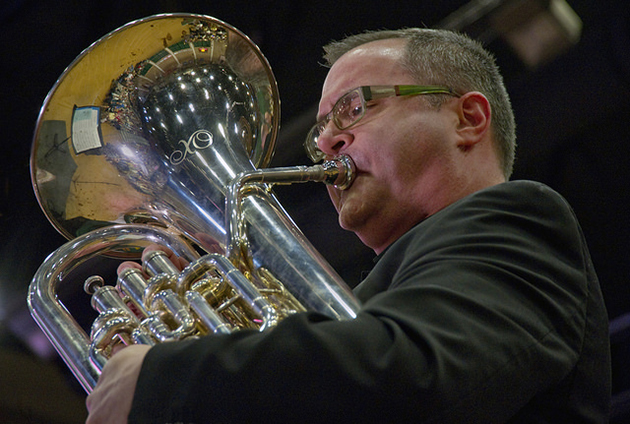 Lance LaDuke, an internationally renowned educator, writer, speaker and performer, was guest artist at the UTRGV 2015 Tuba Christmas, held Sunday, Dec. 13, 2015, in the Edinburg Campus Fieldhouse. (UTRGV Photo by Kristela Garza)
MEDIA CONTACTS
Marci.Caltabiano@UTRGV.edu UTRGV Director of News and Internal Communications
956-665-2742
Jennifer.McGehee@UTRGV.edu UTRGV Director of Public Relations
956-882-5105