Sub Menu Toggle
The 'sense'-ible thing to do: UTRGV hosts blind tennis workshop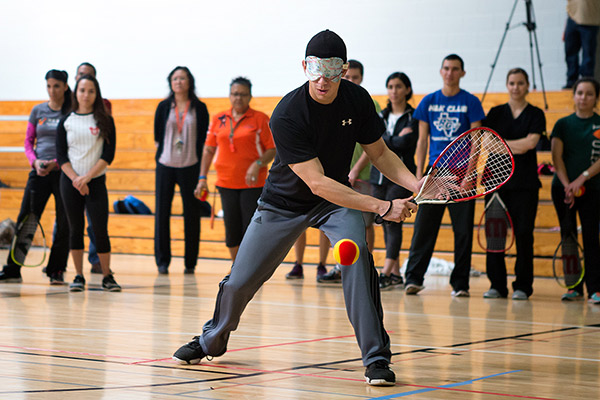 UTRGV kinesiology student Nick Garza, blindfolded, tries to return the ball, during a blind tennis workshop on Wednesday, Dec. 9, 2015, at the Health & Physical Education II gymnasium in Edinburg. (UTRGV Photo by Paul Chouy)
Blind tennis workshop photo gallery
By Jennifer L. Berghom
EDINBURG, TEXAS – DEC. 10, 2015 – Jesus Andrade, a junior studying kinesiology at The University of Texas Rio Grande Valley, said he considers himself a pretty good athlete.
But playing tennis while blindfolded was an eye-opening experience for Andrade – especially while competing against Octavio Magallán, 19, blind, and an accomplished tennis player from Mexico.
"It was amazing, what he could do," Andrade said. "It was intimidating. I thought I was going to do a lot better than I did. It looks easier than it really is."
Andrade and fellow kinesiology students participated in a two-hour workshop on blind tennis hosted by the UTRGV Department of Health and Human Performance. The session was held at the Health and Physical Education II Building on the UTRGV Edinburg campus Wednesday afternoon.
Students and faculty heard also from Mario Cazares, an international tennis coach for children with visual impairments, who talked about how the sport is played.
Unlike conventional tennis, the balls used for blind tennis have beads in them that make a rattling sound. Players then listen for the ball to hit the ground at least twice before attempting to hit it. And unlike conventional tennis, the balls usually are white — which are used by players who are completely blind — or black, which are used by players with visual impairment.
"Conventional tennis says, 'Keep your eye on the ball.' Here, we say, 'Keep your ear on the ball,'" Cazares said.
The court is marked with wire under tape, so players can feel the boundaries.
Cazares said the game involves more than just hitting the ball; it also must fly over the net, within bounds, so it is important for players to pay attention when they serve and return the ball.
UTRGV students tried the modified version of the game, where they had to wear blindfolds and rely on their hearing to connect with the ball.
Dr. Zasha Romero, assistant professor of Health and Human Performance, said he and fellow faculty members in the department hosted the workshop to bring awareness to the sport, which started about 30 years ago in Japan. He said he and his colleagues hope to develop research collaborations throughout the university, as well as with outside organizations related to the sport and to people with a variety of health challenges.
"This is a great opportunity for us, education-wise, for community engagement, for research, and maybe for grant writing, to help develop this sport."
Romero said the workshop also provided kinesiology students an opportunity to learn more about how they can teach physical education to their future students with disabilities.
"There are not a lot of opportunities for students with disabilities when it comes to physical education," he said. "Many are left on their own … and there's not a lot of emphasis on getting them into an organized sport. So, this is a great opportunity for these students to be engaged in more than just rehab."
By training kinesiology students on how to work with students with disabilities, Romero said, the program's graduates will "bring a double whammy" to any school district that hires them because they will be able to train all students in physical education.
"This gives us ideas on how to create better physical education integration for a lot of students," he said. 
The department plans to work with Cazares — who also trains people to coach blind tennis — so he can help train UTRGV students and faculty who want to become certified coaches in the sport, Romero said.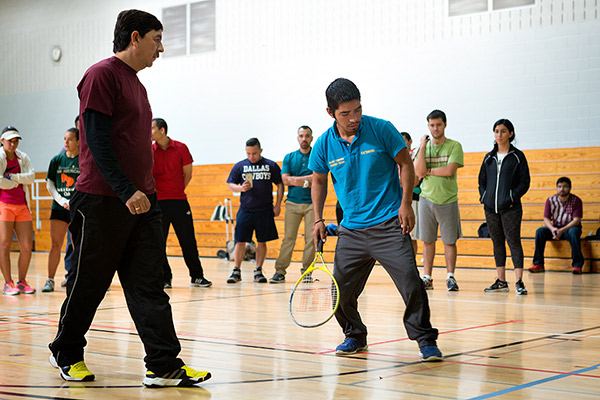 Competitive blind tennis athlete Octavio Magallán walks the court to get a feel for the boundaries, during a blind tennis workshop on Wednesday, Dec. 9, 2015, at the Health & Physical Education II gymnasium in Edinburg. (UTRGV Photo by Paul Chouy)
MEDIA CONTACTS

Marci.Caltabiano@UTRGV.edu UTRGV Director of News and Internal Communications
956-665-2742
Jennifer.McGehee@UTRGV.edu UTRGV Director of Public Relations
956-882-5105