Sub Menu Toggle
Master of Physician Assistant Studies program earns second 'distinguished' nod from Apple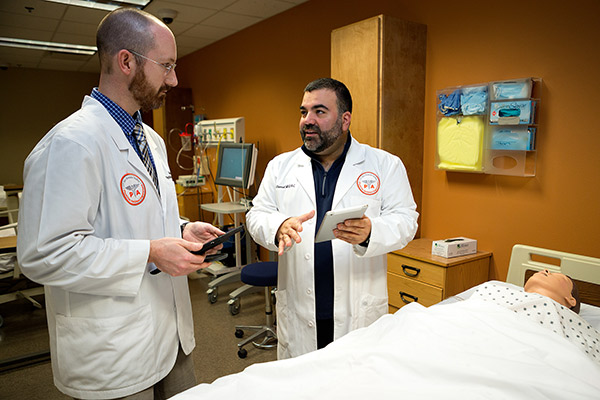 Elias Villarreal, UTRGV associate professor in the Department of Physician Assistant (center) and Marc Geller, third-year student in the program, display the PA program's use of iPads, simulation dummies and other technologies in patient treatment. (UTRGV Photo by Paul Chouy)
By Cheryl Taylor
RIO GRANDE VALLEY, TEXAS – NOV. 30, 2015 – The Department of Physician Assistant in the College of Health Affairs at The University of Texas Rio Grande Valley continues a legacy of success built on 16 years of dedication to providing certified Physician Assistant graduates who serve the medical needs of Valley communities.
The UTRGV Physician Assistant (PA) program has been recognized by Apple as an Apple Distinguished Program for the 2015-17 award cycle. This is the second confirmation of the program's efficacy. It also received the distinction for the 2013-15 award cycle.
"Along with changing approaches to teaching and learning over the years, we have seen a significant increase in national certifying exam performance," said Elias Villarreal, clinical associate professor in the Department of Physician Assistant. "This supports our belief in teaching methodologies that incorporate a modular curriculum combined with technology, and the iPad has been a key component of this success."
The Apple designation highlights the success of the PA program as an innovative and compelling learning environment, he said.
"Our faculty have worked together, embracing this technology to create curriculum programming that engages students – actively involving students in their learning process – and provides tangible evidence of academic accomplishment," he said.
PA student Marc Geller, who will graduate in December, said he and everyone in his student cohort have welcomed the iPad as a learning tool.
"With a device that's lighter and smaller than the average old-school medical textbook, I have full-time access to a library of up-to-date medical knowledge, with virtually unlimited books, videos and podcasts. And I can practice board exam questions," he said.
A couple of Geller's favorite iPad apps, Dropbox and Evernote, allow him to tailor the organization, retrieval and archiving of information to his own "needs and quirks."
"It is also a good tool in a clinical setting, to facilitate communication with patients," Geller said. "For example, when discussing a patient's high blood pressure, I can call up a video to demonstrate how uncontrolled hypertension can damage organs and lead to permanent disability. Just as Luke Skywalker had R2-D2 as his capable little sidekick, I think of my iPad as my R2-D2."
As they did for the original 2013-15 Apple Distinguished Program award, Villarreal, project co-leader Frank Ambriz, chair of the UTRGV Physician Assistant Department, and the entire PA faculty contributed to the creation of an iBook that highlights ways the UTRGV program has utilized the iPad in a variety of settings, including academic and clinical phases of the program. 
"We took advantage of the creation of the new university to further enhance the 'active' learning philosophy of the department," Villarreal said.
The numerous ways faculty members use iPads include designing online courses and supplementing live courses, grading video assessments, communicating asynchronously with students and other faculty, and projecting presentations in class through Apple TV-equipped classrooms.
"The Master in Physician Assistant Studies (MPAS) is very competitive. We have about 1,000 applicants for just 50 spots," Villarreal said. "Our students are serious. They are sharp and quick. And they not only accept the use technology in the learning process, they also expect it."
Upon acceptance to the program, each student receives an iPad from the department.
Villarreal's work with iPads was recognized by Apple earlier this year when he was selected as an Apple Distinguished Educator (ADE) – Class of 2015.
"I've been working with iPads since 2010, incorporating ways to benefit our instruction," he said. "As an ADE, I had the added advantage of attending the Apple-sponsored professional development institute for Apple Distinguished Educator members from North America and Latin America. My time at the institute was inspiring and productive. I learned, shared ideas and gained insight into ways to better serve our students."
For more information on the UTRGV Physician Assistant Program, contact Margaret Salinas in the College of Health Affairs at (956) 665-3189, or via email at margaret.salinas@utrgv.edu.
MEDIA CONTACTS
Marci.Caltabiano@UTRGV.edu UTRGV Director of News and Internal Communications
956-665-2742
Jennifer.McGehee@UTRGV.edu UTRGV Director of Public Relations
956-882-5105