Sub Menu Toggle
UTRGV ushers in new event, coin toss dubbed 'Toss 4 Luck'
Story by Cheryl Taylor and Melissa Vasquez
EDINBURG & BROWNSVILLE, TEXAS – AUG. 31, 2015 – With a new university come new traditions. On Monday, Aug. 31, The University of Texas Rio Grande Valley introduced its #FirstClass to a new Vaquero custom the UTRGV Student Government Association hopes will stand the test of time.
On both campuses, students tossed coins into a designated water fountain on each UTRGV campus.
In Edinburg, at the water fountain in front of the Chapel of the Lord's Prayer, Jorge Gonzalez, one of two UTRGV SGA vice presidents, explained the Toss for Luck to the group who had eagerly waited to make their wishes for this school year.
Jorge, part of UTRGV's welcome wagon, wished the students luck on their journey as Vaqueros and handed each a notecard that read: "Toss a nickel into the water fountain to be granted good fortune in health, wealth, love, success and friendship."
"Today's event was about creating a new tradition for our student body. What we are trying to do is create more of a student atmosphere with events like this," said Jorge, a senior mechanical engineering major.
In Brownsville, students tossed nickels into the Main water fountain to help kick off the inaugural year for UTRGV, which opened with a combined 29,045 student enrollment.
UTRGV Vaqueros can visit both fountains during the noon hour through Sept. 4 to make their special wishes at the "Toss 4 Luck."
Jorge, who wished for good grades this year, said all the coins collected from the event will be donated to a local charity.
Erielle Gonzalez, a freshman graphic design major, said she is hoping to have a fun and an exciting year as a new Vaquero. She wants to travel a lot and enjoy her university experience.
"I wished not to be stressed this year and for everything to go well," she said.
Julio Aguilera, a junior mechanical engineering major from Miami. Fla., said the inaugural year for UTRGV is going to be one of new surprises and he is looking forward to seeing how it will turn out.
"I wished for success and to start the school year better than I did last semester, and hopefully graduate in one-and-a-half years," he said.
Isaiah Resendez and his proud father, Daniel, stood together at the Brownsville fountain for the coin toss.
"When my dad heard about this, he encouraged me to participate to be a part of the history of this new university, so we timed our visit to the business office to be here at noon," said Resendez, a biomedical sciences student who hopes to continue on to medical school and become a pediatrician.
Also standing by to toss their nickels into the Main fountain were Mayra Tovar, Sara Almazán and Reyna Duran, three 2015 graduates of Brownsville Early College High School who are starting as juniors at UTRGV.
"We are familiar with the campus because as BECHS students we took classes over here," said Tovar. "So, in a way, this first day of class is not that different – but it is still exciting because this is a new university with a new name, and we are all glad to be here to have this great opportunity."
UTRGV's Best Week Ever continues through Friday, Sept. 4, with student activities and events, including student picnics with UTRGV President Guy Bailey on both campuses.
For more information, call the UTRGV Student Involvement office at 956-665-2660 (Edinburg) or 956-882-5111 (Brownsville).
CUTLINES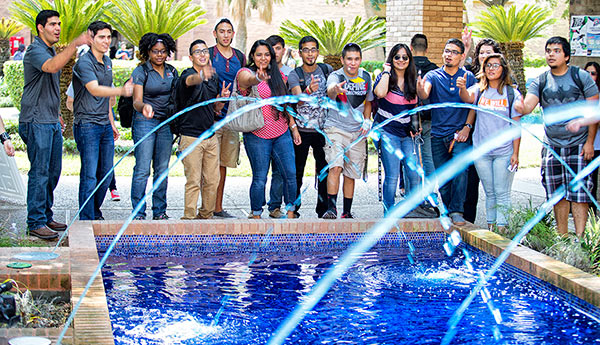 Some of UTRGV's #FirstClass of students, including Student Government President Alberto Adame (second from left), gathered on the Edinburg Campus at the fountain near the flagpole to toss a nickel into the water in celebration of the first day of classes, and to make wishes for the future.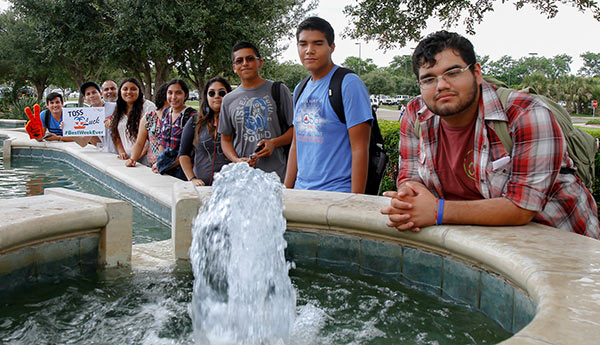 Some of UTRGV's #FirstClass of students gathered the fountain at the Main water fountain to toss their coins into the water, celebrating the first day of classes and making wishes for the future.
MEDIA CONTACTS
Marci.Caltabiano@UTRGV.edu UTRGV Director of News and Internal Communications
956-665-2742
Jennifer.McGehee@UTRGV.edu UTRGV Director of Public Relations
956-882-5105