Sub Menu Toggle
UT Chancellor McRaven attends flag-raising, proclamation celebrations for UTRGV's first day
Story by Gail Fagan and Vicky Brito
EDINBURG & BROWNSVILLE, TEXAS – AUG. 31, 2015 – The University of Texas Rio Grande Valley opened its doors today to 29,045 students for its #FirstClass.
Helping mark the historic occasion was The University of Texas System Chancellor William McRaven, who joined UTRGV President Guy Bailey and other dignitaries at ceremonies on both the Brownsville and Edinburg campuses.
In his introduction, Bailey said McRaven's leadership qualities go beyond his role as a chancellor, and that as an Admiral and Navy SEAL, McRaven played an important role in capturing Bin Laden, giving him a global perspective.
"As much as anybody, he understands the importance locally of this institution and the impact it can have globally. He has been our biggest supporter since he has been here," Bailey said.
Following a moving flag-raising ceremony conducted by the UTRGV ROTC Color Guard in Edinburg, McRaven praised Bailey's leadership in what he called the "tough task" of creating a new university.
 "Guy, today is your day," McRaven said.
 He also praised the vision and contributions of former UT System Regent Gene Powell and former chancellor Francisco Cigarroa. Bringing together the strengths of the two legacy universities – The University of Texas-Pan American and The University of Texas at Brownsville / Texas Southmost College – the Regional Academic Health Center and adding a School of Medicine could fundamentally change the Valley, he said.
"If we put forth the imagination, if we put forth the effort, there is nothing that can stop this university from moving in the right direction," McRaven said. "But today is just the beginning. We will have to work every day, every week, every month and every year to continue to improve what we are starting today. What we do here today will change the social fabric of the Valley. It will make us stronger, healthier, more productive and more tolerant. One hundred years from now, Texas will look back and say that this day changed Texas forever."
Bailey welcomed and thanked the dignitaries present at the ceremony, including: 
U.S. Congressman Ruben Hinojosa (TX-15).
Texas Sen. Juan "Chuy" Hinojosa.
U.T. System Regents Brenda Pejovich and Ernest Aliseda. 
And Harlingen Mayor Chris Boswell.
At the ceremony's end, Bailey said that when his late wife Jan died two years ago, he decided to retire but his daughter encouraged him to find something else he could be passionate about. He described filling the position as president here as one of the great honors of his life.
"Thank you for allowing me to be a part of this. What is happening here is one of the most important milestones in American higher education. When we look back 10 years from now, we will realize that we did things that nobody else can do," Bailey said.
After the flag-raising ceremony, Chancellor McRaven was scheduled to fly from Edinburg to Brownsville to attend a Flag Proclamation ceremony and was scheduled to be at the Brownsville Campus at 2 p.m. Instead, due to severe rain, he instead arrived at 3 p.m. by car.
While waiting for the chancellor to arrive, Bailey stressed the significance of McRaven's presence.
"What is happening today is unique," Bailey said. "It's a start."
McRaven and his wife, Georgianna, greeted the people in attendance, then he addressed the group.
 "This is history in the making," McRaven said. "I have been fortunate in my life and in my career to be at points in time where history was being made. I was in the White House for a couple of very significant events … and sometimes, in the middle of a historic event, you don't realize you're in the middle of the event. … Well, let me tell you, recognize today. You are in the middle of a historic event."
CUTLINES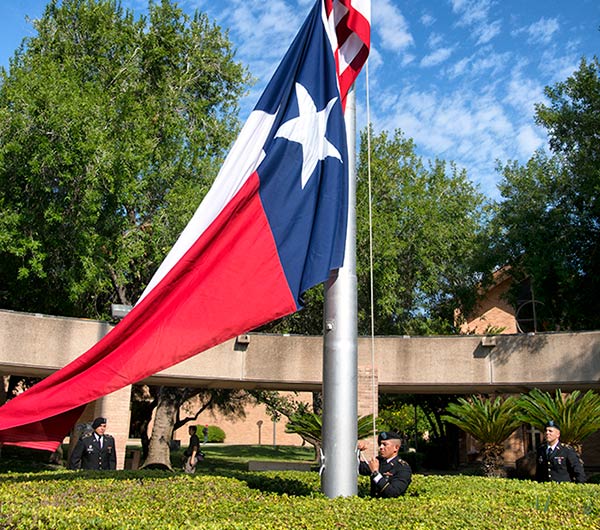 The Valley welcomed the opening of The University of Texas Rio Grande Valley on Monday, Aug. 31, 2015, as the UTRGV ROTC Color Guard raised the U.S. and Texas flags during the singing of 'The Star-Spangled Banner.' In attendance were UT System Chancellor William McRaven, UTRGV President Guy Bailey, two System regents, and legislators and numerous other dignitaries.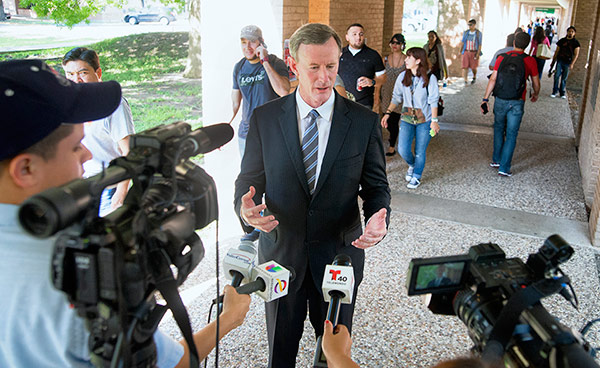 As University of Texas Rio Grande Valley #FirstClass students streamed past on the Edinburg Campus Monday morning, UT System Chancellor William McRaven talked with the media after a moving flag-raising ceremony to celebrate the official opening and first day of classes.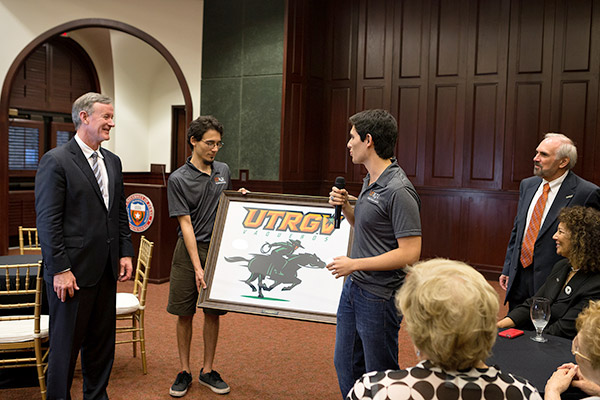 UT System Chancellor William McRaven received a framed copy of the UTRGV mascot from UTRGV Student Government Association President Alberto Adame (holding the microphone) on the first day of class, Monday, Aug. 31, 2015, at Salon Cassia in Brownsville. Looking on is UTRGV President Guy Bailey (far right). 

MEDIA CONTACTS

Marci.Caltabiano@UTRGV.edu UTRGV Director of News and Internal Communications
956-665-2742
Jennifer.McGehee@UTRGV.edu UTRGV Director of Public Relations
956-882-5105