Sub Menu Toggle
New faculty members learn all about UTRGV at two-day orientation
By Cheryl Taylor
BROWNSVILLE & EDINBURG, TEXAS – AUG. 18, 2015 – Hailing from near and far, new faculty members at The University of Texas Rio Grande Valley attended orientation sessions Monday, Aug. 17, on the Brownsville Campus and Tuesday, Aug. 18, on the Edinburg Campus.
About 90 professors were briefed on a range of topics, including academic and institutional resources, support services, information technology and campus safety.
The highlight of the first day was the president's luncheon. Guy Bailey, UTRGV founding president, welcomed everyone and spoke passionately about the four objectives of the university: student success, educational opportunity, medical education, and research on issues affecting the region.  
"Our purpose is to be a university for the entire Valley," Bailey said. 
New faculty members included Kentucky native Dr. Megan Kruer and Pennsylvania native Dr. Luke Donahue, who met as students at Emory University in Atlanta and now have achieved one of the goals of their young married life: to find employment at the same university.
"Especially for us, both being in the humanities, we knew it would be difficult to be hired at the same university at the same time," said Kruer, who will be teaching English and French at the Edinburg Campus.
Donahue, also in the Department of Literatures and Cultural Studies of the College of Liberal Arts, will be teaching Literature of the Romantic Period at the Brownsville Campus.
Splitting the geographic difference in their commute, the couple has rented a house in Harlingen and is looking for a second car.
"We have met such nice people already. We've gone to Harlingen's Blues on the Hill, to South Padre Island, and we love being in a warm climate," Kruer said. "We hope to make this our home for a long time."
MORE NEW FACES 
Other new faculty include:
Ping Xu, originally from Shanghai, China, and a graduate of the Illinois Institute of Art in Chicago, found his way to UTRGV via Truman State University in Kirksville, Mo. Ping was hired to teach graphic art in the School of Art, College of Fine Arts. 

"Everyone has been very helpful; I've been here just one week and I've found an apartment," 

Xu said. "The Midwest has too much snow for me, and I have been wanting to come to 

Texas. I have a lot of friends in Texas. I am happy to be here."

Dr. Chip Breier, a native Texan who received his undergraduate and graduate degrees at Texas A&M University and The University of Texas at Austin, respectively, said he could not pass up the opportunity to be a part of the team that will create the Coastal Studies Program at UTRGV. 

"A chance like this doesn't come up very often – to build a program and a new coastal 

science laboratory at a new university," said Breier, a marine chemist who has spent the past 

eight years at Woods Hole Oceanographic Institute on Cape Cod, Mass.

Los Angeles native Dr. Marisa Palacios-Knox specializes in Victorian literature. 

"I was particularly drawn to UTRGV because I was looking for a position with a Hispanic-

serving public institution," she said.

Dr. Tekla Hawkins, who recently received her doctorate from The University of Texas at Austin, had a somewhat similar job goal. 

"As a first-generation student, and a returning working adult student who had a child, I am 

interested in working with the student population here," Hawkins said. "It's personal and 

important to me."

El Paso native Elizabeth Goldberg will be instructing future high school science teachers in the fledgling, but strong, UTeach Program.
Dr. Genevieve Garcia de Mueller, hailing from Albuquerque, will be guiding UTRGV students in the critical skill of rhetoric in the Department of Writing and Language Studies.
And Houston native Josef Sifuentes will be teaching in the School of Mathematical and Statistical Sciences.
Not everyone at orientation was new to the Valley or new to one of UTRGV's legacy institutions.
Dr. Cynthia Wise Galvan was one of the first to receive a doctoral degree from The University of Texas at Brownsville/Texas Southmost College in Curriculum and Instruction. 

"I had promised to continue my work to help develop innovative programs to address the needs of my district, so after receiving my doctorate in 2011, I continued to work for Mercedes Independent School District for three years," she said.
Galvan spent last year as a part-time faculty member at The University of Texas-Pan American, working with education students fulfilling their practicum semester, and always kept an eye on the possibility of joining UTRGV. 

"I feel my circle is complete. Now I can share my knowledge and experience with incoming teachers," Galvan said. "I am happy and proud to be a member of this distinguished faculty and especially to be a part of an exciting future for the Valley."

CUTLINES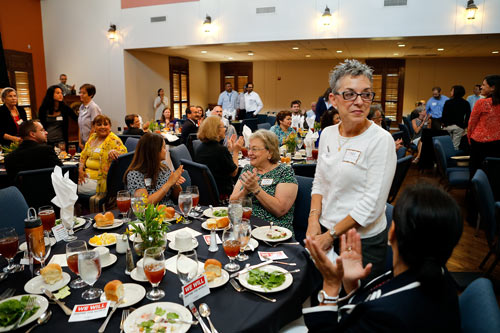 About 90 new and returning UTRGV faculty members attended orientation sessions Aug. 17 on the Brownsville Campus and Aug. 18 on the Edinburg Campus. They heard presentations on topics that included academic and institutional resources, support services, information technology and campus safety.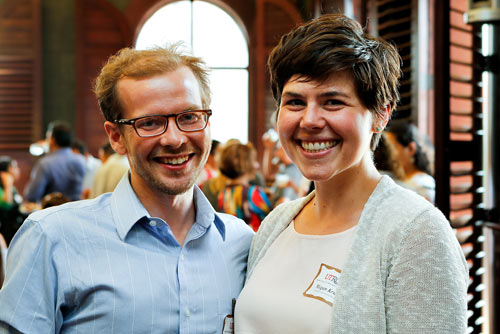 Married couple Dr. Megan Kruer and Dr. Luke Donahue are overjoyed at both finding positions at UTRGV. (UTRGV Photo by Paul Chouy)

MEDIA CONTACTS 
Marci Caltabiano-Ponce, UTRGV Director of News and Internal Communications 
956-665-2742
Jennifer McGehee Valdez, UTRGV Director of Media and Public Relations 
956-882-5105