Sub Menu Toggle
Student Accessibility Services reaffirms ADA anniversary, inclusive environment at UTRGV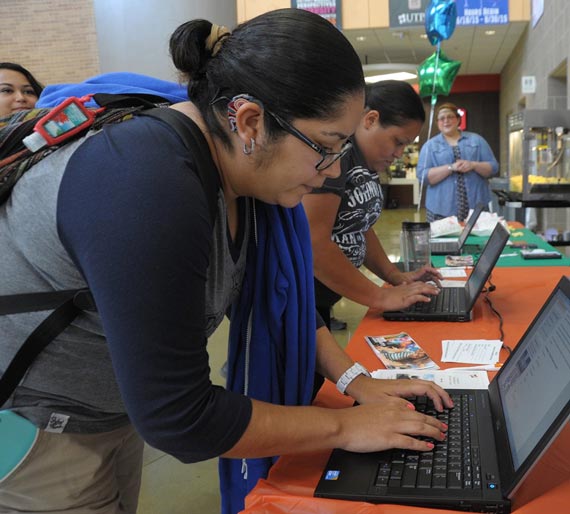 Christina Rodriguez, who is majoring in deaf rehabilitation, signed a pledge in support of the American Disabilities Act at a recent event to commemorate the 25th anniversary of the legislation that eliminated discrimination against persons with disabilities. The event was hosted by UTRGV's Student Accessibility Services.
EDINBURG, TEXAS – AUG. 14, 2015 – Hundreds of students at The University of Texas Rio Grande Valley recently signed an affirmation of their support of the Americans with Disability Act (ADA) to celebrate the 25th anniversary of the landmark civil rights legislation.
The pledge-signing event, sponsored by the university's Student Accessibility Services (SAS), commemorated the comprehensive national mandate passed in 1990 to eliminate discrimination against individuals with disabilities.
"The event was part of our goal to increase our presence on campus and reflect a campus environment that is inclusive for all students," said Tonya Paulette, SAS director.
The recent name change from "Disability Services" to "Student Accessibility Services" emphasizes a focus on students, she said, and hopefully will encourage them to fully use the services available.
"The word 'disability' leads people to believe that only severe physical and psychological conditions warrant use of the service. Feedback from students indicated that many people were not aware that the office welcomed individuals in less serious situations or with temporary conditions," Paulette said.
SAS, which is part of UTRGV's Division of Student Success, provides services for qualified students with disabilities. This may include, but is not limited to, physical, medical, psychological/mental disorders, learning disorders and temporary disabilities. Services are provided on college campuses so students with disabilities have equal access and opportunity to benefit from classes, programs and activities, she said.
Some of the services and accommodations available include:
Priority registration.
Exams – i.e., extended times on tests, readers, scribes or proctors.
Testing in a room with limited distractions.
Interpreters (sign language).
And textbooks and class materials in an alternative format (enlarged font, braille, or audio).
All academic accommodations must have SAS authorization and are determined on an individual basis.  In Edinburg, the office is located in Room 108, University Center. At Brownsville, the office is in Room 129 in Cortez Hall. 
In October, SAS will host UTRGV Accessibility Awareness Month on both campuses and will include seminars led by community and campus professionals, hands-on activities, health screenings and information fairs planned for Wednesday, Oct. 14.
"We hope this event will further promote awareness and inclusion and to dispel stereotypes about disabilities," Paulette said. "By focusing on access and accessibility, we are more in line with the preferences of our students, the future of the field and reflecting a progressive institution."
For more information, call the Brownsville Campus at (956) 882-7374 and the Edinburg Campus at (956) 665-7005.
Media Contacts
Marci Caltabiano-Ponce, UTRGV Director of News and Internal Communications
956-665-2742