Sub Menu Toggle
First Class: Freshman aims for accelerated medical degree through A-PRIME TIME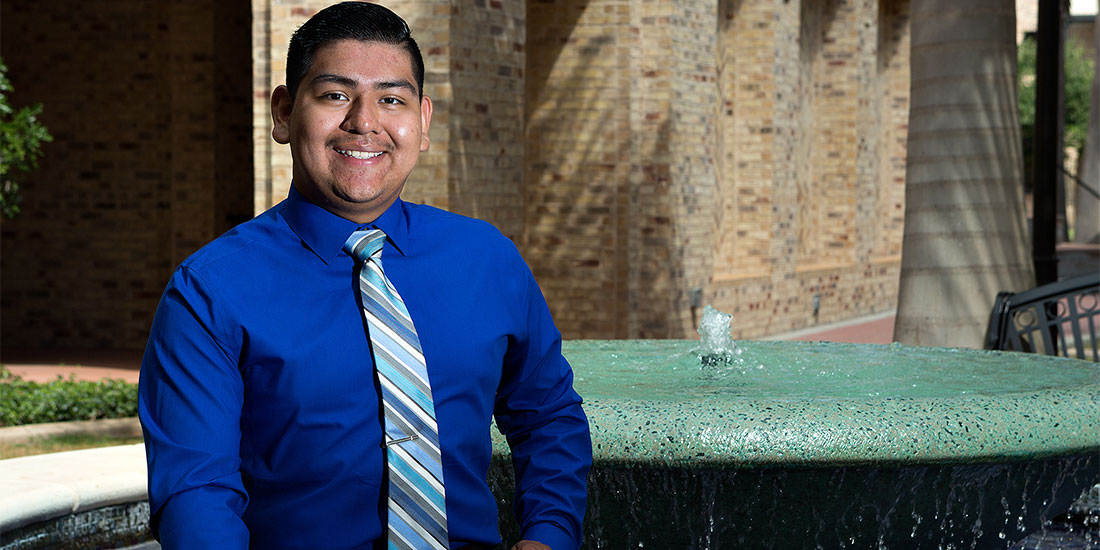 BROWNSVILLE, TEXAS – AUG. 11, 2015 – Jesús Roberto Franco, salutatorian of the Porter Early College High School class of 2015, has had a desire to work in a medical profession since he was very young.
Now, he will begin that journey as part of the A-PRIME TIME Success Academy, hosted at the University of Texas Rio Grande Valley on the Brownsville Campus. 
Franco already has spent a fair share of his time with medical professionals.
"I was exposed to the medical field very early in my life because both of my younger sisters were diagnosed with asthma at a young age. Going to the pediatrician was a common occurrence, and I was really thankful that those doctors were able to help my family," he said.
He also had an aunt and an uncle who both were diagnosed with tracheal cancer. And most recently, his mother was diagnosed with breast cancer.
"Right now, thankfully, she's OK," he said. "She went to treatment and she's OK right now."
Franco said it is too early to think of a specialty, but he is leaning toward oncology and pediatrics – both informed by his family's past experiences.
The Accelerated Professional, Relevant, Integrated Medical Education Transformation in Medical Education (A-PRIME TIME) is designed to strengthen and shorten the path to an M.D. degree for students who wish to pursue pre-medical and medical degrees, and allows students to earn both a Bachelor of Science and a Medical Degree (MD) in six years.
Beginning the summer before freshman year, aspiring doctors attend enrichment programs in which they get to observe patients as part of a medical team and receive primary instruction in anatomy.
Additionally, students receive preparation for the MCAT during their second year.
"A-PRIME TIME is a program hosted by the UT System within the TIME initiative," A-PRIME TIME Program Director Hugo Rodriguez said. "We try to not reinvent, but shorten the pathway to medical school from eight years to six years."
Students spend three years at their undergraduate campus, taking basic courses along with vigorous medical preparation. They then matriculate to medical school at either the UT Medical Branch in Galveston or the UT Health Science Center in Houston.
"I heard about A-PRIME TIME my sophomore year," Franco said. "We went to a job fair and it happened to be one of the tables. I thought it was an excellent program."
Franco prepared for the rigorous college courses by taking Advanced Placement and dual enrollment courses in high school.
"I already knew I could breeze through high school and it wouldn't be a problem, but I wanted to pressure myself with a lot of AP courses," he said.
Franco is part of the third cohort of the program. The first cohort starts medical school in fall 2016.
Rodriguez said this program is a way to go back to basics. The application process is competitive, he said, and recruitment includes visits to high schools and magnets schools, along with presentations on the program.
"We have a committee, and the committees includes faculty here, as well as community physicians who are part of the process," Rodriguez said. "We review all the applications and we check all of the recommendation letters, grades, test scores and GPAs, and we evaluate each of the applications based on their profile."
As part of the program, students get their clinical experience at Valley Baptist Medical Center in Brownsville.
"I don't know what to expect," Franco said of the program. "I've taken college courses, but never at a college campus. But I felt the rigors of the AP courses have prepared me. That, and being able to juggle all these things; I was involved in a lot of extracurricular activities."
At Porter ECHS, Franco was involved in One-Act play and ballroom dance, and was president of the Technology Student Association, vice president of the National Honor Society, president of Student Council and reporter of VITA.
He chose to stay close to home for college because of the affordability, and to be near his family.
"I love Brownsville," he said. "It's a perfect mix of population and things you can do with your family. I love it, it's my home."
Franco is looking forward to beginning his first year of college at UTRGV.
"I'm really excited just to see what college is really like and how hectic it's going to be," he said. "I really want to start, so I can plan for the future."
Criteria to attend A-PRIME TIME includes three letters of recommendation, a high school GPA of 3.25 in science and cumulative classes, a dual credit GPA of 3.25, SAT scores of at least 1500 for all three sections, an ACT score of at least 21, and a letter of intent.
MEDIA CONTACTS 

Marci Caltabiano-Ponce, UTRGV Director of News and Internal Communications 
956-665-2742