Sub Menu Toggle
McAllen Medical Center Foundation gives UTRGV $100,000 to start endowed professorship at South Texas Diabetes and Obesity Institute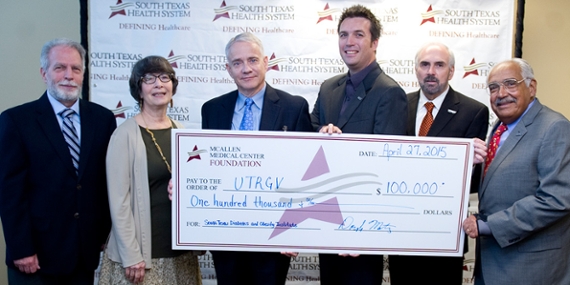 Pictured from left are Dr. Michael Mahaney, professor, STDOI; Dr. Sandra Laston, associate professor,
research, STDOI; Doug Matney, regional vice president, South Texas Health System and president,
McAllen Medical Center Foundation; Dr. Matthew Johnson, associate professor of medicine, STDOI;
Dr. Guy Bailey, UTRGV founding president; and Dr. Francisco Fernandez, founding dean, UTRGV School
of Medicine.
McALLEN, TEXAS – April 27, 2015 – The University of Texas Rio Grande Valley and the South Texas Diabetes and Obesity Institute have gained another partner in the fight against diabetes.
The McAllen Medical Center Foundation, a nonprofit wing of the McAllen Medical Center, today announced that it is funding a $100,000 professorship for the institute, a UTRGV research, clinical and education program that will conduct advanced research on diabetes and obesity and, ultimately, help develop better treatments.
During a press conference Monday at McAllen Medical Center, UTRGV Founding President Guy Bailey thanked the foundation for its support and said partnerships with area hospitals are key to the success of UTRGV and its School of Medicine.
"It's really kind of a second red-letter day," Bailey said. "Last week, the Texas Higher Education Coordinating Board gave its stamp of approval for our M.D. (degree). We followed it up this week with an extraordinary gift."
The partnership established with this endowment will allow UTRGV to tackle an increasingly pervasive health issue for the Valley and the nation. About 30 percent of people in the Valley have diabetes, Bailey said, and it is the seventh-leading cause of death in the United States.
"Together, we'll go forward. We'll combat diabetes," Bailey said. "And it's not something we'll solve tomorrow, but the research that happens will be something that will address and ameliorate it in the future."
Doug Matney, regional vice president of South Texas Health System and president of the McAllen Medical Center Foundation, said the foundation traditionally has awarded scholarships to students pursuing degrees in healthcare-related fields, but decided to start the endowment with UTRGV to support its work in researching diabetes.
"We will look to a large degree to UTRGV to do the research and to come up with some of the solutions that, hopefully, we'll be able to implement face-to-face with the patients," Matney said.
"Our area of expertise is providing health care. When it comes to education, educational institutions are in a better position on how to select, how to spend those dollars. From our standpoint, we wanted to put those dollars in the hands of who we thought would be the best steward of them and, as a result, we chose to work with UTRGV … Diabetes research is something that certainly adds value to this community," he said.
The professorship endowment will be funded over two years: $60,000 for the first year and $40,000 for the second year. The gift may also be eligible for additional funding from The University of Texas System's Research Incentive Program for the Comprehensive Universities (UTrip-CU) funding at 30 percent, or $30,000.
Dr. Francisco Fernandez, inaugural dean of the UTRGV School of Medicine – which is currently undergoing accreditation and is slated to open in 2016 – said endowments like this one from the McAllen Medical Center Foundation can help faculty members boost their research. Such support recognizes both current excellence and potential for future achievement in connecting medical science with the community.
Having endowed chairs and professorships allows universities to recruit the best and brightest scholars in their respective fields, Fernandez said, increases the institution's reputation, and gives students a unique opportunity to train in a one-of-a-kind research facility.
"When you think about the benefits of having this partnership of the McAllen Medical Center Foundation with the STDOI team, we are looking at a permanent relationship that allows us to think about how best to plan for the future," Fernandez said. "The professorship actually ensures us that this can happen. And we will make the most of it, with new and innovative programs that will eventually improve the health of our citizens.  
"It not only helps the science, it helps the educational mission. And, of course, if you make the impact that you hope to make in patient care, it helps all three missions: clinical, education and research."
Dr. Matthew Johnson, associate professor at STDOI and one of 22 researchers recruited for the facility, said the level of community support for the Institute and the School of Medicine has been incredible, and will allow scientists here to collaborate with colleagues around the world.
"The STDOI scientists are eager to prove that your investment is worthwhile," Johnson said.  "All of us will work hard to make sure the Institute has a strong positive impact on the Rio Grande Valley. We hope to build one of the world's leading research institutes, and the McAllen Medical Center Foundation professorship will be key to allowing us to realize that goal."
For more information about giving opportunities, contact Priscilla G. Cortez, UTRGV interim vice president for Major and Principal Gifts, at pcortez@utsystem.edu or (512) 499-4212.
MEDIA CONTACTS
Marci Caltabiano Ponce
UTRGV Director of News and Internal Communications 
956-665-2742
Jennifer McGehee-Valdez
UTRGV Director of Public Relations 
956-882-5105
Letty Fernandez
UTRGV Director of Media Relations
956-882-6535