Sub Menu Toggle
Students get a taste of college life at Discover UTRGV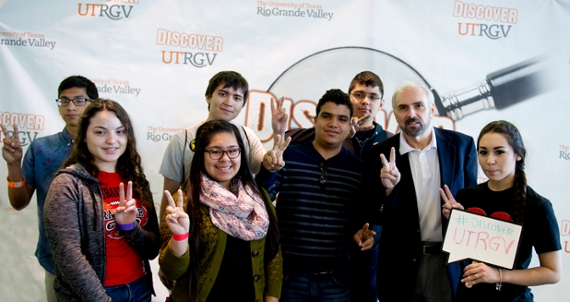 UTRGV President Dr. Guy Bailey (second from right) joined some of the students who attended Discover UTRGV open houses on March 21 in Brownsville and March 28 in Edinburg.
EDINBURG, TEXAS-APRIL 2, 2015-High school senior Leann Vera and her younger brother Nathaniel Anzaldua, a freshman, traveled from Corpus Christi to the Rio Grande Valley two weekends in a row recently to find out all they could about a new college option -  The University of Texas Rio Grande Valley.  
At a Discover UTRGV open house event March 21 at The University of Texas at Brownsville/Texas Southmost College, and a similar event at The University of Texas-Pan American in Edinburg on March 28, the siblings learned it was exciting to experience the formation of, and possibly attend, a new university. 
"It is not often that they make new colleges, especially here in Texas, so it is really a good experience," said Vera, who attends Roy Miller High School and is leaning toward a major in engineering or business. 
She and Anzaldua, who attends Collegiate Delmar Early College Prep School and is set on studying engineering, particularly enjoyed the Academic Fair at the open house in Edinburg. They were able to meet and talk with deans, faculty and staff from each of the seven colleges and gather additional information on the more than 100 programs the new university will have to offer, along with a new medical school. 
"You got to see a little bit about each of the colleges and see which one you like. I've looked at a lot of universities but this one really stands out," Vera said. 
Vera and Anzaldua were among nearly 900 potential students and family members from across the state who visited the Brownsville and Edinburg campuses over the two successive Saturday schedule of open houses. So far, UTRGV has received more than 9,500 applications since October 2014 and has sent out more than 2,800 acceptance letters to students, said Griselda Castilla, UTRGV director of Recruitment and Scholarships. 
"If they had any questions or if they were borderline about attending UTRGV, I definitely believe that these two events will what we call in recruitment 'seal the deal,'" Castilla said.  
At the open houses, students and parents visited stations offering help with questions on admissions, financial aid and scholarships; a visit to all the stations made a student eligible to win a scholarship to attend UTRGV. The students also got to participate in mock classroom presentations in the college of their intended major, learn about campus organizations and tour campus housing and other facilities. In addition, each student went home with a UTRGV backpack and a T-shirt emblazoned with the new university's name. 
In his welcome to visitors at the Edinburg open house, UTRGV President Guy Bailey called it a "once in a lifetime opportunity" to create a new university. 
"We're taking the assets of two great legacy schools, both UT Brownsville/Texas Southmost College and UT Pan American and we're creating the first university in the state of Texas in the 21st century. Think about that, this is truly historic, you will be a historic part of our first class," he said. 
As a first generation college student himself, Bailey said he is well aware of the support students need to be successful. 
"At UTRGV, we will be committed first and foremost to student success. Your success, how you do, is the most important thing to us. If you're not successful, we're not successful," he said. "We want you to graduate ... we want you to do the things that you've never dreamed of." 
Bailey said UTRGV will offer expanded educational opportunities and address real-life problems in the Rio Grande Valley, like diabetes and obesity. 
"This is the most exciting thing that I've ever been a part of. It's the greatest honor in my career ... I look forward to meeting with you and working with you. Taking this journey with you is going to be a lot of fun," Bailey said.
Jorge Gomez, a senior at IDEA College Prep in Donna, said he likes the opportunity for a great college experience UTRGV will provide while still being able to stay close to home. He said the open house in Edinburg gave him a chance to hear about a variety of engineering fields he could go into and some of many activities he could be involved in. 
"Considering the fact that I'll be graduating and entering the school in less than a year, it makes me feel like I'm really a student here already," he said. 
For more information on UTRGV, go to its website at www.utrgv.edu, like its Facebook page, or follow @utrgv on Twitter.  See more of Discover UTRGV at this photo gallery.  
Media Contacts:
Letty Fernandez
UTRGV Director of Media Relations
956-882-6535

Jennifer McGehee-Valdez
UTRGV Director of Public Relations
956-882-5105

Marci Caltabiano Ponce
UTRGV Director of News and Internal Communications
956-665-2742