Sub Menu Toggle
Thanks a million! H-E-B donates $1 million to UTRGV South Texas Diabetes & Obesity Institute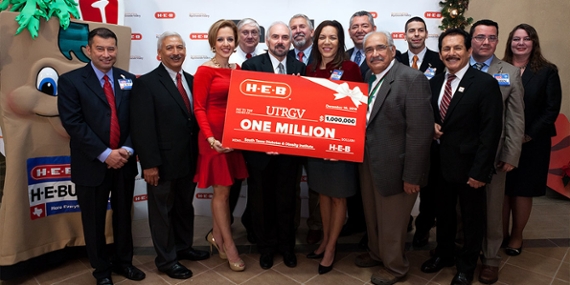 HARLINGEN, TEXAS, DECEMBER 18, 2014 -- Christmas came early to The University of Texas Rio Grande Valley with a $1 million gift from H-E-B.
H-E-B's generous gift will assist UT Rio Grande Valley in establishing an endowed Chair benefitting the South Texas Diabetes & Obesity Institute (STDOI). With this gift, UTRGV gained an ally in the fight against diabetes and obesity and the promotion of health.
The Regional Academic Health Center on Thursday felt more like a cozy living room on Christmas morning, with representatives from the grocery giant, UTRGV and federal, state and local dignitaries among others crowding in to see what Santa had bestowed upon this new university.
The crowd cheered when Dr. Guy Bailey, UTRGV President, and H-E-B representatives opened a large present with the check inside.
Laura Gump, group vice president and general manager of H-E-B's Border Region, said H-E-B is proud to partner with UTRGV to embark on advancing education and health care in the Valley.
"The opening of UTRGV and the School of Medicine will be monumental for our region and will be at the epicenter of the national education conversation," Gump said. "The positive impact to our families, our students, and our future generations are immeasurable. This is a shining moment in the Rio Grande Valley's history, and H-E-B is profoundly honored and proud to be a partner in the historic transformation taking place in our great South Texas region."
Bailey said he has had many good Christmases, but none quite this good. He praised H-E-B for being a leader and an advocate for education through its partnerships with The University of Texas at Brownsville/Texas Southmost College and The University of Texas-Pan American.
"As president of UTRGV, I take great pride knowing that we have leaders like H-E-B that have chosen our university to be the recipient of its continued generosity," he said. "We look forward to forging new partnerships and working together to transform the future of this critical region of our state."
UTRGV announced the creation of the institute in October. Under the direction of renowned genetics and infectious diseases expert Sarah Williams-Blangero, Ph.D., former chair of the Department of Genetics at the Texas Biomedical Research Institute in San Antonio, the institute will advance research of diabetes and obesity that will lead to more effective treatments and improve the lives of residents throughout South Texas and beyond. Williams-Blangero brought with her 21 additional researchers and support staff to work for the institute. The institute will double the research dollars currently at UTPA and UTB/TSC.
Dr. Francisco Fernandez, Inaugural Dean of the UTRGV School of Medicine, said H-E-B's gift will allow UTRGV and the institute to connect its innovations in scientific and medical research to the community, especially diabetes, which is prevalent in the Valley.
Diabetes is the seventh leading cause of death in the United States, and about 30 percent of South Texans have diabetes, making the Valley a prime location to examine the genetics of this complex disease.
"We get the bum rap because there are 76,000 people in the Rio Grande Valley who have diabetes," Fernandez said. "Three out of five people will show up in the emergency room or hospital this year with a complication from diabetes, and one in four people in the Valley don't have health insurance. We want to turn that around, and H-E-B is helping us here today."
Fernandez said $720 million is spent every year on diabetes-related problems and complications in Cameron, Hidalgo, Starr and Willacy counties.
Fernandez said the institute and its team of researchers led by Williams-Blangero will not only improve the lives of the people in the Valley, it will also quell negative publicity the area has gotten for its limited health care resources.
The H-E-B gift is eligible for up to $250,000 from The University of Texas System Research Incentive Program for the Comprehensive Universities (UTRIP-CU).
For more information about giving opportunities, contact Priscilla G. Cortez, UTRGV interim vice president for Major and Principal Gifts, at pcortez@utsystem.edu or (512) 499-4212.
Media Contacts:
Linda Tovar, HEB Public Affairs Manager, Border Region
(956) 926-4167 tovar.linda@heb.com
Letty Fernandez, UTRGV Director of Media Relations
(956) 882-6535 Letty.Fernandez@utrgv.edu
Related Article: UTRGV recruits 22-person research team to establish South Texas Diabetes & Obesity Institute