Sub Menu Toggle
Wells Fargo invests in success at UTB/TSC, UTPA, & UTRGV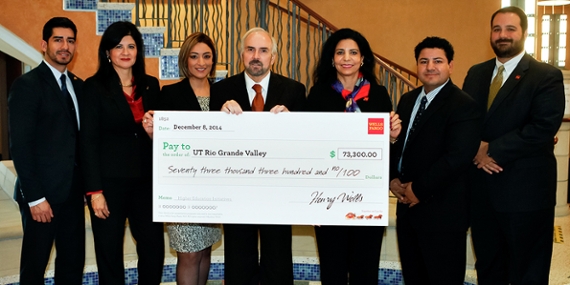 BROWNSVILLE, TEXAS –DECEMBER 15, 2014 – Wells Fargo continues to demonstrate its support for higher education in the Rio Grande Valley through the company's generosity to The University of Texas at Brownsville/Texas Southmost College, The University of Texas–Pan American and The University of Texas Rio Grande Valley.
Over the past year, the financial services giant and its nonprofit foundation have given $73,300 toward scholarships and athletics programs to UTB/TSC, UTPA and the soon-to-be UTRGV School of Medicine.
"When I looked at the contributions made by Wells Fargo and the range of programs you support, it is significant, and it gets at the heart of what UTB/TSC and UTPA are about and at the heart of what UTRGV will be," said Dr. Guy Bailey, UTRGV President.
The company's most recent donation to the UTRGV School of Medicine Inaugural Class Scholarship will enhance the medical school's effort to provide a diverse group of promising students access to a world-class medical education in South Texas. The scholarship will ensure that the first class in the medical school, beginning in fall 2016, will matriculate tuition-free.
"We want our students to graduate and do their residency right here in the Valley and start practicing and not have to worry about paying off their debts," said Bailey. "You [Wells Fargo] have touched the entire range – undergraduate education, medical school, athletics – you touch everything. So I can't tell you how grateful we are to you and how much we look forward to partnering with you in the future as we move forward to UTRGV."
Bailey praised the impact the donations have made to advance the institutions' commitments to enhancing student success, expanding educational opportunities, improving the health care in the region and expanding research on problems such as diabetes and obesity that plague the RGV community.
Alma Ortega Johnson, Area President of Wells Fargo-South Texas Region, said her company directs its donations to three main areas – health, community development and, particularly, education, with the goal of improving the quality of life in the region.
"It is in our vision and values to support education in all our communities," she said. "We are pleased to be able to fund several programs of UTPA and UTB/TSC that will have a huge positive impact for the children of the Rio Grande Valley. Wells Fargo is committed to partner with UTRGV in its efforts to close educational gaps in South Texas and help Valley students to succeed."
Among Wells Fargo's contributions are $20,000 to UTPA Athletics for its Girls Night Out and Project Perfect programs, $10,000 to UTPA for its Hispanic Engineering Science and Technology Latina Day, $10,000 to UT Brownsville/Texas Southmost College for its Rio Grande Science and Arts Festival and thousands more toward scholarships and other programs benefitting students and faculty at those institutions and UT Rio Grande Valley.
For more information about giving opportunities, contact Priscilla G. Cortez, UTRGV interim vice president for Major and Principal Gifts, at pcortez@utsystem.edu or (512) 499-4212.
Media Contact:
Letty Fernandez
(956) 882-6535