Sub Menu Toggle
University Marketing and Communications
Need help brainstorming your marketing strategies, publications, and materials? Do you have a UTRGV story that needs to be told? Marketing and Communications is The University of Texas Rio Grande Valley's in-house marketing and communications agency. Contact us for News and Information, Public Relations, and Creative Services.
Job Request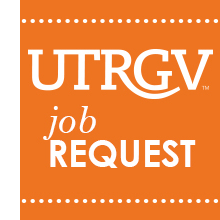 University Marketing & Communication strives to provide exceptional customer service. Please fill out the appropriate box indicating if this request is for Graphic Design, Public Affairs/Publicity, Video, Web, or a Photographer request. To better serve you please answer the following questions as thoroughly as possible. This information will be forwarded to the appropriate representative who will follow-up with you regarding your request. NOTE: Project delivery time is contingent upon the complexity of your project and the number of current projects in queue.
News and Internal Communications
The latest news and information about The University of Texas Rio Grande Valley is disseminated by our talented team of writers. We provide assistance to the university community in publicizing and telling the UTRGV story. We work with media and reporters and publish much of the university's news. We also handle media relations for University events, provide media training for faculty, staff and administrators and serve as a liaison between scholars and media outlets.
Public Relations
Our Public Relations team is UTRGV's feet on the street for public relations. This group is your source for public relations, web content and strategy, social media and digital outreach. On a daily basis you can find this posse of forward thinkers and marketers touting the UTRGV message on multiple media formats. Whether in person, on the web, or using the various platforms of digital media, one thing is for sure, our Public Relations team will let the community know about the happenings at UTRGV.
Marketing and Creative Services
Need Creativity? Marketing and Creative Services is your answer. With a crew of imaginative mavericks who push the boundaries of creativity and style, Marketing and Creative Services is on a quest to connect the dots and help the university community meet their goals and reach their target audiences. No project is too big or too small for us. We are the creative mojo of UTRGV and your source for communication planning, brand strategy, print design, video resources and ad campaign development.
Contact us:
University Marketing and Communications
CESS Building 1.800
1407 E. Freddy Gonzalez Drive
Edinburg, Texas 78539
(956) 665-2741
Cueto Building
1301 E. Madison St.
Brownsville, Texas 78520
(956) 882-8231