Sub Menu Toggle
Books & Campus Stores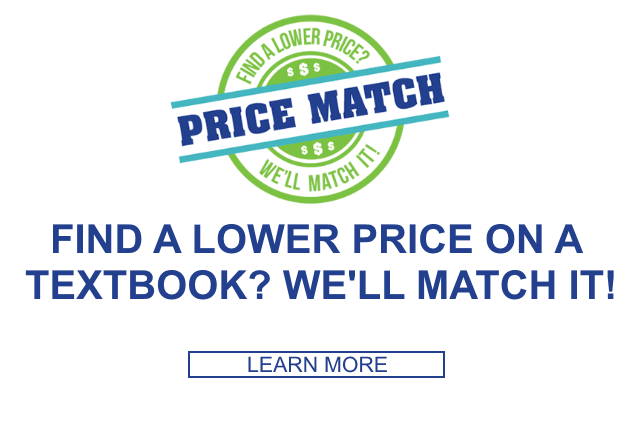 Finding Your Textbooks
You can find the necessary textbooks for your classes by using the class search tool on ASSIST. After entering your search criteria, click the "View Syllabus, Instructor CV and Textbook" link for the class. Textbook requirements are also available through your faculty syllabi.
Do you receive Financial Aid? Don't wait for your funds, use them when you need them. Financial Aid students can transfer funds to their Vaquero OneCard to purchase textbooks via the "Vaquero OneCard ACCOUNT - TRANSFER FUNDS" link under the UTRGV Services tab in ASSIST.
A student of this institution is not under any obligation to purchase a textbook from a University-affiliated bookstore (Texas Education Code, § 51.9705; 19 TAC 4.214 et seq.). The same textbook may also be available from an independent retailer, including an online retailer.
Campus Stores
The UTRGV Campus Bookstores are now Apple Authorized Campus Stores. Looking for a MacbookPro®, iPad®, and other Apple® products? The Vaquero Tech Center is your place to buy Apple. Shop online today and take advantage of great Back to School Promos and Shop Apple Products. Discounts available for students, faculty, staff and UTRGV, UTPA and UTB-TSC Alumni.
The UTRGV Campus Bookstores are the preferred locations for students to obtain classroom course materials, supplies, graduation regalia, and officially licensed gifts and clothing. Product can be purchased online at www.ShopUTRGV.com or in store at one of our convenient locations. Students can have product shipped or they can pick it up at their preferred store.
UTRGV Campus Bookstore – Edinburg
1201 W. University Drive
Library Room 101
Edinburg, TX 78539
956-665-2252
UTRGV Campus Bookstore - Brownsville
83 Fort Brown
Brownsville, TX 78520
956-882-8249
Campus Store Operating Hours:
Monday - Thursday: 7:30 am - 6:00 pm
Friday: 7:30 am - 3:00 pm
Saturday and Sunday -- Closed
Hours of operation vary throughout the year so please check the website or call before visiting.  The Campus Bookstore accepts cash, credit, campus cards, department IDT and a variety of financial aid.  When in the store please ask about our widely used programs such as textbook rental, price match, digital download, and buyback.
Ordering Books Online
Students have the option to order course materials online for both campuses and pick them up in the store at no additional cost, or have them shipped to any US location for a flat shipping rate. Visit www.ShopUTRGV.com and select "Books".

A second window will appear with a dropdown menu for you to select the campus where you are taking classes.

Have your class schedule handy as more information will be needed to select the correct class. Appropriately select information in each dropdown area until you have reached the "Submit" button.
Additional links will become available that will allow you to review, order, or print basic ordering details. A picture of the book will not always be available. Build your cart and proceed to check out when complete.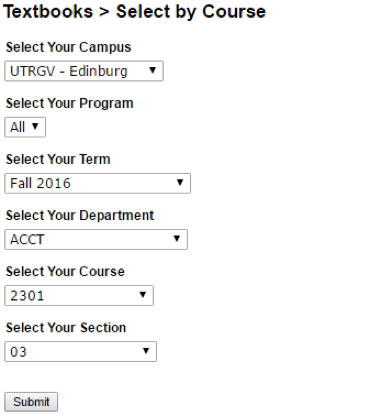 All purchases require an account to be created with a Username and Password. Customers can log back in to the account to review current order status and update information. Additional information will be required when RENTING course material. A valid state ID and credit card will be required for all rentals.