Department News
Five Graduate Students Receive Presidential Graduate Research Assistantships
August 27th, 2019
It gives us great pleasure to announce five of our incoming graduate students — Grecia Garcia, Daniel Ramirez, Farzana Tasnim, Muhtasim Ul Karim Sadaf, and Oscar Rodriguez Vargas—have received the Presidential Graduate Research Assistantship Award. This award provides resources to outstanding graduate students to enhance graduate research, in the form of an assistantship assignment and a scholarship to cover program tuition and fees. Please extend your personal congratulations whenever you see them.
---
PLTL Instructors Nominated for UTRGV Team Excellence Award
Together with a group of staff members from the UTRGV Learning Center, several Chemistry faculty were nominated for a UTRGV Team Excellence Award for their efforts in delivering General Chemistry to our students in a peer-led team learning (PLTL) framework. The nomination, submitted by Learning Center head Dr. Leslie Jones, emphasized the especially close collaboration between her staff and our faculty as key to the success of this program. Congratulations to Drs. Dean, Jain, Mar, Smith, & Thomas and Ms. Morales for their work on this initiative!
---
UTRGV ACS Student Chapter Receives Honorable Mention Award
In recognition of their efforts to bring the concepts and practice of chemistry to classrooms and community events in the Rio Grande Valley, our American Chemical Society Student Chapter was awarded an Honorable Mention for the 2017–2018 academic year. In addition to receiving a plaque, the chapter was honored on the ACS website, in the pages of inChemistry magazine for Spring 2019, and at the 257th ACS National Meeting & Expo running March 31st–April 4th, 2019 in Orlando, Florida. Drs. Shizue Mito and K. Christopher Smith, faculty advisors of the chapter, were given special commendation by ACS President Peter K. Dorhout in his award letter; Dr. Mito also highlighted the contributions of immediate past advisor Dr. Tülay Ateşin in laying the groundwork for this award. Congratulations to all!
---
Dr. Eugene Douglass educates the public about benzene in KRGV report on McAllen Toxic Plume
2019 marks the 10th anniversary of the revelation that a neighborhood in McAllen was experiencing elevated levels of benzene exposure, an event referred to as the McAllen Toxic Plume. The UTRGV Border Studies Archive hosted a lecture on the topic on April 10th, 2019, concurrent with the opening of an exhibit in the UTRGV Library. Following up on this story of significant local importance, our own Dr. Eugene Douglass was interviewed by KRGV on the possible ramifications of benzene contamination in local groundwater. Thanks to Dr. Douglass for this public service!
---
Legacy Alumnus Raj Desai to serve as Founding Principal at IDEA Los Encinos
After seven years as a chemistry & physics teacher and administrator in the IDEA charter-school system, UT Pan American Chemistry alumnus Raj Desai is set to open the IDEA Los Encinos branch as its founding principal. IDEA has posted a profile with more on Raj's journey from India to the Rio Grande Valley and how he discovered a passion for teaching Valley youth. All the best to Raj in this new endeavor!
---
Chemistry Major Abigail Zepeda wins ACS Bridge Travel Award
We would like to congratulate Abigail Zepeda for receiving the ACS Bridge Travel Award! Abigail was accepted to present her research poster at the 257th ACS National Meeting & Expo running March 31st–April 4th, 2019 in Orlando, Florida. Only 15 undergraduates nationwide receive this $2,000 travel award. Congratulations, Abigail!
---
Research Experience for Undergraduates in Nanotechnology at the Singh Center
The Singh Center at the University of Pennsylvania is currently accepting REU applications for summer 2019; deadline is February 15). The Singh Center is part of a larger NSF National Nanotechnology Coordinated Infrastructure initiative. View REUs for other NNCI sites.
---
Manhattan Project Chemist Dr. Donald Ross '41 Establishes Chemistry Endowment; Honors Inspirational Prof. J. Lell Elliott
Dr. Donald M. Ross, a 1941 chemistry-major graduate of Edinburg Junior College, made a generous contribution to our Chemistry department and established the J. Lell Elliott-Don Ross Chemistry Endowment in 2018. Mr. Mike Ross, Dr. Donald Ross' son, informs us:
"Dr. Elliott was the single most influential person in my father becoming a chemist, which led to his graduating at UT-Austin (1943), then supervising some of the uranium separators in the Manhattan Project and then a long career in industrial health and health physics with the Atomic Energy Commission and successor agencies. Dr. Elliott taught at both Edinburg High School and the junior college at that time. He encouraged my father's interest in chemistry during high school and arranged for him to get jobs working in the labs, which paid for the cost of my dad's JC education."
Part of this story is told in the early part of a 2005 oral history interview of Dr. Donald Ross. The whole Chemistry community at UTRGV is grateful to Dr. Ross and his family!
---
Faculty Position Available: Assistant Professor of Materials Chemistry
The University of Texas Rio Grande Valley's Department of Chemistry is seeking candidates for a tenure-track Assistant Professor in Materials Chemistry (broadly defined). The successful candidate will be assigned to the Brownsville campus and expected duties include teaching lower and upper level undergraduate and graduate organic chemistry courses. As well the candidate is expected to support the development and delivery of an interdisciplinary Materials Science doctoral program in the near future. The successful candidate is also expected to establish an active, innovative, and externally-funded research program in the broadly defined area of Materials Chemistry. The Department of Chemistry is an American Chemical Society approved program and currently offers B.S. and M.S. degrees. The successful candidate is expected to be an active participant in departmental, college and university activities such as set by the Department Chair and College Dean. The search closes on January 20, 2019; application requirements and other information may be found at
UTRGV Careers
.
---
Undergraduate Activities for 74th Annual Southwest Regional Meeting of the American Chemical Society 
The 74th Annual Southwest Regional Meeting of the ACS conference is scheduled to occur in Little Rock, Arkansas on November 7-10 at the Marriott Hotel and Convention Center. The Undergraduate Technical Program will include both oral and poster sessions, and will be kicked off by special guest speaker, Dr. Tom Goodwin. Deadline for abstract submission is August 20th.
In addition to the technical program, undergraduate students attending have the opportunity to speak to graduate school recruiters, hear from a panel of individuals currently working in various fields of chemistry, and socialize with other undergraduates.
The ChemDemo Exchange will be held on Saturday, November 10 th, from 10-11:30 am designed to allow ACS Chapters the opportunity to exhibit a demo that their chapter truly loves.
More information on these and other activities scheduled for the conference can be found on the ACS Southwest Regional Meeting [N.b.: This link is dead as of Summer 2019.] website, along with links for abstract submission and conference/event registration.
---
Job Position Available: Part-Time Lecturer in Chemistry 
Visit  our UTRGV Career Connections Website for application and more detailed information. 
---
Dr. Shizue Mito to collaborate in HIV Drug Research with UTRGV's Assistant Professor of Health and Biomedical Sciences, Dr. Upal Roy 
The National Institute of Neurological Disorders and Stroke awarded UTRGV $500,000 to study development of a nano-formulated anti-HIV drug.   
Dr. Mito (co-PI) along with Dr. Vadym Dorzd (co-PI) from Florida International University, will work on the drug conjugation along with Dr. Upal Roy (PI). Congratulations to our very own, Dr. Shizue Mito for this excellent opportunity!
---
Fatty Chem By-Products Entry Level Job Posting 
Fatty Chem By-Products is an established business since November 2003, located in the
lower Rio Grande Valley in Los Fresnos Texas. At Fatty Chem they provide used cooking oil
collection service to Restaurants, Hotels, Schools and Supermarkets, which is then
processed and recycled for Industrial use.
The Entry level Chemist will help the company prepare samples, complete testings, record data and
analyze results. In this position you will become a key member of the Fatty Chem
operating team.
Applications can be submitted to: andres@fatty-chem.com
---
Chemist - Recent Graduate Opportunities with U.S. CBP/DHS
U.S. Customs and Border Protection (CBP) is currently hiring Chemists in a variety of locations.  An entry-level job opportunity announcement for recent graduates (university recent graduates are strongly encouraged to apply) via the Pathways Program is open on USAJOBS from today, June 18 -29, 2018. 
Apply here: Chemist - Recent Graduate
---
MIT ACCESS Program for Fall 2018
Massachusetts Institute of Technology is hosting its 10th annual MIT ACCESS Program October 12th and October 13th. The MIT ACCESS Program is a weekend-long symposium proven to have a lasting impact on its participants.  All travel expenses, meals and hotel accommodations for students selected to participate in the ACCESS program will be paid by MIT. Participation neither obligates the student to apply for graduate study nor guarantees future consideration for study at MIT. For more information please visit the MIT website.        
Applications for the ACCESS Fall 2018 session are due July 31st
---
Annual Faculty Excellence Awards 
The University of Texas Rio Grande Valley honored more than 50 faculty members during its annual Faculty Excellence Awards, held Thursday, May 3, at the TSC Arts Center in Brownsville. One of the major awardees was our very own Department Chair, Dr. Yuanbing Mao.
Dr. Mao was awarded the Faculty Excellence Award in Research for all of his hard work and dedication. To read more about this excellent achievement visit the UTRGV Website. 
Congratulations Dr. Mao!  
---
Scholarship Opportunity for Undergraduate Women in STEM Fields
Application for Zonta District 10 Scholarship
Deadline is May 31, 2018
---
Fully Funded Master's Degree in China
The US/Global Schwarzman Scholars application for the 2019-2020 academic year is now available. The program fully funds a rigorous and innovative Master's of Global Affairs degree program at Tsinghua University, one of the country's leading universities. Drawing on the best traditions of Tsinghua and top academic institutions around the world, the curriculum bridges the academic and professional worlds to educate students about leadership and about China's expanding role in the world.
The program is open to candidates between the ages of 18 and 28 years old, regardless of nationality, who are proficient in English and have obtained an undergraduate degree or its equivalent. Mandarin skills are not required for admission. Whether in politics, business, sciences, or the arts – successful applicants are young people who have already begun to demonstrate the ability to lead and produce results in their fields and who have a commitment to building understanding among people with differing perspectives.
For requirements and access to the U.S./Global application visit the  Schwarzman Scholars website. 
Application deadline is September 27, 2018.
---
Fellowships for Graduate Study
The Paul & Daisy Soros Fellowships  supports one to two years of graduate study in any field and in any advanced degree-granting program in the United States.  Each award is for up to $25,000 in stipend support, as well as 50 percent of required tuition and fees, up to $20,000 per year, for one to two years. The first year of Fellowship funding cannot be deferred. If you are interested in applying, or know someone who might be, contact  honors@utrgv.edu for assistance with the application process.
For details on eligibility, see their website. 
Application deadline is November 1, 2018. 
---
Internship Opportunity at the City of Pharr
The City of Pharr, Texas is offering an internship opportunity with their Public Utilities Department to work in their NELAC Certified Laboratory for both the water and wastewater treatment plants. The city is interested in finding undergraduate interns in Chemistry to take on job duties such as evaluating treated water and record data, which will be reviewed by the regulators at Texas Commission on Environmental Quality and/or United States Environmental Protection Agency.      
---
---
New Scholarship Opportunity in the MS-PSD
The Physical Sciences Division at the University of Chicago is offering a program, the PSD Pathway Scholarship, which offers two years of full tuition, fees, insurance and stipend support to their Masters of Science in the Physical Sciences Division (MS-PSD). 
MS-PSD is intended to prepare students for doctoral study in these fields, and the PSD Pathway Scholarship focuses on supporting students who would benefit from receiving additional support as they work towards their doctoral degree.
An online information session is available for students who are interested in this great opportunity - they will  be sending application fee waiver codes to anyone who attends an online session. 
---
ATTENTION STUDENTS!!! 
The University of Texas at Austin is offering a summer undergraduate research program in Chemistry, entitled "Frontiers in the Chemistry of Materials". Attached is the link where you can download the application on their website. 
Frontiers in the Chemistry of Materials 
Note that the application deadline is February 15, 2018 
---
COS Newsletter - Science Notes
Please take a moment to view the College of Sciences very first Newsletter, Science Notes! In it you will find updates from our dean, department chairs, and center directors that have taken place over the past year. Science Notes will be issued out quarterly, so please stay tuned for more! 
Newsletter Volume 1: Fall 2017
---
New Faculty Openings:
Materials Chemist:  https://careers.utrgv.edu/postings/15951
Food Chemist:  https://careers.utrgv.edu/postings/15982 
Assistant Professor - Biochemistry & Molecular Biology:  https://careers.utrgv.edu/postings/15981 
One-year Lecturer in Chemistry:  https://careers.utrgv.edu/postings/15988 
---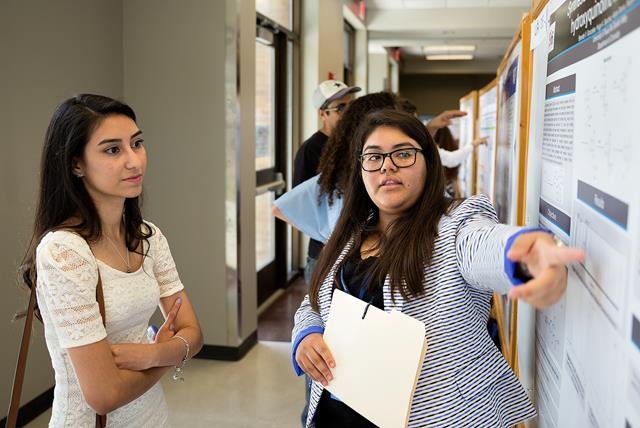 Dr. Debasish Bandyopadhyay participated in an online discussion on the Reddit about Greener Drug Discovery, great job Dr. Bandyopadhyay!

Dr. Bandyopadhyay's research student, Ms. LeAnna Salinas was awarded the Dr. Luis V. Colom Memorial Endowment for 2017-2018. Congratulations Ms. Salinas on this excellent achievement!

Research on the chemistry of avocado seed husks conducted by Dr. Debasish Bandyopadhyay's group continues to be the subject of  interest from many quarters. Dr. Bandyopadhyway recently held a Reddit "Ask Me Anything" on behalf of the American Chemical Society, and he was the plenary speaker at the mid-season meetings of the World Avocado Organization and the Peruvian Avocado Commission, held concurrently at the end of October in New Orleans. Congratulations, Dr. Bandyopadhyay!
Google's Doodle for September 23 rd, 2017  honored the memory of Dr. Asima Chatterjee on her 100 th birthday. The world-renowned Dr. Chatterjee was the first woman in India to earn an Sc.D., and (among her many other achievements) earned an appointment to the Indian Parliament. UTRGV's Dr. Debasish Bandyopadhyay was one of Dr. Chatterjee's last doctoral students, and he credits her for his knowledge of medicinal chemistry and natural products.
Congratulations to chemistry undergraduate Aleida Gonzalez, who was

one of five students nationwide to be selected for a 10-week international research experience at the Université Claude-Bernard Lyon 1 (France) during Summer 2017! She has also been interviewed for a

  UTRGV Profile in Excellence on the recommendation of her mentor, Dr. Arnulfo Mar; together, they have been studying natural products found in plant-based treatments for diabetes.
Research by Dr. Debasish Bandyopadhyay, lab supervisor/coordinator Tom Eubanks, and undergraduate mentees Valerie Cano, Orlando Castillo, and Daniel Villicana was selected from nearly 9400 submissions to be highlighted in a press release from the 254 th National Meeting & Exposition of the American Chemical Society in Washington, D.C. (August 20–24, 2017). Dr. Bandyopadhyay's group identified a rich variety of medically and industrially useful compounds in the husks of avocado seeds, many of which are not present in the seeds themselves. The ACS made Dr. Bandyopadhyay and Mr. Castillo available to the press, including reporters from internationally prominent news organizations like  Time and  The Guardian, to discuss their work and answer questions; Watch the archived video on YouTube. Congratulations to Dr. Bandyopadhyay and his entire team!
Dr. Justin Moore procured a $1M grant from the Howard Hughes Medical Institute to promote inclusiveness in STEM education. Well done, Justin!
Congratulate Dr. Joanne Rampersad for being selected as the 2017 USDA E. Kika De La Garza Fellow!
Dr. Shervin Fatehi secured a 3-year, $195,000 grant from the Robert A. Welch Foundation for research on highly accurate methods for simulating the influence of nuclear motion on the electronic states of molecules. Great success!
Dr. Yuanbing 

Mao

 received an NSF award on the investigation of the synthesis, local and electronic structure, and optical and scintillating properties of lanthanoid hafnate nanoparticles with Louisiana State University.
Chemistry undergraduate students Michael Carrillo and Aleida Gonzalez attended the ABRCMS conference in Tampa, FL, November 9-12, 2016. They are part of the MBRS-RISE program of Brownsville campus. RISE is an undergraduate research initiative funded by the National Institute of Health (NIH) and the National Institute of General Medical Sciences. The goal of the program is to provide professional development activities, research training and support for preparing students for Ph.D. programs in biomedical sciences, and increase the number of underrepresented students in the workforce. 
Chemistry undergraduate students presented their research in 2016 UTRGV Engaged Scholar Symposium in both Brownsville and Edinburg campuses, April 21-22, 2016.
UTRGV researchers gave 15 presentations in the 251st American Chemical Society Spring 2016 National Meeting in San Diego, CA, March 13-17, 2016.