Annual Performance Measures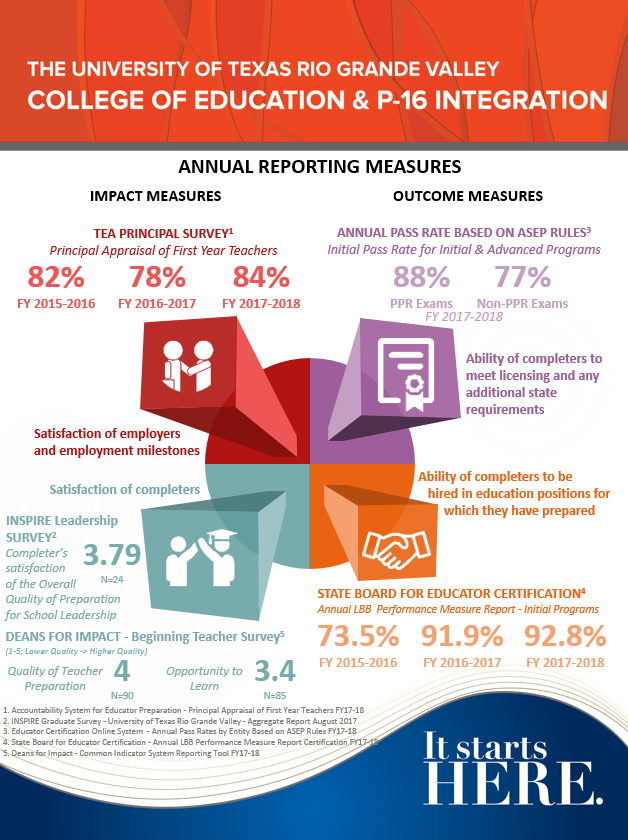 ---
The University of Texas Rio Grande Valley (UTRGV) was created by the Texas legislature in 2013 and opened its doors in Fall 2015. Therefore, the UTRGV EPP has been reviewing its annual reporting measures and data from 2015-2016, 2016-2017, and 2018-2019 as they have become available. Survey results form the Common Indicator System within the Dean-for-Impact group have been added in 2018-2019. We can now determine how our Educator Preparation Program performs compared to 27 institutions that are also members of the Deans-for-Impact group. Through the Common Indicator System all institutions are using common instruments, so we can review our performance compared to others.
The UTRGV Educator Preparation Program widely disseminates the annual reporting measures by displaying them on the college website and distributing them to the entire faculty and stakeholders. The annual reporting measures are presented and discussed with college leadership (Dean, associate/assistant deans, department chairs and directors), with the CAEP Steering Task Force and with the CEP Assessment Committee. Consumer information and performance on the state accountability system are also shared with the College Advisory Committee. The College Advisory Committee is composed of school district and community partners, as well as college leadership and faculty.
The UTRGV EPP is making progress toward reporting the 4 impact measures. Satisfaction of employers is being assessed through the Texas Education Agency (TEA) Principal Survey. TEA requires principals to respond to a survey to evaluate the performance of first-year teachers prepared and certified by UTRGV. In 2015-2016, principals' appraisal of first year legacy teachers was 82% for UTRGV, 78% in 2016-2017, and 84% in 2017-2018 compared to a 75% statewide average (See UTRGV 2017-2018 Accountability System for Educator Preparation Annual Reports). In addition, the percent of legacy completers employed within one year of completion in Texas public schools was 69% in 2017-2018 compared to an 83% state average. The percent of legacy completers remaining in the profession for 5 years in 2017-2018 was 92% compared to a 75% state average (See UTRGV 2017-2018 Accountability System for Educator Preparation Annual Reports).
The other three impact measures are impact on P-12 learning and development, teaching effectiveness, and satisfaction of completers. UTRGV is one of the trailblazing institutions participating in the Deans for Impact Common Indicator System. As part of this project, UTRGV began to administer the Beginning Teacher Survey to assess satisfaction of completers. The survey was deployed in Spring 2018 to all completers from Fall 2015 to Fall 2017. In 2017-2018, the quality of teacher preparation as reported by completers in the Beginning Teacher Survey was 4 on a 5-point Likert scale. Results showed that our graduates felt least prepared in classroom management and conducting parent interviews and most prepared in supporting diverse learners, teacher preparation quality, and using standards to guide instruction. Results for 2018-2019 will be available in August of 2019. TEA is in the process of developing a measure to provide EPPs with satisfaction data from new teachers after their first year of teaching.
A team of faculty interested in the impact of our EPP is conducting a case study of completers hired in about 5 different school districts. Meetings with school district superintendents were held in the summer of 2018 to establish data sharing agreements to obtain de-identified state assessment data from students of completers hired in the participating districts. These data will allow us to measure P-12 learning. Another component of the case study consists of requesting formal teacher evaluations from case study participants and administering student surveys in their classes. These measures will allow us to assess teaching effectiveness. A third component of the case study is the administration of questionnaires to completers' employers from both initial and advanced programs to assess their satisfaction. Data collection in the participating school districts has begun and team members have been observing in new teacher classrooms during the spring of 2019. Data on these 3 impact measures will be available in Fall 2019.
At the advanced level, the principal program sent out the Initiative for Systemic Program Improvement through Research in Educational (INSPIRE) Leadership Graduate Survey to their program completers and obtained results in August 2017. The INSPIRE Leadership Survey Suite is designed to evaluate completers' perceptions of their leadership preparation experiences. The response rate obtained was 26%, and the mean for completers' perceptions of their leadership preparation for the duties and responsibilities of a school leader/principal was 3.79 on a 5-point Likert scale. This survey will be repeated in 2019-2020.
UTRGV monitors the outcome measures that are available currently. The ability of completers to meet state certification requirements is reported by the Texas Education Agency (TEA). Completers can be hired in education positions for which they were prepared once they meet all certification requirements. UTRGV reports its certification rate in the Legislative Budget Board (LBB) Report. The certification rate for 2016-2017 was 91.9% compared to 73.5% in 2015-2016 and for 2017-2018 we have increased to 92.8% (See SBEC Annual LBB Performance Reports). Institutional data on student loan default rates is at 6.9% and 4-year graduation rates are not yet available. The first 4-year graduation rates for initial and advanced programs will be available later in 2019 given that UTRGV began offering courses in the Fall of 2015.
The most recent Title II report will be posted on the EPP website as soon as it becomes available.