Group Exercise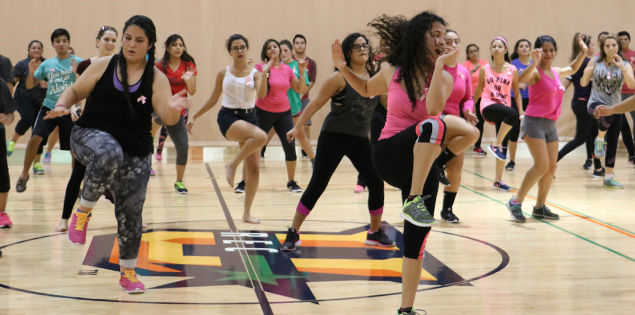 Get movin'! Group fitness classes are a great way to complement any fitness program. By participating in a group fitness, you will learn new training techniques, have access to the latest group fitness equipment and programs, stay motivated through a variety of offerings, and meet amazing people!
Group exercise is a great way to meet your fitness goals, develop friendships, and learn a new skill. Our fitness instructors are committed to catering to all fitness levels and abilities by providing modifications for beginners as well as progressions for more advanced exercisers.
Over 50 classes are offered weekly ranging from indoor cycle, rowing, and kickboxing to Pilates, yoga, and a variety of strength and dance options.If you are looking to improve your cardiovascular endurance try our Spinning, Zumba, Kickboxing or Step classes. If you would like to improve your muscular physique try any of our "sculpting" classes such as Muscle Sculpt, Cardio
Sculpt, and many more. To relax, rejuvenate and refresh your body to help reduce stress and improve flexibility consider trying our mind/body classes such as Yoga or Pilates. Check out current class offerings and class descriptions below!
Class Descriptions
3-2-1 / Cardio Interval

An interval class that features cycles of 3 minutes of exhilarating cardio to burn fat, 2 minutes of toning to define muscles, and 1 minute of core exercises to develop a six pack.

Ab Lab

30 minutes of intense core work for washboard abs.

Athletic Conditioning

Perfect for anyone who loves a great functional workout. This class focuses on sport specific training to develop better athletes. Class will focus specifically conditioning drills with emphasis on agility and speed.

Butts & Guts

Tone up the "problem areas" by focusing specifically on the glutes (butt) and core (abs & lower back).

Cycle FIT

Indoor cycling class that yields real results improving one's endurance, strength, and cycling power. Ideal for those looking for an adventure and challenge.

Cardio Tone

Cardio Tone combines targeted body-sculpting exercises and high-energy cardio work with dance moves to create a calorie burning, strength training fitness party.

Dance Fitness

Dance fitness incorporates a variety of different rhythms into a fun and easy to follow cardio class. Very similar to other trade mark dance fitness classes.

Kick Fit

This cardio class is an easy way to increase heart rate and burn fat! Class features cardio kickboxing movement with little choreography and lots of sweat!

Leg Blast

Want to firm it up?  Get in here!  Exercises for gluteus maximus are the primary goal plus additional work for muscle groups connected to these areas.

Muscle Sculpt

Tone, sculpt, and chisel your total body to feel energized and strong! This class will utilize equipment such as bands, body bars, dumbbells, and even your own body weight to transform your body into a new you.

Pilates

Lengthen all the muscles of the core in a series of mat-based exercises. Designed to focus on the deep muscles of the abdominals, back, hips, and glutes, this class will also improve quality of movement, develop core postural muscles, stabilize the spine, promote good body mechanics as well as mental relaxation.

RIP

This barbell class features athletic movements such as squats, lunges, chest presses, bicep curls, and more. Routine is choreographed and utilizes a weight pyramid to allow the average participant, conditioned athlete, and seasoned lifter to work at their level.

Spinning

The instructor picks the type of ride for each class. Examples of possible classes include:

Fat Burner – Exercising at lower heart rates helps to build an aerobic base and burn fat. Expect to work at low to moderate intensity levels. Exercise intensity: 65-75% maximum heart rate.
Interval – Expect hills, humps, runs, flats, and climbs with varying intensity levels. This class is ideal for burning calories and pushing yourself to the next level! Exercise intensity: 50-92% maximum heart rate.
Strength – Steady, consistent pedaling with heavy resistances to develop the lower body muscles and challenges the cardiovascular system to promote power. This class is ideal or becoming a stronger rider. Exercise intensity: 75-85% maximum heart rate.

Tabata

Tabata is interval training where exercises are performed with 20 seconds high intensity to 10 seconds of rest. Each Tabata lasts 4 minutes. Tabata is a great workout because it burns calories during the workout and boots metabolism meaning you're able to burn more calories at rest!

Tai Chi

An ancient Chinese exercise this class focuses on slow controlled movements accompanied by deep breathing. Some individuals also refer to Tai Chi as "Meditation in Motion"

Yoga

The art of yoga links breath and movement through heat building sequence of postures to stretch the body and provide stress reduction.

Yolates

The benefits of Yoga and Pilates can be found in Yolates, an exercise method combining the strength of Pilates and the flexibility of yoga. The workout integrates yoga and Pilates training using a mind-body connection for improved physical and emotional levels.

Yoga Core

Perform traditional yoga movements to strengthen and tone your core area.

Yoga Flow

The art of yoga links breath and movement through heat building sequence of postures to stretch the body and provide stress reduction.

Zumba

ZUMBA is a fusion of Latin and International music and dance themes that create a dynamic, exciting, effective, fitness class. The routines feature aerobic/fitness interval training with a combination of fast and slow rhythms that tone and sculpt the body.

Zumba Toning

Zumba Toning combines targeted body-sculpting exercises and high-energy cardio work with Latin-infused Zumba® moves to create a calorie-torching, strength-training dance fitness party. Using light weight dumbbells, you'll work every muscle group while you groove. Along with light-weight upper body resistance, you'll work against gravity or the floor to define your leg and ab muscles.