Curriculum Overview
The UTRGV School of Medicine is committed to providing a forward-thinking medical education experience that graduates physicians dedicated to practicing scientific, evidence-based, and patient-centered medicine in any setting, but particularly in under-served communities. The curriculum provides a unique educational experience that integrates basic science disciplines, clinical skills, and professional development throughout the four year program by incorporating and promoting:
The principles of evidence-based practice and scientific research;
Community and population-based health care;
Patient advocacy and cultural awareness;
Inter-professional collaboration and communication;
Ethical and professional behavior; and
Life-long learning and problem-solving.
The school's distinctive geographic location at the border of the US and Mexico offers a rich bicultural experience that will afford students with the opportunity to experience and to learn about border medicine and the interplay between the cross-cultural, socio-economic and environmental determinants of health.
Our charter class of 50 students will enjoy the benefits of personalized attention from our dedicated faculty of clinicians and scientists as well as our experienced staff.
Curriculum Integration:
Woven throughout this four year integrated curriculum are:
Opportunities to learn team work and collaboration through inter-professional education and learning: medical students learn how to be a part of team by working and learning alongside of nursing, pharmacy, physician assistant, public health, social work and occupational therapy students.
One-to-one mentoring: Each student is assigned a physician preceptor who will provide mentoring and opportunities for direct patient interaction during the pre-clerkship years.
Opportunities to work in under-served communities and learn about population health through community service learning.
Four Year Curriculum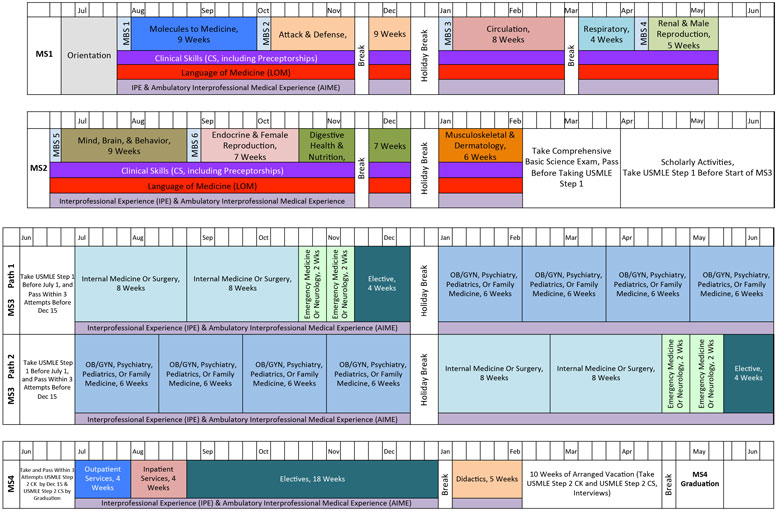 Pre-clerkship Years:
The foundational 20 month 1st and 2nd year pre-clerkship curriculum allows students to spend the majority of their time honing their critical thinking and clinical reasoning skills through problem-based and self-directed learning while applying their knowledge to real-life clinical experiences. This will be accomplished through:
Problem-based learning in which students work in small groups (7-8 students with a faculty facilitator) to identify learning objectives, research the relevant material, and discuss their findings with peers in order to resolve a clinical case.
Interactive learning in a state-of-the-art simulation hospital with high fidelity models and standardized patients.
Team-based learning with peers and students from other disciplines requiring advanced preparation for discussion and interactions during class, at clinical sites, and in community activities.
Self-directed learning: Students can use a variety of resources and activities to support their individualized learning, including online materials with embedded assessment permitting them to identify their learning gaps and review and retrieve material as necessary.
Because students complete their pre-clerkship course work in 20 months, they have the opportunity and time to pursue research, take electives, engage in community service learning and/or study for the USMLE STEP 1 exam before the start of their 3rd year.  
The Clerkship Year:
The clerkship year provides opportunities for students to further develop their clinical thinking and diagnostic skills in the context of providing direct patient care under the supervision of talented and skilled physician preceptors and residents in both inpatient and outpatient settings including:
Emergency Medicine
Family Medicine
Internal Medicine
Neurology
Ob/Gyn
Pediatrics
Psychiatry
Surgery
In addition to the clerkship experience, 3rd year students have 4 weeks available for electives.
The 4th Year:
During the 4th year students will be required to take four weeks each of outpatient and inpatient electives, 18 weeks of electives in specialty areas in local, regional and national venues of choice and five weeks of didactics. Ten weeks are left open for residency interviews, travel, and Step CK/CS preparation.
---
Pending approval by the Southern Association of Colleges and Schools Commission on Colleges