CampusShield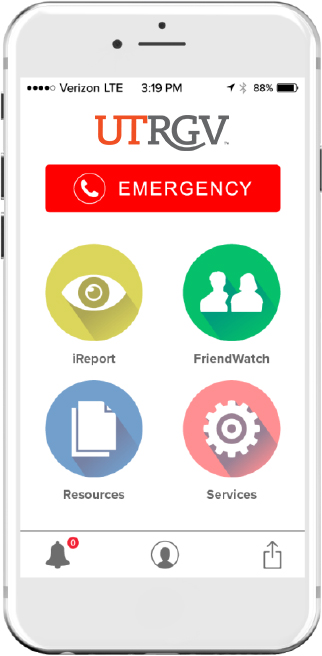 UTRGV CampusShield smartphone app
Report safety concerns with photos / videos
Directly call campus police in emergency situations
Protection and Convenience
CampusShield connects you directly with campus police, while also providing convenience and helping you to save time. 
When the EMERGENCY Button is pressed, campus police is directly called. Location information is also sent to help cut down on response time.
Your location is NOT passively tracked. Location services are only used when you signal for assistance.
Features
Emergency Button – Sends accurate location information to the phone number you designate using geo-fences.
Anonymous Report – Report safety concerns, suspicious activities and crime tips. Also can be used to text an emergency when calling is not ideal. Use photos / videos and report anonymously.
FriendWatch – If your pre-set timer hits 0:00, your emergency contacts are notified. Friends and family members can watch out for each other during potentially dangerous activities.
Campus Resources – Access important documents, procedures, calendars, etc. all in one place. Ensures everyone has updated information. Saves time and money on print outs.
Services – The 'Services' button leads to the optional features below.
Safe Walk – Request a safety escort or contact a non-emergency phone number.
Campus Maps – Access campus maps.
Bus Schedule– Keep track of local bus schedules.