Civic Engagement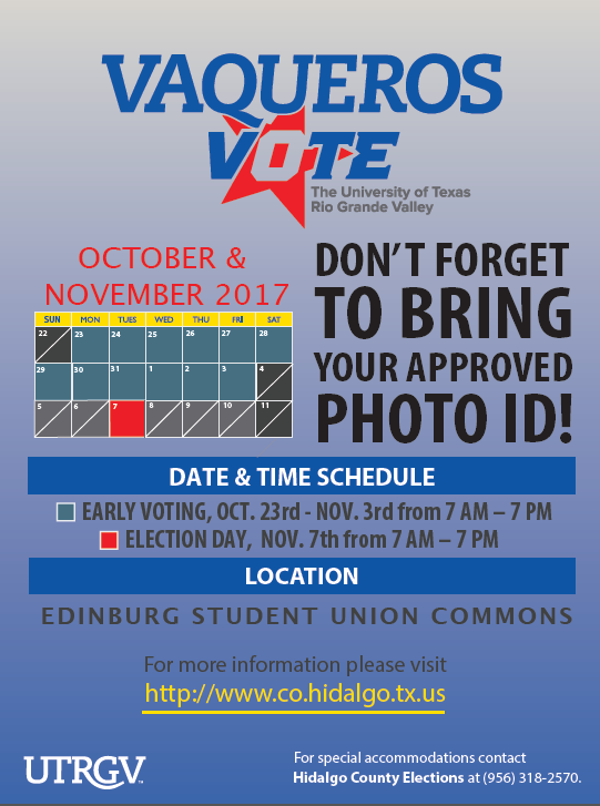 Becoming Aware, Having a Voice and Making a Difference
Students, faculty, and staff can participate in non-partisan efforts that encourage the university to be empowered and involved in our communities.
Vaqueros Vote
An initiative to educate and encourage UTRGV to participate in local, state and federal elections.
UTRGV offers:
Voter deputization registrar trainings
Opportunities to register to vote
Events to celebrate National Voter Registration Day

Occurs on the fourth Tuesday of September to promote awareness of voter registration opportunities.
Early Voting and Election Day
Hidalgo County, UTRGV Student Union Commons (Edinburg)
Early Voting - Monday, October 23 - November 3 from 7 am - 7 pm
Election Day - Tuesday, November 7 from 7 am - 7 pm
For special accommodations, contact HIDALGO COUNTY ELECTIONS at (956) 318-2570.
Commemorative Days
Patriot Day

A national day of service and remembrance that occurs on September 11 of each year in memory of the people who lost their lives in the 2001 September 11 attacks.

Constitution Day

An American federal observance that recognizes the adoption of the United States' Constitution and those who have become U.S. citizens.