Valley educators gather at UTRGV to open 15th HESTEC Week
EDINBURG, TEXAS – OCT. 3, 2016 – The University of Texas Rio Grande Valley opened HESTEC 2016 with a prestigious White House recognition of its 15 years of success in encouraging more students, particularly Hispanics and women, to take an interest in and pursue higher education and careers in STEM (science, technology, engineering and mathematics) fields.
Alejandra Ceja, executive director of the White House Initiative on Educational Excellence for Hispanics, represented President Barack Obama in presenting U.S. Rep. Rubén Hinojosa (TX-15) and UTRGV President Guy Bailey its 2015 Bright Spot recognition, which will be part of a national online catalog of more than 230 programs that invest in key education priorities for Hispanics.
Read more
QUOTES OF THE DAY
Alejandra Ceja, Executive Director of the White House Initiative on Educational Excellence for Hispanics speaks at HESTEC Educator Day.
PHOTO OF THE DAY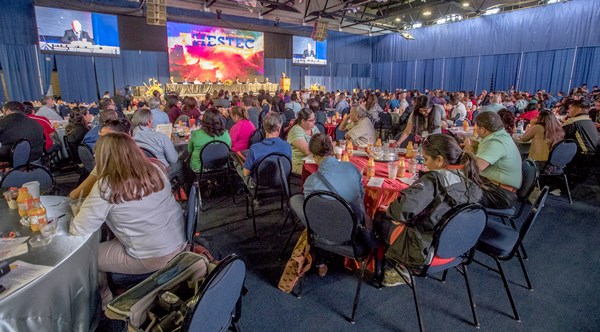 Educators from across the Rio Grande Valley gathered Monday, Oct. 3, 2016, on the UTRGV Edinburg Campus for the opening day of the 15th annual HESTEC Week. Activities included a Congressional Panel Discussion, shown here, hosted by Telemundo anchor José Diaz-Balart. (UTRGV Photo by David Pike)
TOMORROW @ #HESTEC
Special Keynote Address by Albert Manero of Limbitless Solutionsat 1:15 p.m.
Please visit News to read more about HESTEC.
Please visit the HESTEC website for a complete list of events.
For more information or special accommodations, contact
the Office of Community Relations in Edinburg (956) 665-3361
or Brownsville (956) 882-5845 or vpgcr@utrgv.edu.