Master of Business Administration (MBA) - Accelerated Online
Apply Now
Print PDF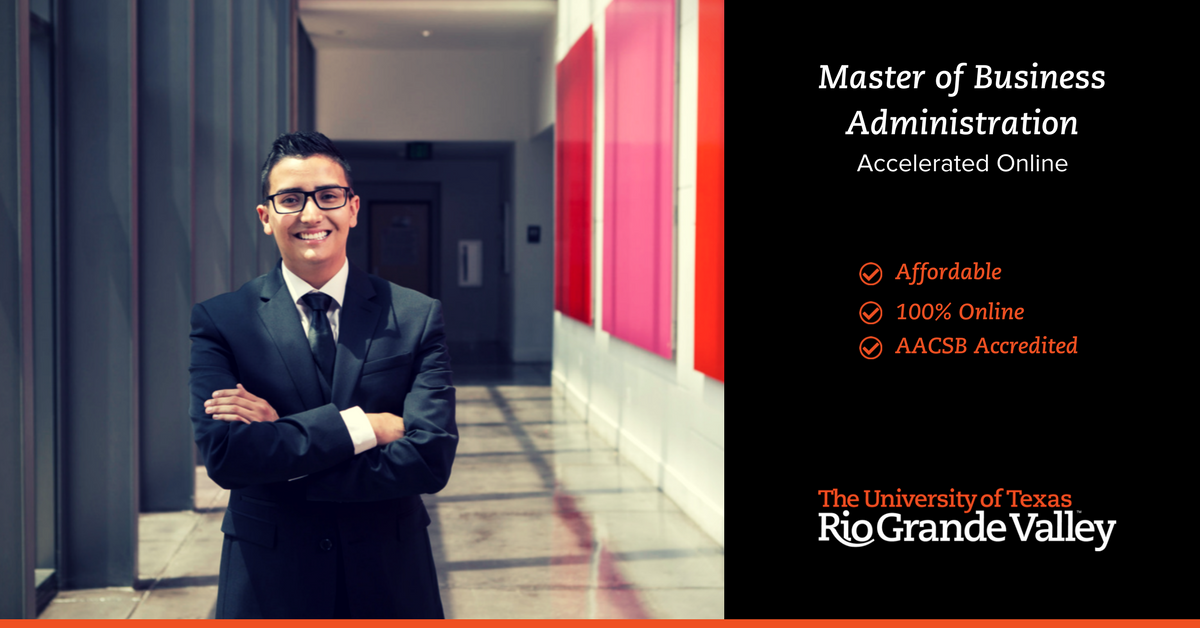 The UTRGV 100% online MBA, accredited by AACSB International, provides the leadership and project management skills required for success in today's competitive job market. The program is designed to meet the career needs of those who:
Wish to enhance their professional opportunities in executive or administrative positions in business, industry, government and service industries.
Seek to broaden their knowledge in the functional business areas in order to increase the effectiveness and self‐assurance in their management abilities.
Are initiating their own business or business career.
Are preparing to seek admission to a doctoral program.
The confidence and effective management skills you will carry away with you are products of a highly esteemed faculty that is both accomplished and published. You will benefit by their extensive industry experience, impressive research and diverse curricula full of new, relevant strategies and technologies.
| | |
| --- | --- |
| |  Complete in as few as 12 months |
| |  36 credit hours |
| | | |
| --- | --- | --- |
| Per credit hour | Per 3-credit course | Total program cost |
|   472.22 |   1,416.66 |   17,000* |
* We estimate that tuition and fees will total no more than the rates shown above; however, rates are subject to change.
Admission Requirements

Step #1: Submit a UTRGV Graduate Application at www.utrgv.edu/gradapply. The university application fee of $50 ($100 for International Applicants) can be paid online by credit card or electronic check (in the online application). All application fees are nonrefundable.

Step #2: Request your official transcripts to be sent electronically to gradapps@utrgv.edu or mailed to:

The University of Texas Rio Grande Valley

The Graduate College

Marialice Shary Shivers Bldg. 1.158

1201 W. University Drive

Edinburg, TX 78539-2999

 

*Please Note: If you are a graduate of UTPA, UTB/TSC, or UTRGV you do not need to request an official transcript to be sent to the Graduate College.

 

Review and submit all Program Requirements:

Bachelor's degree from a regionally accredited institution in the United States or a recognized international equivalent in a similar or related field.
Undergraduate GPA of at least a 3.0
Applicants with a GPA between a 2.75 and 2.99 will be considered on a case-by-case basis.
Official transcripts from each institution attended (must be submitted directly to UTRGV).
GMAT with minimum score of 400 or GRE with minimum score of 146 Verbal and 146 Quantitative. GMAT and GRE test scores are valid for 5 years. A waiver of the GMAT requirement will be granted to applicants who show proof of one of the following:

Another graduate degree (master's or doctoral)
An undergraduate GPA of 3.80 or higher on a 4 point scale
A waiver may be granted to those students who have more than four years of upper managerial experience  in supervisory roles, control of budgets, and decision‐making.  GMAT waiver consideration requires a submitted resume via the application system and one of the letters of recommendation should attest to this work experience. 
GMAT waivers will not be considered for applicants with a GPA between 2.75 and 2.99.

Submission of 2 letters of recommendations
Respond  to  5  short  answer  questions  provided  on  application  to demonstrate writing competency and communication skills.

1.    At the UTRGV Robert C. Vackar College of Business & Entrepreneurship, we place great importance in values, initiative and professionalism. Describe one example of how you have demonstrated these qualities.

2.    What are your career aspirations? How will your education at the Robert C. Vackar College of Business & Entrepreneurship help you achieve them?

3.    Describe an occasion when you built or developed a team.

4.    Describe an experience when you felt most effective as a leader.

5.    Describe a situation when you successfully reached a goal or completed a task that was challenging, difficult, or frustrating.

Instructions:

Use a 12-point font, double space
Please stay within the limit of words indicated: 250 words per essay maximum –One of most valuable skills in business is to be able to communicate in a precise and concise manner.
Indicate   which essay question you are answering at the beginning of each essay
Number all the pages
Upload all five essays as one document
Preview the uploaded document to ensure that the formatting is true to the original
Save a copy of your essay

Additional requirements for domestic applicants who attended foreign universities and international applicants:

TOEFL or IELTS Language Proficiency Test with minimum scores: 550 on paper-based, 213 on computer based, or 79 on internet-based for the TOEFL; 6.5 for the IELTS. TOEFL and IELTS scores are valid for 2 years. For additional information, visit the Additional Documents for Domestic Applicants who Attend Foreign Universities section of our website.
English translation of educational records.
Transcript Evaluation by the Foreign Credentials Service of America (FCSA) or the World Education Services (WES). For additional information, visit the Academic Credentials/Transcripts Evaluation section of our website.

*Students in fully online programs are not eligible for I-20 or student visas however international applicants can study from their home country.

Check Program Availability in Your State

Higher Education Act of 1965 include changes in regulation for State Authorization that may impact online, distance, and correspondence education providers. Please review Check Program Availability in Your State for more details.

Program Contact

Deadlines

Online Accelerated Application Deadline:

| | | | | | | |
| --- | --- | --- | --- | --- | --- | --- |
| | Spring 2018 Module I | Spring 2018 Module II | Summer 2018 Module I | Summer 2018 Module II | Fall 2018 Module I | Fall 2018 Module II |
| | December 3 | January 28 | March 25 | May 20 | July 22 | September 17 |

Course Requirements

MBA Courses

ACCT 6320 Accounting and Financial Analysis

The objectives of this course are to review certain elements of financial reporting, to develop financial analysis skills, and to gain experience in using accounting information for decision making. Prerequisite(s): ACCT 6301 or ACCT 2301 AND ACCT 2302

Duration: 7 weeks

Credit Hours: 3

ECON 6350 Managerial Economics

This course applies economic analysis to managerial issues in the business world. Specific topics considered include demand analysis, production and costs, pricing policies, and market structures. Extensive use is made of case studies.

Duration: 7 weeks

Credit Hours: 3

MGMT 6330 Organizational Behavior

An analysis of formal organizational theory and the interrelationship of individuals in organizations. A study of the organization as a system of authority, status, leadership, direction, culture, ethics, communication and influence.

Duration: 7 weeks

Credit Hours: 3

MGMT 6360 Production and Operations Management

The study of the role of the production function in the business system and its relationship to marketing and finance. The focus is on the decision-making necessary for productivity improvement in the transformation process of manufacturing and non-manufacturing service organizations. Strategies of production system design, capacity management, quality management; production planning, inventory planning and control, facility location and supply chain management are explored. Systems studies include Just-in-Time, Total Quality Management and Flexible Manufacturing Systems.

Duration: 7 weeks

Credit Hours: 3

FINA 6340 Advanced Corporate Finance

The study of advanced topics and cases in corporate managerial finance. The course builds on the foundation finance course; and covers topics including valuation of securities, valuation of business and investment decisions, capital structure, cost of capital, mergers and acquisitions, working capital management, international corporate finance and risk management. Prerequisite: FINA 6303 or FINA 3380 or equivalent.

Duration: 7 weeks

Credit Hours: 3

MARK 6310 Marketing Strategy

This course is an advanced study of marketing policy and decision-making based upon a consumer orientation, innovation and creative adaptation to change, cultural implication of marketing action, and the role of theory in marketing. It investigates how marketing affects overall corporate and business decisions and gives students an opportunity to look at high-level strategic marketing decisions in product planning, promotion pricing and distribution.

Duration: 7 weeks

Credit Hours: 3

INFS 6330 Information Systems for Managers

Alternative approaches to managing the resources (computers, networks, software, data, & people) that organizations utilize in applying information systems. The roles of the user/manager identifying opportunities, obtaining computer applications and creatively using information technology to improve operational, tactical and strategic planning and performance. Topics that will be covered include enterprise systems, managerial support systems, decision support systems, e-commerce applications.

Duration: 7 weeks

Credit Hours: 3

QUMT 6310 Business Research

Business research techniques and methodologies. Topics include scientific method, business information sources, research proposal development and evaluation, research design, scaling and instrument design, sampling design, statistical packages and applications, research reporting and writing and ethical considerations in business research.

Duration: 7 weeks

Credit Hours: 3

MARK 6375 Business Ethics

This multidisciplinary course in the area of business is designed to: 1) introduce the student to ethics examination on the basis of a scientific (in the analysis) and managerial (in the decision-making) approach to individual and organizational problems involving ethics; 2) review key ethical concepts and frameworks for the study of morality normative ethics justice and economic distribution, the nature of the business and the corporations, ethical issues in the workplace and the moral choices facing employees, consumers and the environment; 3) examine key ethical problems in business of our time, such as the current mortgage and financial crisis, fraud in online and offline commerce, and emerging problems in international management and cross-cultural marketing.

Duration: 7 weeks

Credit Hours: 3

INFS 6350 Data Modeling and Business Intelligence

This course focuses on the characteristics, uses, and design strategies for IT-enabled managerial decision support. Data-oriented methods for business intelligence and organizational decision making are emphasized. Technology context includes an overview of business intelligence framework, business process management and application based business analytic and reporting. Specific techniques include business reporting using pivot tables, extraction, cleaning and querying of business data. Application areas include health care, retailing and manufacturing, etc.

Duration: 7 weeks

Credit Hours: 3


MARK 6363 Social Media in Business

This course explains how strategic business communication has changed due to the rise of social media and equips students with relevant knowledge and skills to develop business communication strategies that incorporate social media and cutting-edge consumer-to-consumer social interactions. Since social media is heavily technology-driven, the course will also cover related aspects of electronic and mobile commerce and marketing.

Duration: 7 weeks

Credit Hours: 3

MGMT 6390 Strategic Management

This capstone course integrates knowledge in functional areas and covers strategy formulation, implementation and evaluation. Different types of organizations in all kinds of environments and industries are studied. Technology, culture and ethics are important environmental variables considered.

Duration: 7 weeks

Credit Hours: 3

MBA Foundation Courses

All students entering the MBA program are required to have a business administration foundation. The foundation may be achieved by holding a Bachelor's degree in a business field OR by taking some (or all) of the foundation courses provided below. The University will advise on which foundation courses are necessary for students to be successful in the MBA, it can range from 0 courses to 6 courses depending upon previous coursework and work experience.

FINA 6303 Introduction to Finance

This course introduces fundamental concepts of financial tools and analysis for making effective managerial decisions. Topics include the role of the financial manager in the organization, decisions affecting the internal management of the firm, financial statement analysis, and operational planning and budgeting.

Duration: 7 weeks

Credit Hours: 3

ACCT 6301 Accounting for Managers

An examination of financial and managerial accounting theory and concepts and their application in financial and managerial decision making.

Duration: 7 weeks

Credit Hours: 3

ECON 6301 Principles of Economics

This course is an introduction to basic economic concepts. Macroeconomic topics will include national income and output, unemployment, inflation and economic, social and political structures and institutions. Microeconomic topics will include consumer choice, the firm's supply decision, product and resource markets, resource allocation and efficiency, and market structures. International/global comparisons will also be discussed when appropriate.

Duration: 7 weeks

Credit Hours: 3

MARK 6300 Foundations of Marketing

This course provides discussion about a range of topics related to the marketing field, its functions and institutional structure at the macro level, as well as an analysis of marketing strategies and policies at the micro level. In addition, it includes issues related to the psychological, social and cultural factors influencing marketing decisions at the business and consumer level.

Duration: 7 weeks

Credit Hours: 3

MGMT 6301 Foundations of Management

This course exposes students to the fundamental concepts of organizations and management. It emphasizes the role of a manager as a decision maker and how managers in every organization plan, organize, motivate, and control in rapidly changing environments.

Duration: 7 weeks

Credit Hours: 3

QUMT 6303 Statistical Foundations

An introduction to statistical methodology to include probability concepts, inference techniques, analysis of variance, regression analysis, chi square and other nonparametric analyses. This course focuses on the use of the computer in performing statistical analysis.

Duration: 7 weeks

Credit Hours: 3