Jardin del Arte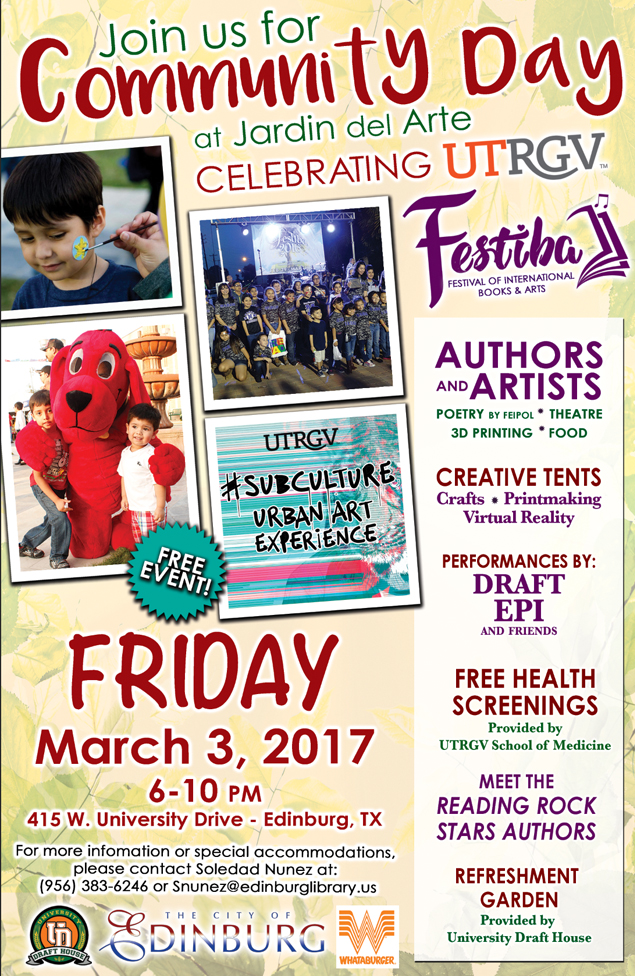 FESTIBA AT JARDÍN DEL ARTE COMMUNITY FESTIVAL
Join us for this fun community event, which will be the culmination of a week of cultural and educational exchange! The afternoon and evening features an amazing list of family-friendly events including a variety of author presentations, book signings, musical performances, children's activity tents, book displays, book distributions, local and international artists, and a variety of art and food vendors.
Location: Edinburg City Hall and grounds
Time: 6:00 p.m. – 10:00 p.m.
ACTIVITIES include:
WINE GARDEN sponsored by University Drafthouse
UTRGV #subculture: Urban Art Experience @FESTIBA Community Festival
UTRGV's artists, musicians and all creative walks of life come together to showcase their work and create an interactive environment. This event is spearheaded by Jennifer McGehee-Valdez, UTRGV's Director of Public Relations.
CREATIVE TENT – Presented and Sponsored by the International Museum of Arts and Sciences
READING ROCK STARS Author RoundUp! The Texas Book Festival will bring books to life for young readers during FESTIBA 2017 through Reading Rock Stars. Meet the Authors!!
Artists Exhibits, Author Booths, and Great food, Music by Epi and Friends and DRAFT and more!
Book Distributions
Access to books from an early age is the key to their development. Over 2,000 free books will be given away to children who attend. Sponsored by the South Texas Literacy Coalition.
Top Readers Awards in the Edinburg Auditorium: Elementary schools from the Rio Grande Valley will be recognized for their exemplary reading levels.
Time: 6:00 p.m. to 7 p.m. and 8:05 p.m. to 9:00 p.m.
Location: Edinburg City Auditorium
Poetry by Rossy Evelin Lima: International award-winning Mexican poet and linguist.
Time: 7:00 p.m. to 8:00 p.m.
Location: Edinburg City Auditorium
Theatre Group – Lucia Macias Theatre Company: Bilingual Dramatic Performance of In the Time of the Butterflies.
Time: 9:15 p.m. to 10:00 p.m.
Location: Edinburg City Auditorium
WAKE-UP Latino/a Poetry Reading Women Artistically Kollecting Experiencias-Unidas Prosperando! is a poetry and performance collective from UTRGV.
Faculty Coordinator: Emmy Perez
Time: 6:10 p.m. to 6:40 p.m. at the Community Festival Stage