Sub Menu Toggle
Students captured youngsters' hearts – and vice versa – when teaching English in Taiwan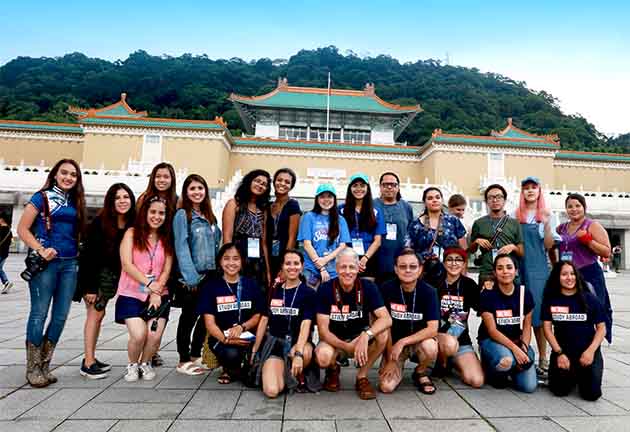 Twenty UTRGV study abroad students were volunteer teachers for a month in Taiwan, in the Changhua Department of Education's Summer English Camp. The study abroad trip was led by Dr. Ping Xu and Dr. Robert Gilbert, both professors of graphic design in the UTRGV School of Art. (Courtesy Photo)
PHOTO GALLERY
Password: taiwan (case sensitive)    
By Cheryl Taylor
RIO GRANDE VALLEY, TEXAS – SEPT. 7, 2017 – Eva Marie Williamson, a Master of Fine Arts candidate at The University of Texas Rio Grande Valley, is excited about the successful teaching methodologies she and her team used when teaching English to elementary and junior high students in Taiwan this summer.
"We did project-based learning, for the children to learn and practice English words through games and drawings," said Williamson, who lives in Edinburg and teaches art at IDEA Pharr College Preparatory. "The Taiwanese students were such a joy to work with, always ready to learn, and fearless in their learning. They were willing, and took part in all the activities."
Williamson and 19 other UTRGV students were volunteer teachers for a month in the Changhua Department of Education Summer English Camp, led by Dr. Ping Xu and Dr. Robert Gilbert, both professors of graphic design in the UTRGV School of Art.
Pharr native Carlos Limas, also a UTRGV Master of Fine Arts candidate, described the importance of using visuals and familiar images in language learning.
"The children would select words from the vocabulary list – a character, an action or an emotion – and then I would draw what they selected on the board," Limas said. "They loved to come up with funny situations, like 'the elephant is dancing' or 'Mickey Mouse is flying' or 'Superman is watching TV.' We would mix it up, with the students drawing a situation, and the opposing team describing the image. The children loved this activity, and we loved teaching and having fun with them."
The other UTRGV participants shared their feelings about the study abroad experience in a series of short videos, with the students praising the school children in the English camp.
HOMES AWAY FROM HOME
As much as they enjoyed teaching the Taiwanese children, the UTRGV students appreciated and benefitted from time spent with their host families.
"Most host families were those of local schools' faculty members or local business people," Xu said. "Some were in Changhua City, some in Yuanlin City, and others were in the small towns scattered throughout Changhua County."
The host families accommodated students in groups of two or four, providing the UTRGV students' meals, daily transportation, and weekend activities to local parks and sites of interest. Each week, students moved to a new host family and a new school. A total of 29 schools participated in the English camp.
"This arrangement let the UTRGV students work with schoolchildren of different ages while interacting with a variety of people, giving them an overview of life in Taiwan," Xu said.
Michelle Mata, a UTRGV senior graphic design major from Mission, said she got attached to each host family.
"It was really hard leaving our host family each week," she said. "It's sad, because we knew we might not ever get to see them again, even though we can keep in touch over social media. They were all very generous, welcoming and accommodating to our needs, above and beyond what we expected. They really made this a wonderful experience for us."
Melissa Alatorre, a UTRGV graphic design senior from McAllen, said interacting with her host families gave her insight into the Taiwanese culture.
"They never let you be hungry; they were always giving you food," she laughed. "Every host family was a really special experience. Having them teach you so much in a short amount of time was amazing, and I really appreciated that."
Arael Meza, a UTRGV junior graphics design major, noticed similarities between Taiwan and his home country of Mexico.
"Even though Taiwan is on the other side of the world, I saw similarities with the Mexican culture," Meza said. "Especially with the people – they are really warm people, from the heart. They are very courteous and giving – that is the most beautiful thing, and it reminded me of Mexico."
Meza also noticed something that made him think of Edinburg, his home now: the agricultural fields throughout Changhua County, where the students taught classes and lived with host families.
"To see the crop fields, it made me think of the Rio Grande Valley, and I didn't get homesick. I really loved Taiwan," he said.
Meza was among the 13 students who traveled directly to Taipei, Taiwan, after spending a full month on a study abroad trip in China with Xu and Gilbert. Seven of the students flew directly to Taiwan from the United States.
Sisters Dianella and Cynthia Cantu, from San Juan, were among those who first spent a month in China.
With Dianella a graduate student in Communication Studies and Cynthia entering her senior year as a pre-medical biology major, the sisters decided the timing was right for them to take a study abroad course together. Then they heard about teaching in Taiwan, and didn't want to miss the chance.
"As an adult, I've never lived with any family other than my own," Dianella said. "I was a little nervous at first, but that didn't last. They were all so warm and welcoming and friendly."
In addition to weekend activities with their host families, the group made excursions to Taipei, the capital city, about a two-hour drive from Changhua County, and to Ming Chuan University, known as the first U.S.-accredited university in Asia.
While the UTRGV students were teaching classes in Changhua, Xu and Gilbert conducted a 10-day workshop for students and faculty in the Department of Digital Media Design at Ming Chuan University's Taoyuan Campus.
PRAISE ALL AROUND
Kimberly Alaniz, from McAllen, graduated in May with a B.A. in English and a teaching certification, and had been thinking about teaching abroad.
"I taught high school during my student teaching, and when I heard of this opportunity, I jumped at it to test the waters," she said. "I thought I would enjoy teaching students from another culture, and it was truly an awesome experience. All of the students were so kind and welcoming and eager to learn."
The impression from the Taiwanese school administrators and faculty was equally complimentary.
"We were thrilled to have UTRGV's students on the English Camp team – they did such a great job," said Chang Tai Junior High School Principle Chang Yao-zhong. "Our students enjoyed the program and say they want to return next summer. We look forward to future collaboration with UTRGV."
At the end of their stay, the group traveled to Taipei to sightsee and visit the National Palace Museum, where they viewed a collection encompassing 8,000 years of Chinese art.
"The effort of the UTRGV students was so well received by everyone in the schools, and certainly, the children fell in love with their English teachers," Gilbert said. "This was a real treat for the Taiwanese students to interact with native English speakers and learn about American culture from American university students. And for the UTRGV students, this was an exceptional personal and academic growth experience."
STUDY ABROAD SCHOLARSHIPS
Some of the UTRGV students were able to offset the cost of their Taiwan trip using scholarship funds. Rebecca Bui, Eufemia Mata and Arael Meza received the Benjamin A. Gilman International Scholarship. Issued by the U.S. Department of State, the Gilman Scholarship helps students of limited means study abroad so they can gain skills that will further the United States' economic competitiveness and/or enhance national security.
Eva Marie Williamson and Carlos Limas received the International Education Fee Scholarship, which is administered through the UTRGV Office of International Programs and Partnerships.
For more information about study abroad, contact International Programs and Partnerships in the Office of Global Engagement at 956-665-3572 or ipp@utrgv.edu.
UTRGV students who participated in the Changhua Department of Education Summer English Camp in Taiwan are:
Kimberly Alaniz / English – Senior
Melissa Alatorre / Graphic Design – Senior
Ariadny Balderas / Graphic Design – Senior
Rebecca Bui / Pre-Med Biology – Sophomore
Cynthia Cantu / Pre-Med -Biology – Senior
Dianella Cantu / Graduate student, Communication Studies
Fernanda Cortes / Biology – Junior
Judy Garcia / Graphic Design – Senior
Carissa Leal / History – Junior
Carlos Limas / 2D – MFA Candidate
Eufemia Mata / Graphic Design – Senior
Michelle Mata / Graphic Design – Junior
Zhikynah May / Pre-Med Biology – Sophomore
Arael Meza / Graphic Design – Junior
Vanessa Meza / Interdisciplinary Study Early Childhood – Senior
Aleena Romy / Biology – Sophomore
Annsuriya Saji / Pre-Med Biology – Sophomore
Roxana Tello / Civil Engineering – Junior
Marcela Terrazas / Rehabilitation Services – Sophomore
Eva Williamson / 2D – MFA Candidate
ABOUT UTRGV
The University of Texas Rio Grande Valley (UTRGV) was created by the Texas Legislature in 2013 as the first major public university of the 21st century in Texas. This transformative initiative provided the opportunity to expand educational opportunities in the Rio Grande Valley, including a new School of Medicine, and made it possible for residents of the region to benefit from the Permanent University Fund – a public endowment contributing support to the University of Texas System and other institutions.
UTRGV has campuses and off-campus research and teaching sites throughout the Rio Grande Valley including in Boca Chica Beach, Brownsville (formerly The University of Texas at Brownsville campus), Edinburg (formerly The University of Texas-Pan American campus), Harlingen, McAllen, Port Isabel, Rio Grande City, and South Padre Island. UTRGV, a comprehensive academic institution, enrolled its first class in the fall of 2015, and the School of Medicine welcomed its first class in the summer of 2016.                   
MEDIA CONTACTS

Cheryl.Taylor@UTRGV.edu
UTRGV Senior Writer / 956-882-8787
Marci.Caltabiano@UTRGV.edu
UTRGV Director of News and Internal Communications / 956-665-2742