Sub Menu Toggle
Luis Velazquez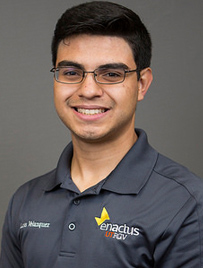 Name Luis Velazquez
Age: 20
Major: Finance & Economics
Hometown: San Juan 
Why UTRGV?
UTRGV is dedicated, engaged, and represents the better part of a community looking to enhance the livelihood of our people, connect with those beyond, and represent our proud heritage. There are great, intellectual, and hard-working people to be found at every corner, from every profession, and even different walks of life. 
What made you decide on your current major?
I chose finance and economics primarily because of my interest in business and what I believed was the doorway it provides to work with various fields of study while dealing with the backbone of any enterprise – wealth. I am also a fan of investments, a concept I have built my entire life around, whereas my every action is an investment in something. I have seen things this way since I was young, and felt the need to respect that in pursuit of my career.
What are your plans after graduation?
Whether it's managing my various private or public investments, or managing/owning a company, my success will be defined by working wherever I can go and make the most impact, and still manage to travel, have a family, and be dedicated to my craft and studies. 
What are you involved in on and off campus?
I am president of Enactus, an entrepreneurial organization that focuses on projects as a form of social enterprise and community empowerment. With Enactus, we have worked together to create a small textile manufacturing business in a colonia in Peñitas that has created over $20,000 in revenue for the local women. With our mentorship, the business continues to thrive and expand its operations, clientele, and product line to this day. Additionally, we have worked together to provide financial literacy trainings and healthy living initiatives both on and off campus, working jointly with various other organizations and colleges in the process. I am also a member of The Trading Association, where we learn to use a variety of different financial tools, such as options, futures, and stocks to be able to invest both publicly and privately. 
What is your biggest accomplishment to date?
I take a lot of pride in the cumulative effort of my Enactus team in being able to have been regional champions in our first two years of existence as a student organization, while also having won the 2016 Rookies of the Year award, and receiving third place for the Enactus Women Empowerment Topic Competition while representing UTRGV at the 2017 Enactus National Conference in Kansas City. We achieve much more together than we do alone, and that makes these awards amongst the most meaningful I have been a part of to date. 
What advice do you have for future students?
Be driven, dedicated, and be guided by a strong set of values and beliefs. Seek to understand yourself and your shortcomings, and always look to improve. With this mentality comes along the positivity, work ethic, and habits necessary to be successful in whatever you put your mind to.