Sub Menu Toggle
Joseph Houston Barber Jr.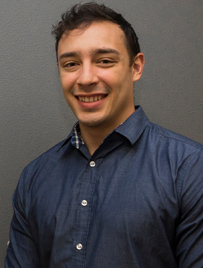 Joseph Houston Barber Jr.
Age: 22
Major: Rehabilitation Services
Hometown: Mission 
Why UTRGV?
Initially after graduation from high school, I received a full scholarship, through wrestling and academia, to Lindenwood University in Illinois. When they announced that they had not proceeded to make my degree program a full bachelor's, I knew immediately that I wanted to come back and attend UTPA/UTRGV. Unlike other large campuses, I knew through high school tours that the campus was beautiful and was the perfect size to feel free, yet small enough to make great friendships and connections. 
What made you decide on your current major?
At Lindenwood University I was majoring in exercise science, however I desired a career path that would be more morally gratifying. Through some research, I came across rehabilitation services and I loved how it promotes the welfare for people who are often neglected. It is a beautiful and satisfying degree that I am honored to have because I will be changing lives for the better. 
What are your plans after graduation?
After graduation, I aim to enlist into the Air Force for a minimum of 10 years. Many ask, "why if you have a degree?" Well, simply put, I want to be a Veteran's assistant when I get older. I hope to give back to the ones who have sacrificed so much for our freedom as well as honor them through serving our country as well. Through military experience I will be able to relate to my clients on a deeper level. 
What are you involved in on and off campus?
I spend the majority of my days on campus. I am currently employed as a team leader for the UTRGV Student Union and I must say that the environment in this workplace is exceptional. When I'm not working, I am a very active member of the UTRGV Ju-Jitsu Club where I occasionally assist Eric Martinez in teaching wrestling and Ju-Jitsu. I am also an avid weightlifter who enjoys staying in shape with our facilities at the UTRGV Recreation Center. 
What is your biggest accomplishment to date?
My biggest achievement is being able to overcome the adversity of losing the sport I loved and school itself. After the downfall at my former university, I struggled to find the motivation to keep on going.  I gave up my scholarship, which now meant that I had to take out loans and find a new campus.  I was demoralized and just wanted to give up on school but I pulled myself out of the darkness and found motivation to keep working hard. Being able to overcome that hardship is something that took courage and strength from myself which is why I regard it as my biggest accomplishment. 
What advice do you have for future students?
I want to say that the path through college isn't always a simple one and can sometimes feel more like a burden, however, time flies and as long as you stay focused and work hard, you will prosper and be one step closer to achieving your dreams.