Sub Menu Toggle
Dr. Justin Writer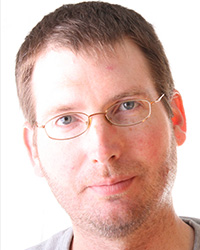 Justin Writer is Associate Professor of Composition and Music Theory at the University of Texas Rio Grande Valley. Writer's music is performed by professional and university ensembles throughout the United States, Europe, Mexico, and South America. Among groups that have performed Writer's works include the October Trio, Crouse Quartet, Levande Musik, ContemporarY Ensemble, Konza Winds, Duo Avanzondo, Springfield Symphony Orchestra and Chorus (Massachusetts), Bozeman Symphony Orchestra and Symphonic Choir, Wichita State University Wind Ensemble, Emporia State Concert Band, Pittsburg State University Wind Ensemble, University of Texas-Pan American Wind Ensemble, Quintet Oklahoma, and Quartetto Saloma. His music is published by Cimarron Music Press,  Media Press, Fatrock Ink, Echelon Music, and Really Good Music. Fantasia and Five Images From Early Earth can be heard on Duo Avanzando's debut CD.
Awards, honors, and special performances include ASCAPLUS awards (2007-2014), International Trumpet Guild (2015), CMS South Central Chapter (2009), 2012 International Tuba/Euphonium Conference, 2011 International Tuba/Euphonium South Central Regional Conference, 2012 North American Saxophone Alliance, 2012 Chicago Bass Festival, 2010 SCI Region 6 Conference, 2010 and 2011 CMS National Conferences, winner of the Wichita State University Contemporary Music Festival Competition (1999, 2000), winner of Levande Musik's Live Elevator Project (2008), Voxnovus 60X60 Midwest Minutes Mix (2006), work selected for 2009 Nashville Sound Crawl, work selected for the University of Nebraska at Kearney New Music Festival (2007), work selected for the Seventh International Festival of Contemporary Art, Mexico, 2000, Finalist, 1997 BMG National Young Composers Competition, Pi Kappa Lambda, and Kappa Kappa Psi.
Writer received his D.M.A in Composition from the University of Oklahoma, his M.M. in Theory/Composition from Wichita State University, and a B.M.E. from Pittsburg State University (Kansas). Dr. Writer's principal composition teachers include Marvin Lamb, Walter Mays, Robert Deemer, Katherine Ann Murdock, Evan Hause, and Stephen Andrew Taylor.