Sub Menu Toggle
STDOI researchers, collaborators, report on role of fruit, vegetable intake to minimize obesity risk in Mexican American children
RIO GRANDE VALLEY, TEXAS – SEPT. 5, 2017 –  Dr. Ravindranath Duggirala, Ph.D., a professor in the South Texas Diabetes and Obesity Institute at the University of Texas Rio Grande Valley, and Dr. Jairam K. P. Vanamala, Ph.D., an associate professor of Food Science in Penn State's College of Agricultural Sciences, are the corresponding authors of a paper published in a recent  issue of the American Journal of Clinical Nutrition.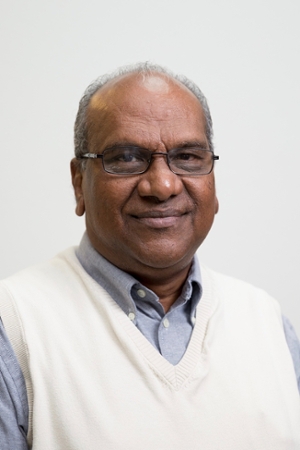 The paper details new research that suggests that potential disparities in fruit and vegetable intake in Mexican American children may be placing them at greater risk for obesity and related health problems.
Childhood obesity is a major public health issue that disproportionately affects Mexican Americans, so to address the problem, Duggirala designed the San Antonio Family Assessment of Metabolic Risk Indicators in Youth (SAFARI) study. The study assessed childhood obesity and its related cardio-metabolic traits in Mexican American children and adolescents from San Antonio and surrounding areas, and determined how those traits were influenced by genetics and environment.
The family-based study enabled Duggirala, principal investigator on the study, and his colleagues to determine the relative roles of genes, and environmental factors like diet and physical activity on obesity-related traits in Mexican American youth. The current article highlights the importance of fruit and vegetable intake in minimizing the long-term risk for obesity.
Duggirala and Vanamala, working with colleague and first author Dr. Vidya S. Farook, Ph.D., found that testing levels of serum provitamin A carotenoids – the plant pigments commonly found in cantaloupe, carrots, sweet potatoes, sweet red peppers, broccoli and green leafy vegetables that give them their vibrant orange, yellow and green colors – can provide important information about fruit and vegetable intake in children as it relates to childhood obesity and its genetic basis.
Researchers obtained obesity-related data from 670 non-diabetic children and adolescents from 6 to 17 years of age. They were from large, predominantly lower-income Mexican American families at increased risk of diabetes, whose adult members previously had participated in one of three community-based genetic epidemiologic studies in San Antonio.
Vanamala's laboratory then measured provitamin A carotenoids in 570 of these children.
Duggirala said the findings show the importance of fruit and vegetable intake for minimizing risk for obesity, while signifying potential disparities in fruit and vegetable intake in Mexican American children and a corresponding risk for obesity.
The ultimate goal of the research is to find better ways to prevent or delay childhood obesity and associated cardio-metabolic risk, he said.
"The purpose of the SAFARI study is to identify genetic and environmental factors that influence childhood obesity risk," Duggirala said. "It is important to identify genetic, environmental and lifestyle contributors to childhood obesity, which is associated with obesity and related conditions in adulthood."
"Our findings provide critical insights into the complex genetic architecture underlying the association between serum carotenoids and cardio-metabolic risk, and they highlight the need for culturally sensitive and family-based early-life dietary interventions to combat the burden of obesity and its risks in Mexican American children and adolescents."
Vanamala said a plant-based diet is one that involves higher consumption of foods coming from plant sources like fruits, vegetables and herbs, compared to animal-based foods, "and that decreases cardio-metabolic disease risk," he said.
"The role of a plant-based diet rich in carotenoids in reducing the risk of developing obesity in children has not been well studied," he said. "However, our current findings lend support to promoting fruit and vegetable consumption to reduce the obesity and its complications, and to facilitate development of dietary interventions."
The research was funded primarily by the National Institute of Child Health and Human Development, a division of the National Institutes of Health (NIH) with additional support from Voelcker Foundation (Max and Minnie Tomerlin Voelcker Fund), and the USDA National Institute for Food and Agriculture.
ABOUT UTRGV
The University of Texas Rio Grande Valley (UTRGV) was created by the Texas Legislature in 2013 as the first major public university of the 21st century in Texas. This transformative initiative provided the opportunity to expand educational opportunities in the Rio Grande Valley, including a new School of Medicine, and made it possible for residents of the region to benefit from the Permanent University Fund – a public endowment contributing support to the University of Texas System and other institutions.
UTRGV has campuses and off-campus research and teaching sites throughout the Rio Grande Valley including in Boca Chica Beach, Brownsville (formerly The University of Texas at Brownsville campus), Edinburg (formerly The University of Texas-Pan American campus), Harlingen, McAllen, Port Isabel, Rio Grande City, and South Padre Island. UTRGV, a comprehensive academic institution, enrolled its first class in the fall of 2015, and the School of Medicine welcomed its first class in the summer of 2016.
MEDIA CONTACTS
Marci.Caltabiano@UTRGV.edu
UTRGV Director of News and Internal Communications / 956-665-2742