Sub Menu Toggle
UTRGV medical student offers advice to aspiring doctors via YouTube videos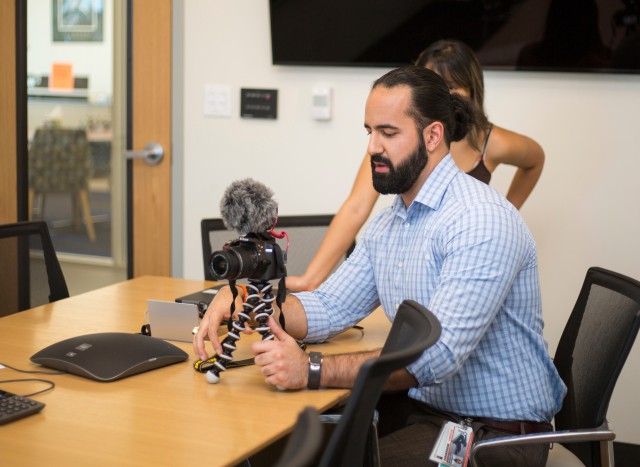 Shawn Izadi, a second-year medical student at The UTRGV School of Medicine, has created a YouTube channel called "Beards & Scrubs" in which he conducts interviews and offers up advice to other medical students. He now has more than 300 subscribers and close to 10,000 views, and his most popular video, "Things We Learned After Our First Year of Medical School," has about 3,000 views. Izadi said he decided to create the YouTube channel to help prospective medical students and to fulfill the need for a constructive hobby. (UTRGV Photo by Silver Salas)
By J. Edward Moreno
RIO GRANDE VALLEY, TEXAS – NOV. 29, 2017 – The University of Texas at Austin football stadium, The UTRGV School of Medicine, and thumbnails on YouTube – all places you might have spotted Shawn Izadi.
The second-year UTRGV medical student and Coppell, Texas, native spends his days either in class, studying, or at the gym – when he's not making YouTube videos.
Izadi, 26, is the mastermind behind his appropriately titled YouTube channel, "Beards & Scrubs," where he aims to "document my experience as a (then) first-year medical student at a first-year medical school," as stated in his intro video.
He began making videos in the summer and now has more than 300 subscribers and close to 10,000 views on his page.
His most popular video, "Things We Learned After Our First Year of Medical School, has close to 3,000 views. Not bad for a rookie YouTuber.
He's the first to admit making videos wasn't always his forte.
"My first video was trash," he said. "I just Googled 'things you need to vlog' and basically just taught myself how. I've definitely come a long way."
The decision to create a YouTube channel came from a desire to help prospective medical students and a need to find a constructive hobby.
Amidst the stresses of medical school, he said, it can be easy for students to burn out. So, whether it's playing video games like League of Legends or editing videos, Izadi always makes sure to set aside some leisure time.
To maintain personal discipline, he said, he has learned to say, "OK, my goal is to study up to here. Then I'll start editing. And I won't start editing until then."
What seems like an unlikely hobby for an aspiring surgeon actually shares some of the same skills.
"It's difficult putting the video together, but just like surgery, at the beginning you can't see the end sometimes. But, as you slowly work through it, you eventually create something that's beautiful," Izadi said.
A self-proclaimed "adrenaline junkie," Izadi prefers to work in a fast-paced environment and has his eye on a career in emergency medicine.
"I've flirted with the idea of being a surgeon in the military," he said. "I like the rush. I like to see results."
Before "Beards & Scrubs" – even before he was accepted into medical school – Izadi was a walk-on linebacker for the UT Austin football team while he was earning his bachelor's degree in biochemistry. One day, former UT football coach Mack Brown told Izadi about a coaching position at The University of North Texas.
The following day, he was a graduate assistant coach for the UNT football team.
"It was a really fun time," Izadi said. "Being in that position to help younger guys along, you can really help make an impact."
Off the field, he was eagerly applying to medical schools. Izadi tells his viewers to choose a medical school based on "where you feel like you belong." He followed that advice, and became part of the inaugural class of The UTRGV School of Medicine.
"I was between Dell Medical School in Austin or here, but what ultimately brought me here was that I wanted to be able to provide the largest impact for what I can offer," he said. "What brought me here is that unique experience, to able to lend a hand in things that places like Austin or Dallas don't necessarily have to deal with.
"The good thing about coming here is that it's a new school, and the faculty is invested in our success."
Betty Monfort, senior assistant dean for admissions, speaks highly of Izadi, calling him a "natural born leader" and commending his unique take on communication.
"He's going to be an exceptional doctor," Monfort said. "He reads people well and people respond to that, and that's one of the best qualities a doctor could have. We even show his video, 'Why Do You Want To Be a Doctor?' during interview day."
The School of Medicine's Medical Education Building, where medical students spend the first two years of their studies, is located on the northwestern corner of the Edinburg Campus. But the undergraduate student population has limited contact with the School of Medicine. Izadi and fellow UTRGV medical students hope to change that.
"We want to be a part of the campus, we want to be part of the culture," he said. "There's such an untapped potential here in the undergraduate campus. We need to let these students know that they have a medical school 200 feet away from them. Most college campuses cannot say that."
In the description box of his YouTube videos, he includes his email – BeardsAndScrubs@gmail.com – and he encourages undergraduate students to contact him if they have any questions or concerns about medical school.
"I hope we're able to leave a legacy," Izadi said.
ABOUT UTRGV
The University of Texas Rio Grande Valley (UTRGV) was created by the Texas Legislature in 2013 as the first major public university of the 21st century in Texas. This transformative initiative provided the opportunity to expand educational opportunities in the Rio Grande Valley, including a new School of Medicine, and made it possible for residents of the region to benefit from the Permanent University Fund – a public endowment contributing support to the University of Texas System and other institutions.
UTRGV has campuses and off-campus research and teaching sites throughout the Rio Grande Valley including in Boca Chica Beach, Brownsville (formerly The University of Texas at Brownsville campus), Edinburg (formerly The University of Texas-Pan American campus), Harlingen, McAllen, Port Isabel, Rio Grande City, and South Padre Island. UTRGV, a comprehensive academic institution, enrolled its first class in the fall of 2015, and the School of Medicine welcomed its first class in the summer of 2016.
MEDIA CONTACTS
J. Edward Moreno
UTRGV Staff Writer / 956-665-3639
Marci Caltabiano-Ponce
UTRGV Director of News and Internal Communications / 956-665-2742