Sub Menu Toggle
UTRGV assistant professor wins Fulbright award to study in Ecuador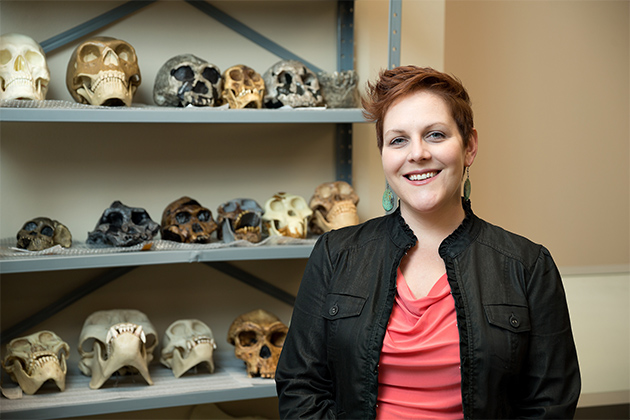 Dr. Sarah M. Rowe, assistant professor in the UTRGV Department of Sociology & Anthropology, has received a Fulbright Scholar Award to continue her research on the ancient Valdivia culture in Ecuador. She will be in the town of Dos Mangas for two months, researching social structures, specifically looking for artifacts that would provide clues about whether Valdivian society adhered to a hierarchical system or if it was more egalitarian. (UTRGV Photo by Paul Chouy)
By Jennifer L. Berghom
RIO GRANDE VALLEY, TEXAS – JUNE 9, 2017 – Dr. Sarah Rowe, assistant professor of sociology and anthropology, has received an $18,000 Fulbright Scholar Award to continue her research on the ancient Valdivia culture in Ecuador.
Rowe, who has been with UTRGV since 2015, will spend two months in the town of Dos Mangas, researching social structures within the Valdivia culture. Specifically, she is looking for artifacts that would indicate whether the community she is studying adhered to a hierarchical system or if it was more egalitarian.
"Other regions of this cultural tradition, other sites, were moving toward some incipient hierarchies, more social differences, people who had higher status and people who didn't," Rowe said. "At my site, though, it seems like there was a concerted effort to retain sort of an egalitarian ethos at the site that was somewhat counter to what was happening in other villages and towns in this period."
Rowe said she and her husband, Dr. Guy Duke, an anthropology lecturer at UTRGV, will be working with faculty and students at La Escuela Superior Politécnica del Litoral (ESPOL) in Guayaquil, Ecuador, on her research this summer.
She plans to use the results of her research to develop cultural heritage materials that can be used in schools in Ecuador and signage for ecotourism in the area she is studying. She also plans to host workshops for students and ecotourism guides.
"I'm really excited for what this award can mean for the future, not just for myself personally or my research, but for the ability to form connections for our institution and ESPOL in Ecuador," Rowe said.
MEDIA CONTACTS
Jennifer.Berghom@UTRGV.edu
UTRGV Senior Writer / 956-665-7192  
Marci.Caltabiano@UTRGV.edu
UTRGV Director of News and Internal Communications / 956-665-2742