Sub Menu Toggle
UTRGV School of Medicine students pay it forward with podcasts for incoming class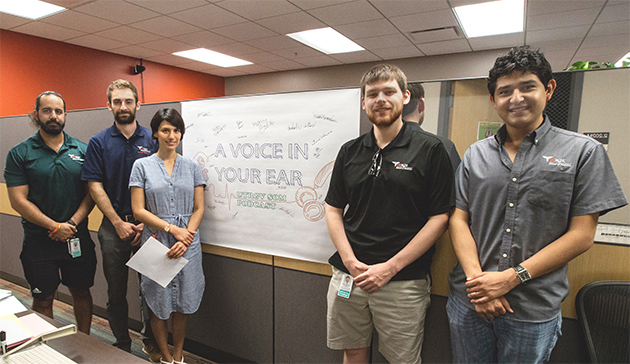 Students from the UTRGV School of Medicine's Class of 2020 created podcasts for incoming medical students, to help them navigate through their first year of medical school. Pictured (from left) are Class of 2020 medical students Shawn Izadi, Michael LaPelusa, Joy Alvarado, Keith Garrison and Ramiro Tovar. (UTRGV Photo by Silver Salas)
By Jennifer L. Berghom 
EDINBURG, TEXAS – JULY 28, 2017 – With the first year of medical school under their belt, students at The University of Texas Rio Grande Valley School of Medicine are sharing the wisdom they've attained with incoming students, through podcasts. 
More than a dozen medical students in the first cohort have created podcasts to offer guidance and insight into what it is like to study medicine at UTRGV. Topics include tips on developing effective study strategies, balancing school and personal lives, and managing their time. 
Medical student Michael LaPelusa came up with the podcast idea after attending an American Association of Medical Colleges conference earlier this year. 
"I saw an opportunity, because we're unique in the sense that we're the first class, and this could be something specific to the School of Medicine," he said. 
LaPelusa said such information usually is shared through word of mouth, but he and his fellow medical students hope to facilitate those conversations between students through these podcasts. 
"Hopefully, this can serve as a one-stop shop for all that advice," he said. 
Medical student Joy Alvarado said the podcasts are unique from other podcasts and communications, such as videos or blogs, about medical school because they provide information in the context of being a new school. 
"We are the trailblazers. I think that, in the next few years, those classes also will become trailblazers," Alvarado said. "We're changing, the school is changing around us, so this kind of supplement will be really helpful to help bridge any gaps in knowledge of this sort." 
The students began taping the podcasts earlier this summer. Each podcast is 10 to 15 minutes long, with the exception of one – which features a panel of students discussing their adjustment to medical school – which is about 45 minutes long. 
LaPelusa and Alvarado said they are grateful to the School of Medicine faculty for supporting them in this project and for participating in some of the podcasts, and to the staff of the Center for Online Learning and Teaching Technology for offering their production facilities and training. 
The students approached Dr. Valerie Terry, a communication discipline expert and instructional development designer III for the School of Medicine, to help facilitate and spearhead the project. 
Terry was instrumental in developing the research component of their endeavor; the second-year students are collecting data from the first-year students, to find out how beneficial the podcasts are. 
Terry said the podcasts are an efficient way to explain complex message in an engaging way. 
"It was a very ingenious way to give information from students to students in a time-saving manner," she said. 
The project also is in line with the School of Medicine's emphasis on student-centered and student-directed, independent learning, she said. 
"All of these students are the future of healthcare delivery and, when they become practitioners, I expect they will be coming up with similarly innovative ways to communicate with their patients," Terry said. "I think this is a clear indication of the type of compassionate yet interactive providers they will be in the future." 
The second-year medical students said they plan to continue creating podcasts for subsequent classes, as they continue their own journey through medical school. 
The students plan to give a presentation on their podcast project at the American Medical Association's "Accelerating Change in Medical Education" Student Leadership Conference, Aug. 4-5 at the University of Michigan in Ann Arbor, accompanied by Terry as faculty champion for the project.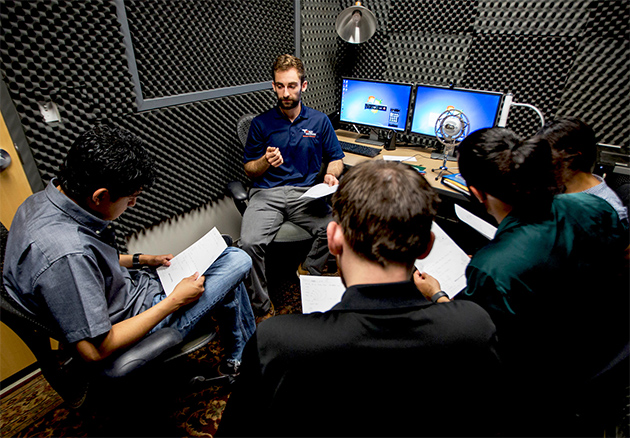 Students from the UTRGV School of Medicine are recording "A Voice in Your Ear: Podcasts as a Tool for Medical Education," to provide advice and tips for incoming medical students. The recording studio was provided by the UTRGV Center for Online Learning Technology (COLTT) in Edinburg. Michael LaPelusa, at center, goes over some tips for the podcast with Joy Alvarado, Shawn Izadi, Keith Garrison and Ramiro Tovar. (UTRGV Photo by Silver Salas)
MEDIA CONTACTS
Jennifer.Berghom@UTRGV.edu
UTRGV Senior Writer / 956-665-7192
Marci.Caltabiano@UTRGV.edu
UTRGV Director of News and Internal Communications / 956-665-2742