Sub Menu Toggle
UTRGV celebrates second birthday, looks to the future with Strategic Plan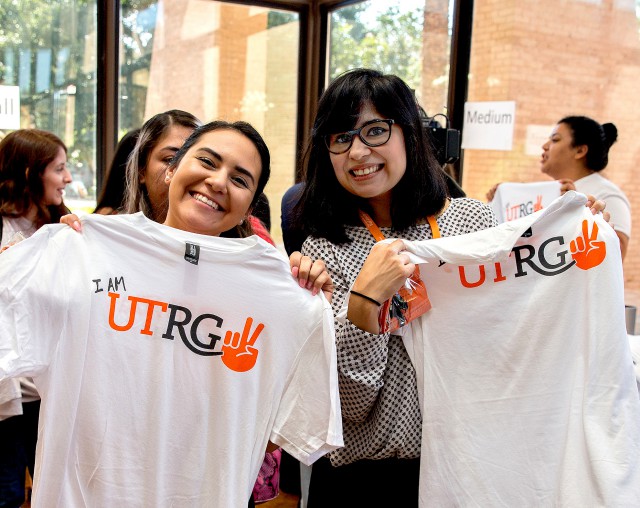 UTRGV celebrated its second birthday on Aug. 30, 2017, with UTRGV Day, and launched its inaugural Strategic Plan, which sets a course for the future. Students crowded the University Ballroom on the Edinburg Campus to get cupcakes, commemorative T-shirts and other UTRGV items. (UTRGV Photo by Paul Chouy)
By Jennifer L. Berghom
and Steven Masso
RIO GRANDE VALLEY, TEXAS – AUG 30, 2017 – The University of Texas Rio Grande Valley celebrated its second birthday Wednesday with cupcakes, free T-shirt giveaways and the unveiling of its strategic plan that will chart the course of the university's future.
Students, faculty and staff poured into the University Ballroom in Edinburg and PlainsCapital Bank El Gran Salón in Brownsville to cheer the university's successes and learn what UTRGV is doing to advance educational, research and health and medical opportunities for its students.
UTRGV President Guy Bailey lauded the university's accomplishments, including graduating more than 10,000 students since opening its doors in 2015, and having more students taking 15 student credit hours or more, which will allow them to graduate earlier. He also told the crowd about new academic opportunities the university is developing for students, such as offering a doctoral degree in physical therapy and expanding its Physician Assistant Studies Program.   
"We want you, as students, to have the same opportunities here that you'd have in Houston or Dallas or San Antonio," Bailey said. "You are every bit as deserving as anybody else in the state of Texas. Our job is to ensure that you have those opportunities."
Expanding opportunities for students is part of UTRGV's strategic plan, which will serve as a roadmap for where the university needs to go to ensure student success, Bailey said.
University officials have spent more than a year developing the plan, receiving substantial input from students, faculty, staff and the community-at-large, said Dr. Patricia Alvarez-McHatton, interim provost and vice president for Academic Affairs.
The plan revolves around the core priorities of educational opportunities, health and medical education, research that benefits the Valley and beyond, and community engagement. Those four all center on the main priority – student success.
Other initiatives listed in the plan include building UTRGV to become a bilingual, bicultural and biliterate university, and providing more professional development opportunities for faculty, students and staff.
McHatton said the strategic plan highlights much of what the university is already doing to ensure that students and the university as a whole succeed, but it also holds the university accountable by establishing evaluation metrics to track progress in meeting those goals.
It will take the support and commitment from the entire university and community to make this plan work, she said.
"I would like the big takeaway to be, 'What role can I play in making this happen,'" she said. "This is not something that is done by a small group of individuals. We all have something to contribute."
Peter Averack, vice president of UTRGV's Student Government Association, echoed McHatton's call for teamwork to make the university's strategic plan goals a reality.
"We are pioneers," Averack said. "I know there's a lot to grow and develop and learn, and this plan is, essentially, laying out the blueprint of how we'll move forward as an institution, a community and as a team.
"It's not just our students who will be benefitting from this," he said. "It's the entire Rio Grande Valley community."
One of those students, Sofia Rodriguez, a senior nursing major from Brownsville, was happy to take time out of a busy schedule to attend the celebration.
"It's a great turnout. I enjoyed the presentation Dr. Bailey gave us," she said. "It gives me a different perspective. Events like this are great because I think it's important for us to come together as one, with students showing up not just for the cupcakes or free shirts, but to hear about the big plans UTRGV has."
Alejandro Hernandez, a senior biomedical major from Monterrey, Nuevo León, Mexico, said UTRGV Day was a great way to raise school spirit and morale.
"The event was awesome," he said. "I've been here since the start, so I'm glad I can celebrate the second anniversary of this university. There are great things to come. And when students get involved, it makes the experience much better."
UTRGV celebrates the anniversary of its opening on the first Wednesday of the fall semester. It is part of the Best Week Ever, a weeklong celebration to usher in the new school year. This year marks the second anniversary of the opening of UTRGV. Last year the university commemorated its first birthday, but this is the first year with the official title of "UTRGV Day."
Read more about UTRGV's Strategic Plan at http://www.utrgv.edu/strategic-plan/.
ABOUT UTRGV
The University of Texas Rio Grande Valley (UTRGV) was created by the Texas Legislature in 2013 as the first major public university of the 21st century in Texas. This transformative initiative provided the opportunity to expand educational opportunities in the Rio Grande Valley, including a new School of Medicine, and made it possible for residents of the region to benefit from the Permanent University Fund – a public endowment contributing support to the University of Texas System and other institutions.
UTRGV has campuses and off-campus research and teaching sites throughout the Rio Grande Valley including in Boca Chica Beach, Brownsville (formerly The University of Texas at Brownsville campus), Edinburg (formerly The University of Texas-Pan American campus), Harlingen, McAllen, Port Isabel, Rio Grande City, and South Padre Island. UTRGV, a comprehensive academic institution, enrolled its first class in the fall of 2015, and the School of Medicine welcomed its first class in the summer of 2016.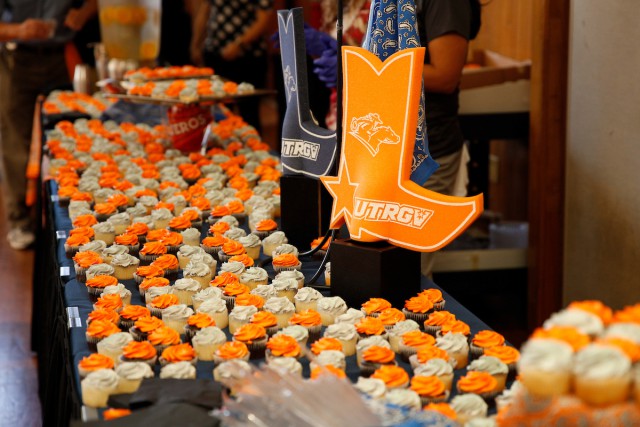 Cupcakes iced in orange and gray, UTRGV's colors, were in plentiful supply Aug. 30 as UTRGV celebrated its second birthday with UTRGV Day and launched its inaugural Strategic Plan, which sets a course for the future. Students crowded the University Ballroom on the Edinburg Campus to get cupcakes, commemorative T-shirts and other UTRGV items. (UTRGV Photo by Paul Chouy)
PHOTO GALLERY: https://utrgv-umc.photoshelter.com/galleries/C0000OxOMyzQL3z4/G0000svrpdMQCsBU/20170830-UTRGV-Day-EC-PC
Password: utrgvday (case sensitive)
MEDIA CONTACT
Jennifer.Berghom@UTRGV.edu
UTRGV Senior Writer / 956-665-7192
Steven.Masso01@UTRGV.edu
Student Writer / 956-882-7684
Marci.Caltabiano@UTRGV.edu
UTRGV Director of News and Internal Communications / 956-665-2742