Sub Menu Toggle
Hundreds share their discoveries at first UTRGV-DHR Research Symposium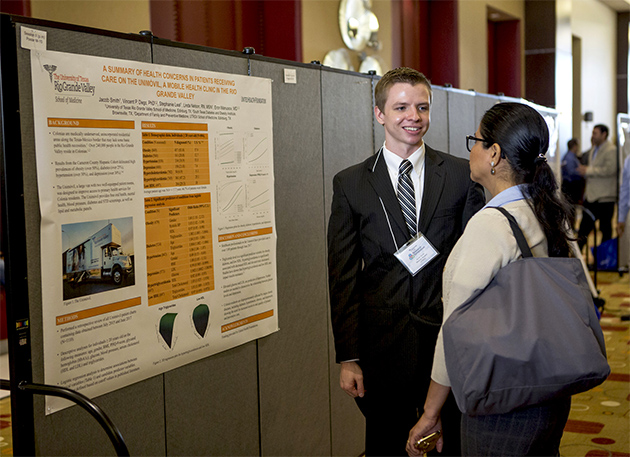 Jacob Smith, a second-year student in The UTRGV School of Medicine, presented a research poster at the UTRGV-DHR Inaugural Research Symposium, held Saturday, Aug. 12, 2017, at the Edinburg Conference Center at DHR. His research addresses the health concerns in patients receiving care on Unimovil, the School of Medicine's mobile health clinic, in Lower Rio Grande Valley colonias. (UTRGV Photo by Silver Salas)
RESEARCH SYMPOSIUM PHOTO GALLERY
By Gail Fagan
RIO GRANDE VALLEY, TEXAS – AUG. 15, 2017 – More than 300 people turned out Aug. 12 to participate in the Inaugural Research Symposium hosted May 12 by The University of Texas Rio Grande Valley School of Medicine (SOM) and Doctors Hospital at Renaissance (DHR).
The all-day event, held at the DHR Conference Center, allowed the School of Medicine to share its research with colleagues and the community, as well as with researchers from across the United States, Mexico and El Salvador.
In his welcome, Dr. John H. Krouse, dean of the School of Medicine and UTRGV vice president for Medical Affairs, applauded the number of people attending the symposium and the quality of their presentations.
"This year's symposium will be the first in a series of annual programs that demonstrate the cutting-edge basic and clinical research that is being performed by students, medical school residents, university faculty members, and community scholars and physicians in the Valley," he said.
Krouse said a key mission for a medical school is to be a catalyst for research activities, including basic, transactional and clinical research, and he touted the numerous benefits of research, including the development of science in general and critical thinking in students; its service as the basis for evidence in the quality and efficacy of clinical care; and its contributions to enhancing the reputations of universities and medical schools as institutions of higher learning.
"Discoveries made in the laboratories of our basic scientists assist in the understanding of mechanisms of both health and disease and offer the foundation for translating these findings into clinical interventions," he said.
The symposium offered more than 200 presentations, featuring oral presentations in six disciplines – clinical, biomedical science, diabetes, public health, genomics and neuroscience. Giving the keynote address was Dr. Nicolas Musi, who directs the Barshop Institute for Longevity and Aging Studies at The University of Texas Health Science Center-San Antonio.
Posters with a similar focus as the oral presentations – primarily issues impacting the Valley – were presented by high school, undergraduate and graduate, and medical school students, as well as medical residents, post docs and university faculty members.
"We want to connect with fellow researchers locally, regionally and nationally, to promote research collaboration and excellence," said Dr. Andrew Tsin, chair of the Department of Biomedical Sciences and associate dean for research at The UTRGV School of Medicine. "We also want to reach out to the public to promote the value of research and discovery to benefit the health and well-being of our fellow citizens, including the local community and beyond."
IMPROVING CLINICAL CARE THROUGH RESEARCH
Dr. Zishan A. Hirani, a third-year resident in ob-gyn at DHR, in his oral presentation described his research directed at reducing the number of primary Cesarean Section (CS) deliveries at DHR.
Once a woman has a first pregnancy that leads to a CS, he said, every pregnancy after that likely will lead to a CS, which has surgery risks, including hemorrhage, infection and post-op concerns. At DHR, the average rate of CSs was 35 percent in 2015, while the national average was 25.9 percent.
To reduce DHR's rate, Hirani worked with other doctors, faculty, nurses and hospital administrators to develop a multidisciplinary approach that included standardization of terminology used in delivery, provision of up-to-date information on making interventions, participation in a required fetal heart monitoring course for CS caregivers, and shared analytics of CS rates by individual doctors.  
"They now had a checklist to follow to make sure everyone was doing it the right way before calling for a C-Section," he said. "By the first quarter of 2016, the CS rate was 27 percent. Then, by May 2016, the CS rate was 23.7 percent, which was below the national average."  
Through his participation in the symposium, Hirani hopes to nurture partnerships with other departments and researchers, to develop better analytics and a bigger database sample.    
FOCUSED ON IMPROVED ECONOMIC OUTCOMES, STUDENT SUCCESS
Daniel Gonzalez, a senior at UTRGV and a biology pre-med student, explained in his poster presentation how his research is important to the shellfish industry.  Gonzalez, who is mentored by Dr. Joanne Rampersad-Ammons from the UTRGV Chemistry Department, found the presence of the disease Dermo in oyster samples from the Lower Laguna Madre. 
"The bivalve industry is a $148 billon dollar industry nationwide. Dermo (which does not harm humans who eat them) causes the oysters to die within two to three years, which can decimate oyster populations," he said. "Oysters also help with coastal erosion and help with the pollution in the water. If we find a cure for this strain, we can protect the economy relying on the shellfish industry around here." 
Gonzalez, who was among 54 undergraduate students presenting, said conducting research as an undergraduate gave him a better understanding of what will be expected in a medical career.
"A lot of medicine is research. It gave me experience in the laboratory and terminology I will encounter when I enter medical school," he said. 
RESEARCH FOCUSED ON VALLEY CONCERNS
Jacob Smith, a second-year medical student in The UTRGV School of Medicine, was one of 17 medical school students presenting research posters. 
His research addressed the health concerns in patients receiving care on the School of Medicine's Unimovil, a mobile health clinic serving a number of Lower Rio Grande Valley colonias, which are medically underserved and lack one or more public health infrastructure pieces, he said.
"We have data from about 1,100 patients from July 2015 through June 2017, and what we are seeing are high rates of several major chronic diseases in a fairly young population with an average age of 38.8 years," he said. "The rates of obesity are above 50 percent, diabetes above 28 percent and depression above 20 percent, and these are all above national averages. Better primary and preventive care is needed for all the patients in the colonias."
Smith said the information gathered will help with allocating resources for the treatment and management of conditions with the highest rates across individuals in the colonias.
"I am very interested in working with the underserved full-time one day as a physician, and I really want to do some mission work in the future," Smith said. "Being able to see what patient populations who have lower incomes, or who don't have health insurance and what they actually need, has really been eye-opening."
The presentations were judged by DHR medical residents, faculty members from the UTRGV South Texas Obesity and Diabetes Institute, the UTRGV biomedical science department, and high school science teachers from the Harlingen School of Health Professions.
To see a complete symposium agenda and presentation abstracts, see the SOM Research Symposium site.
Find the list of the 2017 Inaugural Research Symposium presentation winners here.
High school students stand tall at inaugural UTRGV-DHR Research Symposium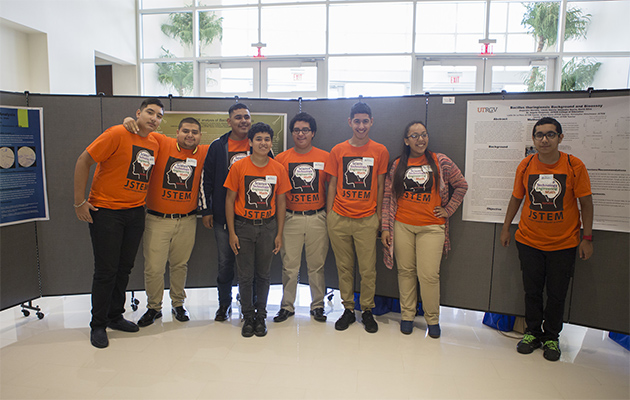 Students from the T-STEM Academy at Juarez Lincoln High School in La Joya presented their research at the Inaugural Research Symposium on Saturday, Aug.12, at the Edinburg Conference Center at DHR. The symposium was held by The University of Texas Rio Grande Valley and Doctors Hospital at Renaissance, and gave the La Joya students an opportunity to participate with about 300 scientists, doctors, medical school students, residents, faculty, and undergraduate, graduate and post-doctoral students from across the country, Mexico and El Salvador. Participants gave more than 200 oral or poster presentations at the symposium. (UTRGV Photo by Silver Salas)
RESEARCH SYMPOSIUM PHOTO GALLERY
By Gail Fagan
RIO GRANDE VALLEY, TEXAS – AUG. 15, 2017 – Nervousness vied with excitement as
eight students from the T-STEM Academy at Juarez Lincoln High School in La Joya prepared to present their research at the Valley's Inaugural Research Symposium.
Hosted by The University of Texas Rio Grande Valley School of Medicine and Doctors Hospital at Renaissance, the symposium brought together some 300 scientists, doctors, medical school students and residents, faculty, and undergraduate, graduate and post-doctoral students from across the country, Mexico and El Salvador. Participants gave more than 200 oral or poster presentations at the symposium held at the DHR Conference Center.
"It feels good to know I am doing research like professionals," said Emmanuel Matamoros, a rising 10th-grader considering mechanical, civil or bioengineering as a career. "When I get to college, I am already going to know what to do."
The students, all clad in bright orange, STEM-themed T-shirts at the symposium, participated in a six-week, research-intensive, science-based instruction camp this summer under the mentorship of four UTRGV UTeach students, said Dr. Angela Chapman, assistant professor in UTRGV's Department of Teaching and Learning in the College of Education and P-16 Integration. 
"Once I realized the quality of work that they were doing, and their engagement, I reached out to the School of Medicine to see if they would consider them to participate in this symposium," said Chapman, whose research focus is nurturing and maintaining student engagement in STEM (science, technology, engineering and mathematics). "This kind of exposure can make a big difference in terms of their confidence and motivation."
The students, who divided their findings among three poster presentations, were challenged to identify new strains of Bacillus thuringiensis – a bacteria that grows naturally in the environment and whose proteins can serve as an organic pesticide – and test them to see if they would kill mosquito larvae.
Lluvia Garcia, who will be a 10th-grade student this fall, said they collected soil samples from numerous sites and viewed more than 2,000 slides as part of the research.
"I learned to stay calm," she said. "You have to have a lot of patience while doing research."
She and the other students were able to identify 11 types of bacteria, but none displayed the pesticidal properties they expected. Their research is already scheduled to be continued on Saturdays in the fall at UTRGV, to investigate the bacteria's effectiveness on killing cockroaches and flies. 
Garcia said participating in the symposium was a great opportunity.
"Not everybody gets to be here at my age with college students and doctors," said Garcia, who is interested in the medical and STEM fields. "I like to learn new stuff that no one else knows."
Santos Palomo, director of the T-STEM Academy at Juarez Lincoln High School, said that throughout the research project and preparation for the symposium, she saw an increase in student confidence.
"We try to develop their employability skills. We dress for success at school, and play the role as professionals," Palomo said. "Gaining confidence and being able to work with the mentors from UTRGV has really inspired them and motivated them to do better."
Khristopher Hirschman, a UTRGV senior biology major and one of the four UTeach mentors to the students, said the chance to do research at their age and to present at the symposium is something he would have liked to have done when he was their age.
"Some of the things that they are doing now, I didn't do in the lab until last semester," he said.
UTeach mentor Leslie De La Peña, a senior chemistry major who, with Hirschman, accompanied the students to the symposium and escorted them as they viewed other posters and asked questions of other presenters, said the experience was significant for the students.
"They now believe they can become what they want to be," she said.
The symposium, which is planned to become an annual event, featured a variety of research – clinical, basic and translational – on a wide range of topics, including many related to conditions affecting the Rio Grande Valley community, such as diabetes, obesity, cancer and depression.
Dr. Andrew Tsin, SOM associate dean of research and chair of the UTRGV Department of Biomedical Sciences, said students are a major part of the research enterprise at UTRGV and the School of Medicine. 
"They not only get to follow the research in our research laboratories and clinics, they get to record and disseminate the information, so it is an integral part of the training process," Tsin said.
A complete list of the symposium agenda and presentations is available on the UTRGV School of Medicine research site.
ABOUT UTRGV
The University of Texas Rio Grande Valley (UTRGV) was created by the Texas Legislature in 2013 as the first major public university of the 21st century in Texas. This transformative initiative provided the opportunity to expand educational opportunities in the Rio Grande Valley, including a new School of Medicine, and made it possible for residents of the region to benefit from the Permanent University Fund – a public endowment contributing support to the University of Texas System and other institutions.
UTRGV has campuses and off-campus research and teaching sites throughout the Rio Grande Valley including in Boca Chica Beach, Brownsville (formerly The University of Texas at Brownsville campus), Edinburg (formerly The University of Texas-Pan American campus), Harlingen, McAllen, Port Isabel, Rio Grande City, and South Padre Island. UTRGV, a comprehensive academic institution, enrolled its first class in the fall of 2015, and the School of Medicine welcomed its first class in the summer of 2016.
MEDIA CONTACTS 
Gail.Fagan@UTRGV.edu
Senior Writer / 956-665-7995 
Marci.Caltabiano@UTRGV.edu
UTRGV Director of News and Internal Communications / 956-665-2742