Sub Menu Toggle
Interim dean Lieberman eager to help fulfill School of Medicine's mission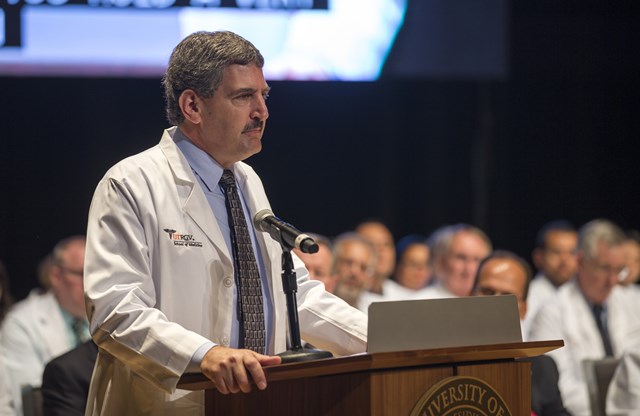 By Jennifer L. Berghom
RIO GRANDE VALLEY, TEXAS – SEPT. 19, 2016 – He has only been here two months, but Dr. Steve Lieberman says he already can tell just how special The University of Texas Rio Grande Valley's School of Medicine is to the community.
"The School of Medicine is a dream come true for many people down here, and represents the hopes of many to improve educational opportunities, health care, and research-based business opportunities in the Valley," said Lieberman, who took over as interim dean of the UTRGV School of Medicine in July.
"The passion I see in the faculty, the staff, and the students and residents of the School of Medicine for fulfilling those societal missions is remarkable, and it is a privilege to help the School of Medicine find ways to meet the needs and desires of the communities we serve."
Lieberman, a San Antonio native, comes to the Valley from The University of Texas Medical Branch at Galveston, where he serves as senior dean for administration and professor of internal medicine.
He said he was drawn to the area because his passion has always been to work in medically underserved areas. He has collaborated with UTRGV's legacy institutions, UT Brownsville/Texas Southmost College and UT Pan American, on various medical education initiatives, including The University of Texas System's Transformation in Medical Education (TIME) initiative, of which he is a co-chair.
The TIME initiative is reshaping pre-medical and medical education to include accelerated programs, competency-based education, and interprofessional approaches to learning medicine; UTRGV has the UT System's first competency-based education program, a B.S. in Biomedical Sciences offered by the College of Health Affairs based on the innovative Total Education Experience platform.
Lieberman said it has been wonderful to work with such amazing, passionate and dedicated people at UTRGV and the School of Medicine.
"The students bring an energy and a drive for service that is energizing for all of us on the faculty," he said. "I'm really enjoying learning about the place and thinking about the possibilities of what the School of Medicine will grow to be and its relationship with the community."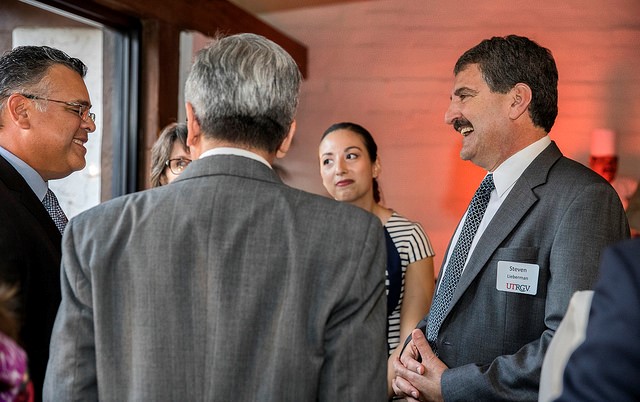 Lieberman praised UTRGV and the School of Medicine's approach to serving the community while providing relevant and challenging educational opportunities for its students.
"The opportunity to weave together our clinical outreach, educational programs, and research agenda around the health needs of the community brings a real excitement to building the School of Medicine," he said. "This approach repeatedly comes up in multiple conversations with people who are involved in very different aspects of the School of Medicine and the university."
"The interest in community outreach blends quite well with new concepts of medical education, such as early clinical skills training and getting the students into meaningful patient care activities, early on," he said. "And basing our research activities on population health and diseases that impact the people of the Valley will allow the School of Medicine as an institution to make a real impact."
MEDIA CONTACTS
Jennifer.Berghom@UTRGV.edu
UTRGV Senior Writer / 956-665-7192
Marci.Caltabiano@UTRGV.edu
UTRGV Director of News and Internal Communications / 956-665-2742