Sub Menu Toggle
UTRGV SOM workshop address best practices in helping students with disabilities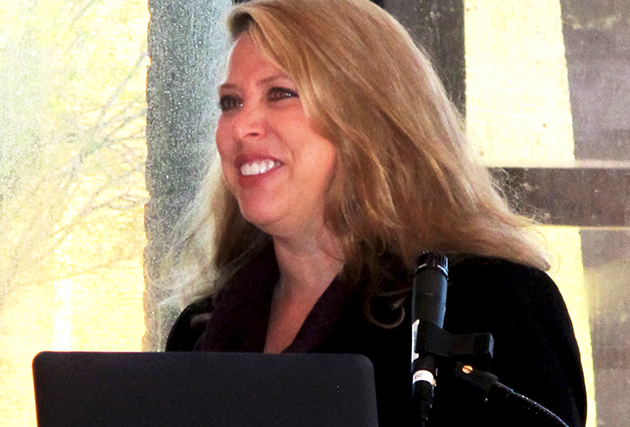 Lisa Meeks, Ph.D., co-founder and president-elect of the Coalition for Disability Access in Health Science and Medical Education, and an assistant professor of medicine and director for medical student disability services at the University of California San Francisco School of Medicine, on Oct. 7 led a daylong workshop on the UTRGV Edinburg Campus in collaboration with UTRGV's Student Accessibility Services. (UTRGV Photo)
By Jennifer L. Berghom
EDINBURG, TEXAS – OCT. 14, 2016 – The UTRGV School of Medicine collaborated recently with the university's Student Accessibility Services to offer a daylong professional development workshop Oct. 7 at the University Ballroom on the Edinburg Campus.
The purpose of the event was to train faculty, staff and students on what they can and cannot do to ensure that students with accessibility issues get the support they need to succeed.
Lisa Meeks, Ph.D. – co-founder and president-elect of the Coalition for Disability Access in Health Science and Medical Education, and an assistant professor of medicine and director for medical student disability services at the University of California San Francisco School of Medicine – led the workshop.
Topics included helping students receive the accommodations they need to succeed in school, ensuring confidentiality of their personal information, and other ways educators and staff can assist students.
"When you create a culture of inclusion and access … that is the best way to reduce risk," Meeks said.
The event's coordinators, Dr. Eugenia Curet, assistant dean for Student Support Counseling and Wellness, and Tonya Paulette, director of Student Accessibility Services, said they put together the event to create awareness and sensitivity throughout campus in addressing the needs of students with accessibility challenges.
Curet and Paulette said higher education is seeing more students with accessibility issues enrolling in health science-related programs, in part because of protections and rights provided by the Americans with Disabilities Act.
"I think it's because of the ADA that students with disabilities are encouraged now to be in those fields, whereas previously, there may not have been as much encouragement," Paulette said.
Paulette said they hope those who attended the event not only will become more aware of the needs of students with disabilities, but also recognize the strengths these students bring to academic programs, including those in health science fields.
The UTRGV School of Medicine and Student Accessibility Services also collaborated with UTRGV Continuing Education, which provided continuing education credits to those who participated in the event, and with the College of Health Affairs and University College.
MEDIA CONTACTS
Jennifer.Berghom@UTRGV.edu
UTRGV Senior Writer / 956-665-7192
Marci.Caltabiano@UTRGV.edu
UTRGV Director of News and Internal Communications / 956-665-2742