Sub Menu Toggle
UTRGV School of Medicine participates for the first time in HESTEC sessions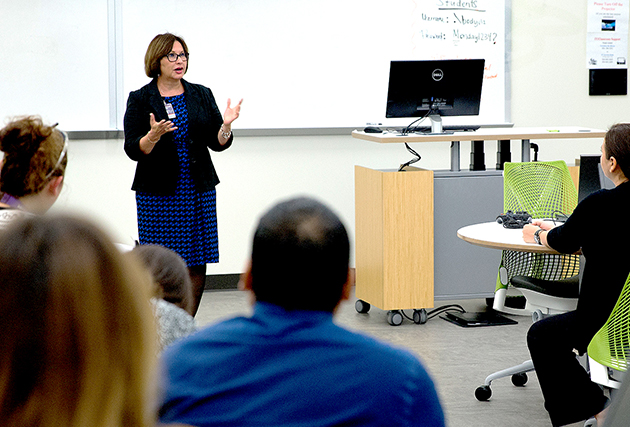 Dr. Adela Valdez, M.D., MBA, associate dean for student affairs at the UTRGV School of Medicine spoke at a HESTEC 2016 breakout session about how strong family ties and her mother's support allowed her and her daughter to pursue their passion of becoming doctors. (UTRGV Photo by Paul Chouy)
By Jennifer L. Berghom
RIO GRANDE VALLEY, TEXAS – OCT. 11, 2016 – The UTRGV School of Medicine this year joined in the activities of the university's annual Hispanic Engineering, Science and Technology (HESTEC) Week, which ran Oct. 2-8 on the Edinburg Campus and for the first time in Brownsville and Harlingen.
SOM faculty and administrators spoke with high school seniors, parents and teachers in breakout sessions throughout the week about advances in medical education and opportunities in healthcare professions.
"I think it's important for us to get involved, so that we can help create a workforce who will take advantage of technology, who will change medicine and the way we practice," said Dr. Eron Manusov, M.D., UTRGV director of Family and Preventive Medicine. "And it gives students the opportunity to see something they may not have seen."
Manusov and Michael Collard, Ph.D., visiting associate professor of biomedical sciences, discussed with teachers and students the role technology has played in changing medical education and practice.
On Tuesday, Oct. 4, high school seniors from Lasara and La Villa high schools were tasked with finding out what was causing a 13-year-old boy from having extreme fatigue during a breakout session at the Edinburg Medical Education Building at HESTEC Student Leadership Day.
Using a problem-based learning software program, students asked a virtual patient and his mother questions, and ordered a series of tests and scans to find out why an otherwise healthy and athletic boy had spent the past year sleeping 11 hours a day and taking 30- to 60-minute naps when he gets home from school. They determined the boy suffered from a heart defect that restricted blood flow from the aorta, the heart's main blood vessel.
The exercise, led by Collard, was used to show how technology is changing the way students are taught medicine.
"Even if you don't go into medical school, what this process we just did is called is problem-based learning," Collard said. "The fact that you've been motivated to do this – it's going to stay with you much longer than if the teacher just told you what's going on. … You can apply problem-based learning to any facet of education."
On Wednesday, Oct. 5, about a dozen female high school seniors and their mothers learned during a breakout session at HESTEC Latina Day that the Rio Grande Valley is the birthplace of the country's first Latina doctor, and the home of a medical school in which more than half the first cohort is female.
The students, from Monte Alto and Santa Maria high schools, and their mothers, heard from Dr. Michelle Zeager, D.O., MPH, clinical assistant professor of pediatrics and director of pediatric environmental health at the School of Medicine, who gave them a history of women in medicine and the obstacles they faced to pursue their passion to help others.
"We have made strides" in increasing the number of women practicing medicine, Zeager said, but disparities between men and women in medicine, including in pay, remain.
"We still have work to do," she said.
Students also heard from Dr. Adela Valdez, M.D., MBA, associate dean for student affairs at the UTRGV School of Medicine; her daughter, Dr. Dora Martinez, M.D.; and her mother, Eloisa Garcia. Valdez shared the story of how their strong family ties allowed the younger two generations to pursue their passion of becoming doctors.
"Rely on your family," Valdez said. "Move on and do what you need to do in life."
MEDIA CONTACTS
Jennifer.Berghom@UTRGV.edu
UTRGV Senior Writer / 956-665-7192
Marci.Caltabiano@UTRGV.edu
UTRGV Director of News and Internal Communications / 956-665-2742