Sub Menu Toggle
SOM faculty participate in border health conference at UTRGV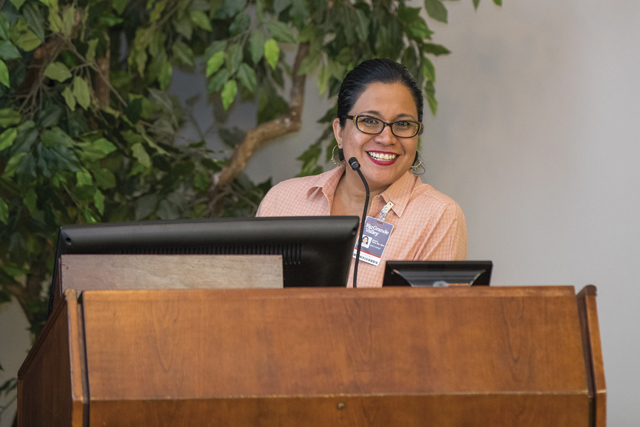 Dr. Beatriz Tapia, UTRGV School of Medicine assistant dean for faculty development, welcomed guests Oct. 26, 2016, to the Transforming Border Health Conference, hosted by the university's Office of Global Engagement. Tapia, who spoke on mosquito-borne viruses, also acted as moderator of the panel discussions, which included professors from UTRGV and the Unidad Académica
Multidisciplinaria Reynosa – AZTLAN. (UTRGV Photo by David Pike)
By Jennifer L. Berghom
EDINBURG, TEXAS – NOV. 7, 2016 – Three UTRGV School of Medicine faculty members shared their research on health issues affecting both sides of the U.S.-Mexico border on Wednesday, Oct. 26, at the Transforming Border Health conference at UTRGV.
The conference, put on by UTRGV's Office of Global Engagement, brought together researchers from the School of Medicine and the Universidad Autónoma de Tamaulipas (UAT) to discuss their work on various health issues facing the border region.
UTRGV School of Medicine's Drs. Beatriz Tapia, assistant dean for faculty development; Juan Carlos Lopez-Alvarenga, assistant professor of research; and Alvaro Diaz-Badillo, assistant research scientist, presented their research on diabetes and communicable diseases, especially Zika, chikungunya and dengue viruses.
"Within our goals for this School of Medicine is to have a vision of health for all," Tapia said. "I think this conference highlights the importance that health has no borders and gives us the opportunity to collaborate with the university in Tamaulipas, and other universities not only on the northern border, but also in Central Mexico." 
Drs. Octelina Castillo Ruiz and Esperanza Milagros Garcia Oropesa, from the UAT, shared their research on health and nutrition in elementary schools and on HIV and tuberculosis.
Read more about the conference here.
On Facebook: https://www.facebook.com/notes/utrgv-the-university-of-texas-rio-grande-valley/utrgv-border-health-panel-fall-2016/715182968637216
MEDIA CONTACTS
Jennifer.Berghom@UTRGV.edu
UTRGV Senior Writer / 956-665-7192
Marci.Caltabiano@UTRGV.edu
UTRGV Director of News and Internal Communications / 956-665-2742