Sub Menu Toggle
UTRGV School of Medicine graduates first cohort of safety and effectiveness course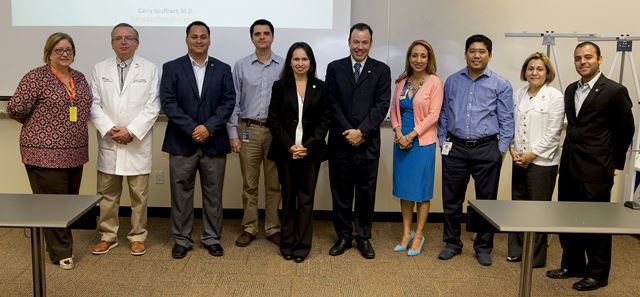 From left are Dr. Yolanda Gomez, M.D., UTRGV School of Medicine's Associate Dean, Graduate Medical Education; Dr. Charles Austin, M.D., UTRGV clinical assistant professor in the Family Practice Medical Residency Program at McAllen Medical Center; Dr. Jimmy Gonzales, M.D., UTRGV clinical assistant professor in the Family Practice Medical Residency Program at Doctors Hospital at Renaissance; Dr. Wesley Harden, M.D., UTRGV clinical assistant professor in the Family Practice Medical Residency Program at Doctors Hospital at Renaissance and the Preventive Medicine Residency Program; Dr. Liliana Padilla-Williams, M.D., clinical assistant professor in the Obstetrics and Gynecology Residency Program at Doctors Hospital at Renaissance; Dr. Roberto Prieto Harris, M.D.,  clinical assistant professor in the Obstetrics and Gynecology Residency Program at Doctors Hospital at Renaissance; Matiana Gonzalez-Wright, Ed.D., assistant professor and director of Quality Assurance for the UTRGV School of Medicine; Dr. Nyan Phyo, M.D., clinical assistant professor in the Internal Medicine Residency Program at Doctors Hospital at Renaissance; Natividad Rangel-Hinojosa, M.Ed., data and research manager for the UTRGV School of Medicine Graduate Medical Education program; and Dr. Armando Garza, M.D., clinical assistant professor in the Internal Medicine Residency Program at Valley Baptist Medical Center-Harlingen. (UTRGV Photo by David Pike)
By Jennifer L. Berghom
HARLINGEN, TEXAS, JUNE 22, 2016 — The inaugural cohort of the UTRGV School of Medicine's Clinical Safety and Effectiveness Course graduated Thursday, June 2, during an event at the Harlingen Campus.
The course trains UTRGV School of Medicine faculty members on basic quality improvement (QI) principles, including interpreting data and learning process improvement.
The eight participants of the initial group — one School of Medicine staff member and seven medical faculty training residents at Doctors Hospital at Renaissance, McAllen Medical Center and Valley Baptist Medical Center — spent the past six months learning how to improve the way healthcare professionals treat patients in order to ensure better outcomes for those patients and prevent errors in the delivery of care.
"I am enormously proud of the good work that has been done," Dr. Francisco Fernandez, inaugural dean of the School of Medicine, said in a videotaped message to participants. "You are the inaugural class and that is something that is really unique. One of the things about a new medical school is that every day is a new day, and every day is a great day, an opportunity to celebrate successes. … I want to congratulate you, congratulate your good work and I hope to be able to see you in the near future."
The University of Texas System offers the training program at its institutions to medical faculty and staff. This cohort is the first one under UTRGV; faculty hired at the School of Medicine before UTRGV was created received the training through The University of Texas Health Science Center in San Antonio, said Matiana Gonzalez-Wright, Ed.D., assistant professor and director of Quality Assurance for the UTRGV School of Medicine.
Those who undergo the training receive continuing medical education credits, she said.
Graduates of the first cohort shared their research projects at a graduation celebration at the Clinical Education Building Library. Topics ranged from how to decrease the rate at which doctors are performing primary Cesarean sections to how to screen more patients for Hepatitis C and HIV.
Dr. Charles Austin, a UTRGV clinical assistant professor in the Family Practice Medical Residency Program at McAllen Medical Center, gave his presentation on improving diabetes management by using a checklist system based on American Diabetes Association recommendations. He said he enjoyed taking the course and sees the need for having quality improvement training in graduate medical education (GME).
Quality improvement training teaches residents, medical students and others who take such courses to think more critically and creatively, he said.
"There's a lot of initiative in healthcare to improve the quality of care and keep patients safe,  to do it for less cost, and to be more receptive to customers — the patients – to be more attentive to their needs," Austin said. "Medicine has become very complex, and … the individual doctor just can't handle all that complexity. This QI helps give us the tools to make decisions and the means to provide better outcomes."
MEDIA CONTACTS

Marci.Caltabiano@UTRGV.edu UTRGV Director of News and Internal Communications
956-665-2742
Jennifer.McGehee@UTRGV.edu UTRGV Director of Public Relations
956-882-5105