Sub Menu Toggle
UTRGV Family Medicine resident seeks to strengthen prenatal medical records process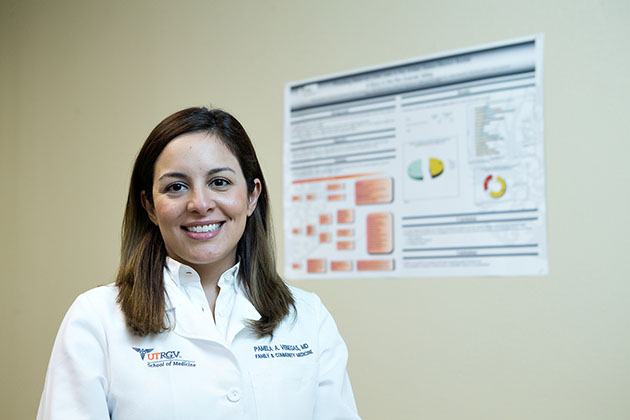 UTRGV School of Medicine third-year resident Dr. Pamela Venegas was one of 35 residents and physicians chosen to present a poster on her research at the WONCA Polaris annual conference in Colorado. Venegas, a resident in the McAllen Family Medicine Residency Program in McAllen, is continuing her research on the lack of availability of medical records among some women in the Rio Grande Valley. (UTRGV Photo by Paul Chouy)
By Vicky Brito
McALLEN, TEXAS – JAN. 18, 2016 – During her time as a resident at the McAllen Family Medicine Residency Program, Dr. Pamela Venegas noticed a pattern: Pregnant women were coming into the clinic to have their babies, but they had no medical records available.
It was a problem that led to a research initiative for the third-year resident, and based on that research, Venegas created a residency poster titled "Providing Maternal Child Care on the United States – Mexico Border: A Story in the Rio Grande Valley."
Venegas was one of 35 residents and physicians selected to present their posters at the international WONCA Polaris Young Doctor's Preconference, as part of the American Academy of Family Physician's annual meeting in Denver, Colo., on Oct. 1.
WONCA Polaris is a subgroup of the World Organization of National Colleges, Academies and Academic Associations of General Practitioners/Family Physicians, also known as the World Organization of Family Doctors.
"My focus on the project was to look at the population that have been seen by a lay midwife, and also certified midwives, to see how we can improve the quality of care," Venegas said.
Many factors can contribute to a lack of medical records. The patient might never have sought prenatal care, she said, or had been treated only by a lay midwife, or had sought medical treatment across the border in Mexico.
The purpose of her ongoing research is to find more efficient ways to collect information on the medical history and status of the patient.
"Some of the patients are high risk, and because of that, complications can occur for the mom and the newborn," she said.
Maria Colon-Gonzalez, assistant clinical professor at the UTRGV School of Medicine, said many women in the community do not have access to adequate prenatal care for a variety of reasons, so they seek the care of local midwives.
"The major goal of this project is to create a sustainable partnership that will allow the midwives to identify high-risk patients early in their pregnancy and labor," she said. "The expectation is that this early identification will reduce maternal-fetal morbidity and mortality."
Colon-Gonzalez said this project will help the hospital identify high-risk patients, and will enable staff to adequately prepare for the more difficult cases.
"This is a work in progress and, hopefully, we can build the blocks little by little for the benefit of the women in the Valley," she said.
Venegas used data gathered from June 2014 to August 2015. She already has completed Phase 1 of the research, which determines whether the subjects fell within the time bracket of her research, then she monitored the continuity of the patients. Those who did not have standard medical care were placed in categories that reflect the reasons for their lack of medical records.
"From those, I extracted the midwife referrals that we have. And now, that is the second phase that I am going to be working – on taking a bit more information regarding it," Venegas said.
During the third and final stage, she will review the midwives' policies and procedures for ante-natal and intrapartum maternal-fetal transfers.
"The third phase pretty much is to establish a relationship with the midwives and have a standardized protocol, where midwives keep in contact with each residency program. That's so we can follow the patient and provide better care."
The results of her research to date show that 48 percent of patients who come into the clinic show a continuity with records available to the patients, while more than half – about 52 percent – had no continuity and no medical records available.
"The way this research can benefit the region is by being able to identify common causes of patient transfer and complications on delivery," said Dr. Yolanda Gomez, associate dean for Graduate Education for the UTRGV School of Medicine. "And that helps educate and promote prevention during pregnancy and delivery. It is information that can be disseminated to health providers, so they can take action and prevent further complications."
Gomez said presenting at Polaris provides an international platform for medical students, residents and new family physicians.
"Polaris aims to augment medical training with unique global experiences that include international opportunities for teaching, research, advocacy, exchanges and leaders," Gomez said. "It brings our UTRGV Family Medicine program to recognition within the family medicine community, and highlights our mission of training excellent physicians who are involved in promoting healthy behaviors in our communities."
MEDIA CONTACTS
Marci.Caltabiano@UTRGV.edu UTRGV Director of News and Internal Communications
956-665-2742
Jennifer.McGehee@UTRGV.edu UTRGV Director of Public Relations
956-882-5105