Sub Menu Toggle
School of Medicine faculty member publishes book on virus vaccine research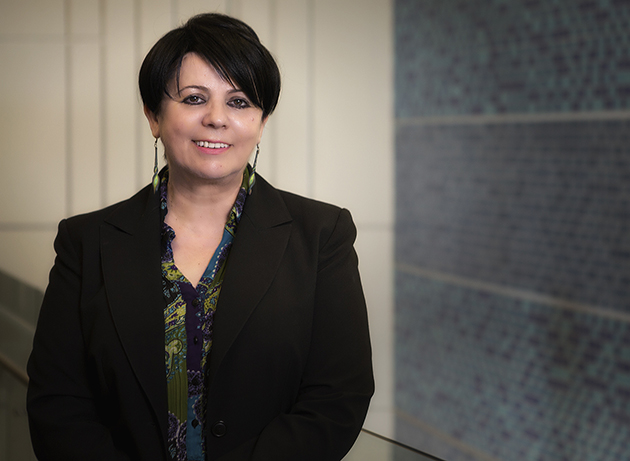 Dr. Liljana Stevceva has the distinction of publishing the first book by a faculty member of The University of Texas Rio Grande Valley School of Medicine. Stevceva, founding director of the Division of Microbiology and Immunology, compiled the results of her research and that of colleagues in "Vaccines for Latent Viral Infections," published by Bentham Science Publishers. (UTRGV Photo by Paul Chouy)
By Cheryl Taylor 
RIO GRANDE VALLE, TEXAS – JAN. 18, 2016 – Dr. Liljana Stevceva has the distinction of publishing the first book by a faculty member of The University of Texas Rio Grande Valley School of Medicine.
Stevceva, founding director of the Division of Microbiology and Immunology, has compiled the results of her research and that of colleagues in "Vaccines for Latent Viral Infections." It is published by Bentham Science Publishers.
Chapters include "Varicella-Zoster Virus Infections and Vaccine Advances," "Epstein-Barr Virus Infections and Vaccine Advances," "Immune Responses to CMV and Vaccine Development," and "Vaccines against Latent Viral Infections: Pathway Forward."
"I have been working on vaccines to viral diseases for more than 16 years," Stevceva said. "During this time, I noticed that viruses that can cause an infection and stay in our body afterwards have common characteristics, especially in their envelope (outer layer). This allows them not only to escape the normal defense mechanisms in the body, but also to modify them in such a way that they begin to act against our own cells. This is the case with the HIV virus, for example."
She came to the conclusion that efforts to develop a vaccine against those viruses are wrongly directed only to preventing a disease – but not to preventing the virus from staying in the body.
"I believe that this is why vaccine efforts have been unsuccessful so far," she said.
Stevceva comes to the UTRGV School of Medicine equipped with new medical school experience. She was on the founding faculty at the Texas Tech University Paul Foster School of Medicine in El Paso, and most recently, with California Northstate University College of Medicine in Elk Grove, just south of Sacramento. 
"Dr. Stevceva brings with her research experience and a corpus of knowledge about virology and immunity that is another key component to the UTRGV School of Medicine's commitment to improving the health of our communities," said Dr. Francisco Fernandez, inaugural dean of the School of Medicine.
"We are excited that her book on vaccines is the first to be published by a member of our School of Medicine faculty, and look forward to her continuing success."
Stevceva is a graduate of the Faculty of Medicine, University Kiril i Metodi in Skopje, Macedonia, her home country.
She practiced medicine for 10 years in Skopje, and said she has fond memories of her volunteer work during that time, caring for underprivileged children with the Order of the Missionaries of Charity, founded by Mother Theresa, who was born and raised in Skopje.
Stevceva left Macedonia in 1990 for Australia, where she earned her Ph.D. in Medical Sciences at the John Curtin School of Medical Research, Australian National University. She then returned briefly to her home country as the Peace Corps Medical Officer, and established the first U.S. Peace Corps Medical Unit in Skopje.
Stevceva has worked as a Fogarty International Fellow at the National Cancer Institute and as a Medical Officer in the Division of Microbiology and Infectious Diseases with the National Institutes of Health in Bethesda, Maryland. Specifically, her involvement has been with research related to the control and prevention of diseases caused by viruses.
From 2005 to 2007, she had a dual appointment at Harvard Medical School – teaching in the Department of Medicine, while also being on the faculty in Virology at the Division of Infectious Diseases at Massachusetts General Hospital.
A member of American Academy for the Advancement of Science, and chair of the Education and Information Resources Working Group of the AAAS Science and Human Rights Coalition, she recently contributed a teaching module to that organization entitled "Human Rights in Global Health: Team-Based Learning Education Resource for Medical Students, Residents and Fellows."
Accepting the position with the UTRGV School of Medicine was particularly appealing, Stevceva said, because she was attracted to contributing in a medically underserved area.
"Throughout my career, I accumulated a number of skills that could be of great value when starting a new medical school," she said. "And I felt very strongly that I would be putting them to use for a very good cause here in the Valley."
In her new capacity, Stevceva is making every day count, working with her team to develop the materials needed for the first group of medical students when they arrive in August 2016. She also is looking forward to setting up her new laboratory to continue her research.
Another task she has allocated to her busy days – studying Spanish – will add to her collection of languages: Macedonian, Serbian, Croatian and Bosnian, French, Italian and English.
MEDIA CONTACTS
Marci.Caltabiano@UTRGV.edu UTRGV Director of News and Internal Communications
956-665-2742
Jennifer.McGehee@UTRGV.edu UTRGV Director of Public Relations
956-882-5105