Sub Menu Toggle
Melba Sanchez joins UTRGV School of Medicine as associate dean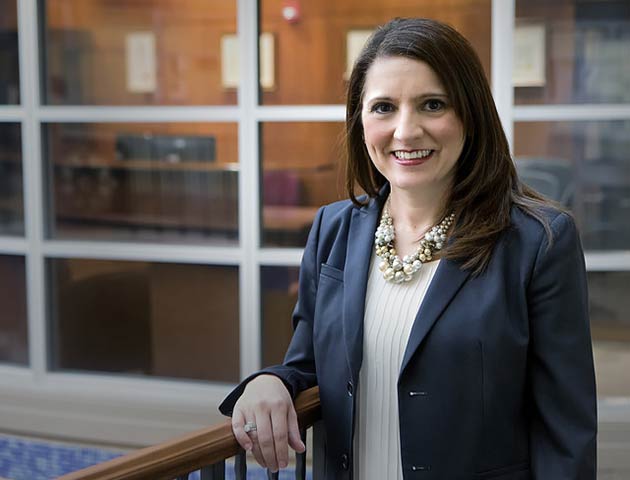 Harlingen native Melba Sanchez, now associate dean for Finance and Administration at The University of Texas Rio Grande Valley School of Medicine, oversees funding of programs and departments in the areas of medical education, research and community outreach. (UTRGV Photo by David Pike)
By Cheryl Taylor 
HARLINGEN, TEXAS – JAN. 18, 2016 – Twenty years ago, when she arrived in St. Louis, Mo., to begin her first job as an accountant, Harlingen native Melba Sanchez would have been hard pressed to imagine where her career path would take her.
Back to her home town. To a new university. And a new school of medicine.
Now associate dean for Finance and Administration at The University of Texas School of Medicine, Sanchez oversees funding of programs and departments providing support in the areas of medical education, research, and community outreach. She also develops budgets, processes and procedures for submission to the Liaison Committee on Medical Education (LCME) for preliminary accreditation for the UTRGV School of Medicine.
As a student at The University of Texas at Austin, Sanchez had taken her studies seriously, achieving her bachelor's and master's degrees simultaneously through the Professional Program in Accounting (PPA).
After graduation she was off to St. Louis, Mo. for her first assignment in the Leadership Development Program with Southwestern Bell Telephone Company. Then came five years with SBC Communications in San Antonio.
"It was good to be back in Texas, in a city that I had always enjoyed before, and grew to love over my time there – a place of wonderful people in a unique city filled with history and cultural activities for all ages," Sanchez said. "David, my husband, and I had a great time in San Antonio, and liked that it wasn't too far from our families."
The jump to higher education took place in 2002 when Sanchez and her husband decided to head back to the Rio Grande Valley, where Sanchez became Controller and then Assistant Vice President of Finance at Texas Southmost College (in Partnership with The University of Texas at Brownsville/Texas Southmost College).
Eight years in higher education interspersed with a year as finance manager at Valley Baptist Health Plan in Harlingen gave Sanchez the right tools to step into the position of Assistant Regional Dean for Administration and Finance at the Regional Academic Health Center Harlingen of The University of Texas Health Science Center at San Antonio.
"As a regional campus of UTHSCSA, we were tasked to carry out the legislative intent in bringing medical education to the Valley with limited resources, so my responsibilities spanned many areas," she said.
Sanchez said it was an exciting time to be at the RAHC, with then-Texas Gov. Rick Perry having committed, just the year before, to establish a health science center in South Texas.
"The ball was rolling toward what so many had worked for over a number of years," she said.
"This amazing opportunity opened up to me, to continue serving students and the community in higher education while helping usher in the highly anticipated school of medicine."
Sanchez began working side-by-side with Dr. Leonel Vela, Founding Regional Dean of UTHSCSA RAHC Harlingen.
"I learned so much under Dr. Vela's wing, including new terminology that soon became part of my daily vocabulary," she said. "He was patient and shared his vast knowledge with me. I could tell immediately I was attracted to the hybrid quality of this job, a mix of higher education and healthcare.
Today, Sanchez' responsibilities touch upon all aspects of the new School of Medicine at The University of Texas Rio Grande Valley.
"We have a fiscal responsibility to appropriately disburse the dollars we have been funded from the state legislature," she said. "There is so much that goes on in the day-to-day with existing UTRGV residency programs, and especially in the creation a medical school from the ground up."
Issues that fill Sanchez' day include staffing and faculty recruitment, tuition and fees structures, student services, meeting state mandates, reporting to the LCME, development and implementation of residency programs, and ensuring student success – all the while providing leadership to staff in areas of finance, administrative support, information technology, research, and local academic programs support.
When asked if she sees all these responsibilities within the purview of an accountant, her response is: "At the end of the day, there is a financial component to everything."
"To be a part of a team that is developing this school of medicine has been such an honor for me," Sanchez said. "It keeps me going. I know I wouldn't find this opportunity anywhere else. Of course, challenges are inevitable, but I love what I do and I recognize that challenges are what help me be a better public servant with each passing day."
MEDIA CONTACTS
Marci.Caltabiano@UTRGV.edu UTRGV Director of News and Internal Communications
956-665-2742
Jennifer.McGehee@UTRGV.edu UTRGV Director of Public Relations
956-882-5105