Sub Menu Toggle
Marshall named UTRGV SOM associate dean of clinical affairs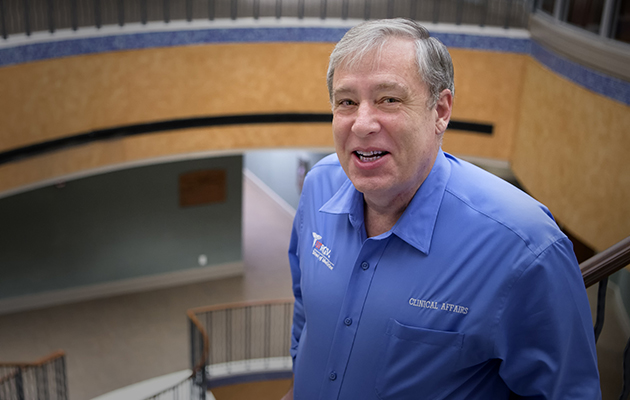 Dr. William Marshall has been named associate dean of clinical affairs for The University of Texas Rio Grande Valley School of Medicine. (UTRGV Photo by David Pike)
By Jennifer L. Berghom
RIO GRANDE VALLEY, TEXAS – JAN. 18, 2016 – Dr. William Marshall has been named associate dean of clinical affairs for The University of Texas Rio Grande Valley School of Medicine. 
In his role at UTRGV, Marshall is tasked with overseeing the School of Medicine's clinical operations, which are in development.
Marshall, who attended Johns Hopkins and earned his M.D. with distinction from The University of Kentucky College of Medicine in Lexington, completed surgical training at the University of Alabama-Birmingham (General Surgery) and the University of Iowa (Cardiac, Thoracic, and Vascular Surgery). He practiced cardiac, thoracic and vascular surgery and critical care for more than 20 years and founded and managed his own successful surgical practice.
He also completed a Master of Science in Technology Entrepreneurship and an MBA from the University of South Florida, and was the inaugural USF/Kauffman Foundation Post-Doctoral Fellow in Life Sciences.
He began his career in thoracic and cardiovascular surgery more than three decades ago, and moved on to various faculty and leadership positions in Missouri and Florida.
Before joining UTRGV, Marshall served as the vice chair of finance and administration for The University of South Florida Morsani College of Medicine's Department of Psychiatry. He also was a professor in the medical college and associate professor in USF's College of Business.
Marshall said he had worked with Dr. Francisco Fernandez, inaugural dean of the UTRGV School of Medicine, at the University of South Florida, and decided to join Fernandez at the SOM because he was fascinated by the opportunity to be a part of creating a medical school.
"There are not very many opportunities to be involved in starting a new medical school from scratch," Marshall said. "This is a unique opportunity, and I think that is what has brought the majority of the senior administrators and senior faculty to the medical school.
"We all have significant experience at other institutions," he said, "but this is a chance to bring the best of our experience, and the best practices of things that are out there, and cobble them together to put our own stamp on it. We can do some things that are creative and innovative."
Fernandez said Marshall brings a wealth of experience in a variety of areas.
"Throughout the LCME process, his creative, energetic approach to the development of the School of Medicine was evident," Fernandez said.
"He joins the SOM leadership tasked with employing his extensive administrative, technological and financial skills. He's knowledgeable and proficient in many areas, and we look forward to his expertise as we advance in the accreditation process on the road to 2020."
MEDIA CONTACTS
Marci.Caltabiano@UTRGV.edu UTRGV Director of News and Internal Communications
956-665-2742
Jennifer.McGehee@UTRGV.edu UTRGV Director of Public Relations
956-882-5105