Sub Menu Toggle
CECS unveils strategic plan, seeks to be a supernova in expanding opportunities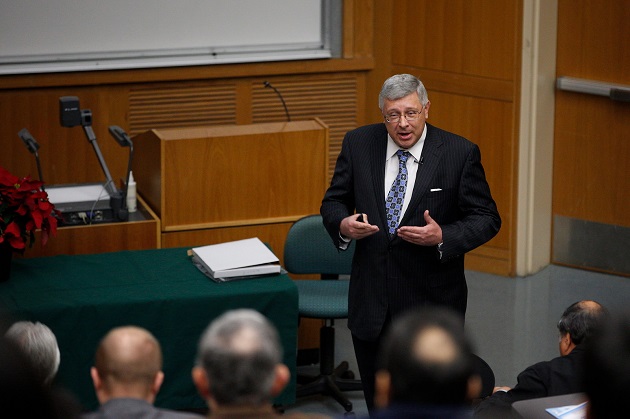 UTRGV College of Engineering & Computer Science (CECS) Dean Dr. Alexander Domijan addresses college faculty, staff and stakeholders during the CECS Town Hall on Friday, Dec. 09, 2016 at the Engineering building in Edinburg, Texas. UTRGV Photo by Paul Chouy
By Jennifer L. Berghom
EDINBURG, TEXAS—DEC. 9, 2016— The College of Engineering and Computer Science at The University of Texas Rio Grande Valley has big plans to engage the community and foster innovation throughout the Valley and beyond.
Dr. Alexander Domijan, dean of the College, unveiled the college's strategic plan at the college's town hall meeting Friday, Dec. 9 on the Edinburg Campus. The ambitious plan includes building relationships with area industries that will foster research and educational opportunities for students, creating an "ecosystem" that attracts and develops new industries, and expanding its facilities and its academic programs.
"We're opening our arms to reach out to you in the Valley," Domijan said. "…We're going to create something big …we're going to put a supernova every place we step."
Presenters at the town hall gathering also announced several accolades achieved by the college and its faculty. Among those is the receipt of a five-year, $1.2 million grant from the U.S. Department of Energy for UTRGV to create the South Texas Industrial Assessment Center. Faculty and students from the center will provide free assessments to small- and medium-sized businesses on how to grow their businesses while reducing costs and their carbon footprints.
Domijan, as well as college faculty and local government and business leaders discussed the various partnerships formed to advance research and other opportunities for the university and community. Such endeavors include the college's ongoing work on manufacturing and water resources and the environment, as well as its plans to venture into aerospace, cyber security, energy and biomedicine.
With the theme, "Compassion, Community and Technology," Domijan said the college's goal, foremost, is to approach everything they do with compassion for the communities they serve.
"Our ultimate goal is for every engineer and staff person to first think about the Valley and then begin to actualize what they're thinking about in terms of efforts in compassion, community and technology," he said. "I would like to see the college proceed in a way where we develop efforts in water, infrastructure issues, energy issues and health issues that connect greatly with the community." 
College faculty, staff and stakeholders also learned the college's student enrollment is experiencing an overall growth rate of 10 percent and is working on adding more graduate programs.
The college also honored Veronica Gonzales, vice president for Governmental and Community Relations at UTRGV, with its 2016 Champion of Compassion, Community and Technology award for her continued support of the college. The college also gave her the honorary title of engineer.
"One of our main goals is community engagement and that means we can't be seen as the university that just sits over there on (Highway) 107 or on the Brownsville campus, we need to be seen as the university that's out in the community," Gonzales said after the town hall meeting. "The College of Engineering and Computer Science has made significant strides already in doing that."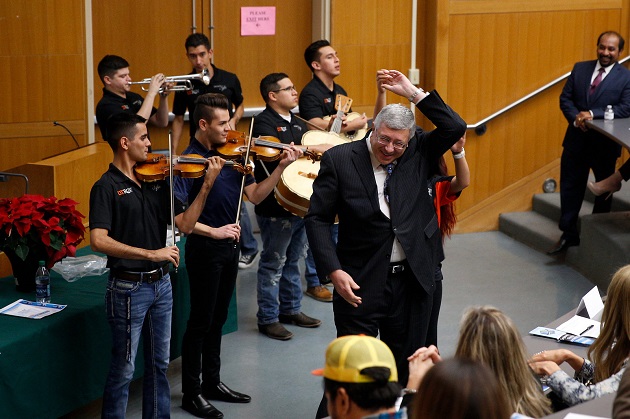 UTRGV College of Engineering & Computer Science Dean Dr. Alexander Domijan takes a break from discussing the college's strategic plan to dance with a UTRGV student while the university's mariachi members performed at the CECS Town Hall on Friday, Dec. 09, 2016 at the Engineering building in Edinburg, Texas. UTRGV Photo by Paul Chouy
MEDIA CONTACTS

Jennifer.Berghom@UTRGV.edu
UTRGV Senior Writer / 956-665-7192