Sub Menu Toggle
UTRGV greets new faculty as 2016-17 academic year begins
UTRGV welcomes new faculty members in the first of a two-day orientation session held as part of its 2016-17 New Faculty Support Program. The first session was held Aug. 22 at the University Ballroom in Edinburg and included a luncheon for new faculty to mingle with current UTRGV faculty members. (UTRGV Photo by Paul Chouy) 
By Gail Fagan
EDINBURG, TEXAS – AUG 22, 2016 – The University of Texas Rio Grande Valley and its School of Medicine welcomed a record number of new faculty members in the first of a two-day orientation session held as part of its 2016-17 New Faculty Support Program. 
The new faculty, who will fill positions in one of UTRGV's seven colleges and the School of Medicine, were welcomed by Dr. Havidán Rodríguez, provost and executive vice president for Academic Affairs, at the first day's luncheon held in the Edinburg Campus Ballroom on Aug. 22.
He said in order to move the university forward, it takes an engaged and committed university for everyone to be successful.
"Student success is at the core of what we do," Rodríguez said. "Close to 90 percent of our students are Hispanic, one of the fastest growing demographic groups in the country and certainly in the state of Texas. Hispanics will continue to transform the face of America. So whatever we do here at UTRGV, will have a significant impact in the Rio Grande Valley, in the state of Texas and throughout the nation."
Ninety-one new faculty – 61 tenure track and 30 non-tenure track – have joined UTRGV for the 2016-17 academic year, with an additional 77 faculty hired in one year appointments. The School of Medicine, which opened its doors this summer, is adding 20 more full-time faculty from June 1 to Nov. 1.   
During the orientation sessions, which conclude Aug. 23 at the Brownsville Campus Salon Cassia, faculty are briefed on academic and institutional resources, information technology, campus safety, and other information vital to new employees. The orientation also includes a workshop on the use of engaged teaching and learning in their courses.
At the luncheon, new faculty received some advice on how to best support their UTRGV students from first-year graduate student Jennifer Garcia, who just earned her bachelor's degree from UTRGV in May 2016 in interdisciplinary studies and is now pursuing her master's degree in curriculum and instruction. While in graduate school she will also serve as a substitute teacher in the Edinburg Consolidated Independent School District before becoming a full-time teacher.
"To be successful you must develop a connection with your students. Encourage them to stand out and to be the best versions of themselves that they can be," she said. "Be firm but also be understanding. Challenge us but don't make it impossible."
Garcia, who was accompanied by her parents, described how her professors motivated and inspired her, particularly during the last year when her brother died and she was challenged to complete her coursework to graduate. 
"Students have good days and bad days. Professors have good days and bad days. On bad days I challenge you to be the best versions of yourselves that you can be," she said.
New to UTRGV
New faculty member Dr. Jennifer Tabler, who will be an assistant professor in the Department of Sociology and Anthropology in UTRGV's College of Liberal Arts, came to UTRGV from Utah. 
This is the first university faculty position for Tabler, who just finished her Ph.D. in sociology at the University of Utah in Salt Lake City. Her special academic and research interest is in medical sociology, a broad field, ranging from studying the social determinants of health and illness to examining the actual healthcare delivery system, she said.
Having done a lot of collaborative healthcare delivery research and work in a free clinic in Utah, Tabler is excited about the opportunity here to continue examining how to improve access to healthcare and its affordability, given the community's border location, its racial/ethnic population, and having a medical school.
"There are all of these really interesting and awesome opportunities here to establish a strong research program examining health inequality in the area and what works and doesn't work for the border population," she said. "It's such a marginalized topic – nobody is really doing it."
Only in the Valley a few weeks, she said, so far, she likes its "tropical feel" and the H-E-B grocery store. 
"I went into that store and said 'What is this?' – why doesn't everyone in the U.S. have this store in their state," she said. "It is just such an easy place to be in." 
As a new faculty member in the UTRGV School of Medicine, Dr. Carlos Ramos will teach residents in internal medicine at the institution where he first began his quest for a medical degree.
Ramos, a Valley native, graduated in 2009 with a bachelor's degree in biology from then UT Pan American, one of UTRGV's legacy institutions. He then attended The University of Texas Medical Branch in Galveston before completing his residency in internal medicine in June this year at Valley Baptist Hospital. 
"The opportunity to work at the UTRGV School of Medicine is phenomenal because we need more physicians and I get to train them and make sure they get adequate post-graduate training through the residency program," he said, noting it is easier to recruit medical students to stay in the area where they are trained. 
Ramos said has been interested in teaching and sharing his knowledge with others since his undergraduate days as a chemistry teaching assistant.
"In this case, as a faculty member, the knowledge I'm sharing is not chemistry, it's medical and the hands on is not with a set of lab equipment but with real patients," he said. "It's about making sure there is an adequate amount of communication and the language that is used is optimal for the patients in this area, where there is a lot of medical illiteracy."
Ramos said he is excited about this new opportunity.
"It allows me to treat patients, it allows me to teach, it allows me to conduct research," he said. "I would not be able to do this in a private practice setting."
The New Faculty Support Program, which is overseen by the Office of the Vice Provost for Faculty Affairs and Diversity, will continue throughout the fall and spring semester. The program pairs a faculty mentor to each new educator and provides sessions and workshops on grant writing, online learning tools and strategies, time management and internal and external sources, among others topics, all designed to promote faculty success in teaching, research and service.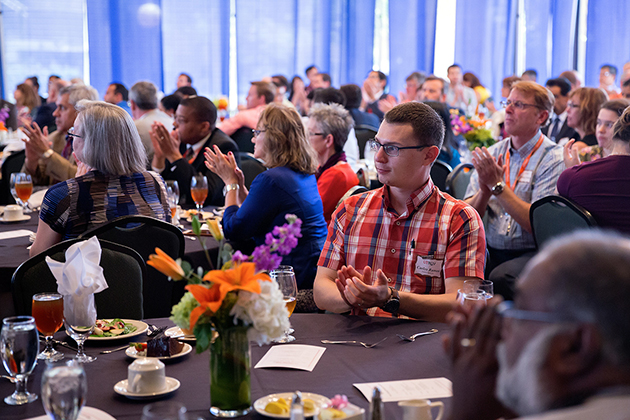 Dr. Carlos Ramos, one of UTRGV School of Medicine's new faculty members at a luncheon on Monday, Aug. 22, 2016 at the University Ballroom in Edinburg, Texas. The orientation is part of a yearlong support program designed for new faculty. (UTRGV Photo by Paul Chouy) 
Photo Gallery: https://www.flickr.com/gp/utrgvnews/6kjicd
MEDIA CONTACTS
Gail.Fagan@UTRGV.edu
UTRGV Senior Writer / 956-665-7995 
Marci.Caltabiano@UTRGV.edu
UTRGV Director of News and Internal Communications / 956-665-2742